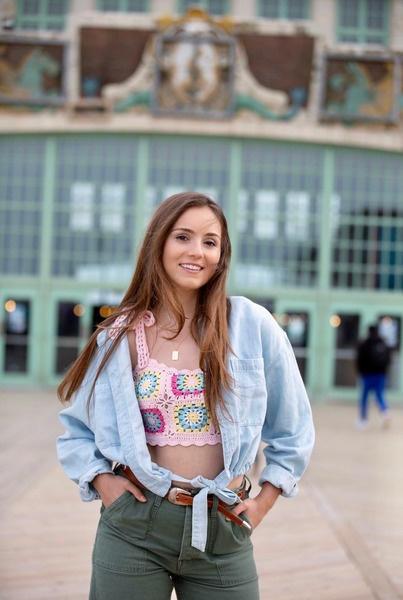 @skopemag news – friday – june 2, 2023 @ 3 pm est
https://www.facebook.com/SkopeMag/
https://twitter.com/skopemag
https://www.youtube.com/@skopetv2
https://www.instagram.com/skopemag/
APP – Apple iTunes –
https://itunes.apple.com/app/id1465224822?mt=8
@skopemag APP – Google / Android –
https://play.google.com/store/apps/details?id=hr.apps.n207414718
Support @skopemag –
https://www.paypal.com/donate/?hosted_button_id=3APKAKT8K6ETW
Today Alex Exists' Shares "Believe The Hype" feat. Sam Casey Ahead of New Album 'Everybody's Famous' Out June 16
As anticipation builds, he shares "Believe The Hype" featuring vocals from Toronto-based artist Sam Casey. A cautionary tale about the dangers of blindly accepting popular beliefs and fabricated trends without questioning their validity, it satirizes the modern day hype machine. The defiant anthem reveals how one's beliefs can be subverted into blindly following the crowd, leading to unhealthy habits, or even falling victim to scams or hoaxes.
"Believe The Hype" feat. Sam Casey featured by Skope Mag:
Singer/Songwriter Julia Poorman Releases New Single "View of You" to all major platforms!
Singer/songwriter Julia Poorman released her latest single "View of You" to all major platforms. The single was written by Julia Poorman and Danny Roselle. It was produced by Danny Roselle at Lakehouse Recording Studio in Asbury Park, NJ and mixed at Rosedome Studio in Summit, NJ.
SOMNURI: Brooklyn Sludge Metallers Unleash Staggering "Death Is The Beginning" Visualizer
T.R. Burge drops tranquill title-track to his new EP 'Selling You'
Following on from the release of his highly-praised debut EP 'God Ache' last year, emerging Manchester-based singer-songwriter T.R. Burge has now returned to announce the details of his next EP 'Selling You', alongside the tranquil title-track.
Rachel Burns examines generational trauma and healing on new single // EP presave now available
The song came to Burns in a dream. "I felt it was my grandmother who whispered the melody and hook to me, and I woke up and went straight to the piano. I placed my hands over the keys, and I felt a presence with me as I played and wrote the song," she explains. "I saw it as my grandmother's lament of regret as she was a strong woman who unfortunately stayed in a marriage that was unsupportive, unloving, and neglectful. By the time my daughters woke up in the morning, the song was completed. After watching them take in the lyrics and meaning, I remembered someone once told me that if you speak the truth, you can heal seven generations behind you and seven generations ahead of you. I knew after watching my daughters as I sang them the song that this could be a healing song for so many people going through challenging, toxic, or abusive relationships. And it could also be a warning sign for my daughters to never settle and know when it's time to leave a relationship that is no longer functional."
Out Today for Families! "Bring On Summer" New Summertime Single & Music Video from Dana's Music Playground
With a career that spans more than two decades, garnering 27 national awards for seven children's albums, singer/songwriter Dana of Dana's Music Playground has become a beloved presence on the kids' music scene. Dana's upbeat new single, "Bring On Summer," was released today, with an accompanying music video.
Seattle Folk-Rockers Ivan & Alyosha Look For Meaning In The Chaos With New Single "Can't Fight The Feeling" 
About the song, Tim explains: "Can't Fight The Feeling is an upbeat, rock song. I wrote this song during the Covid pandemic. I was frustrated, feeling pretty angsty and anxious. I think the idea of the song is that I couldn't fight the feeling that something needed to change, and everything was changing all around me, but I too needed to change. Again, it's a fast-paced rock song, but I think it's about finding peace and calm and meaning in a chaotic world."
Chicago's Lil Blessin Releases "I'm Knowin" (single/video) Today
From Chicago's west side, Lil Blessin is bringing a fresh versatile sound, real lyrical substance, and much needed vibe to the game. After beating cancer twice,alongside tackling a myriad of other life obstacles, Lil Blessin is proving that living every moment to the fullest is just that, a blessing. His current single "Likka Sto" caught the attention of fans and music industry insiders alike, embraced by Chicago hip hop royalty such as G Herbo, Grade A (G Money & Lil Bibby), Zonaman along with fellow west side artists DCG and SG Batman. The momentum of "Likka Sto" led prominent co-signs from Future, Kodak Black, and Travis Scott. With "Likka Stor", and the continued momentum of new music, Lil Blessin is cementing his Artist To Watch status.
Luluc announce new album "Diamonds," share title track & video
"The songs speak for themselves, they contain all you will need. It doesn't feel right to say 'what they are about," the band's Zoë Randell says about the album. "What inspired them is, as always, vast and uncontainable. The personal is of course in there, but only in a detached way, and I use it only to launch or find a way into the possibilities and ideas. I do it that way, so the songs can be for you, whoever the listener is, or may be. Not as some kind of catharsis session for me.
LA dream pop duo Mirrorball shares gorgeous new single, "Red Hot Dust"
Today Mirrorball, the dreamy LA pop duo consisting of singer/songwriter Alexandra Johnstone and multi-instrumentalist and composer Scott Watson, shares their second single "Red Hot Dust" from the upcoming debut EP, produced by Chris Coady (Beach House, Yeah Yeah Yeahs).
SINGER-SONGWRITER PHENOM KYLA IMANI IS "21 FOREVER" ON LIVELY NEW SINGLE AVAILABLE NOW
"21 Forever" chronicles Kyla's move into adulthood. She unleashes a series of hypnotic melodies and celebratory vocals over a lively beat supplemented by uplifting synths and hip-hop drums. Its explosive energy culminates in the unforgettable hook, "I'm 21 forever, living my life to the 100th degree." Kyla showcases her musical versatility throughout the track, leaning into punchy rap cadences as comfortably as anthemic harmonies. "21 Forever" ultimately brings fans into the joys and challenges of her new grown-up world, setting the tempo for more music on the way.
LARAAJI & KRAMER Share "Ascension" Video via StereoEmbers
Shimmy-Disc recently announced a New Release Paradigm…beginning with: LARAAJI & KRAMER's BAPTISMAL, the sparkling new Ambient Symphony #1 (in 3 Movements), the primordial collaboration between two aural mavericks.
STEREO EMBERS VIDEO PREMIERE – "Ascension" from the New Kramer/Laraaji Ambient Album 'Baptismal,' Released Today on Shimmy-Disc
Haley Williams approved LGBTQ+ non-binary alt pop/rock artist
Jules' first release of 2023, "The Daughter That My Mother Wanted" (Ft Miki Ratsula) earned praise from Billboard, Ones To Watch, Earmilk as well as Paramore lead singer Hayley Williams who posted the song on her IG to 3.5m followers saying "This is such a powerful song".
PROJEXX RECRUITS GIGGS & MARKSMAN FOR NEW BANGER "TOP SPEED"
RISING STAR MK xyz KICKS OFF PRIDE DECLARING "NO BOYS ALLOWED" ON SCORCHING NEW SINGLE & MUSIC VIDEO OUT NOW
Rot Ken Takes It One Step at a Time in "Walk Em Down"
Separating himself from the pack with his chilling lyricism and emotive tenor, Rot Ken has a natural gift for expression. Returning to expose the parasitic relationships and fake friends plaguing his peace since his return from prison last summer, Rot Ken shares "Walk Em Down," his brand new video single. Produced by Chrismade, Ike, Prodkutoff, Spaceman, and Taz Taylor, "Walk Em Down" mixes the chilling airiness of Ken's echoing vocals with sharp, biting piano riffs before whipping it into a trap frenzy with hurried percussion. With a masterful control of his ever-evolving melody, Ken launches onto the beat like he can hardly contain himself, as he vents: "I'm on a journey right now, might just go off the map/I said my shooter walk 'em down, he walk 'em down with a smile/I've been going through some pain and it's been hurting for a while/Never ask if Kenny is okay but they want me to help 'em out."
ANNA GRAVES RETURNS WITH NEW TRACK, "IN THE WILD"
Anna Graves seeks inspiration looking for quiet revelations in solitude and always finds a semblance of peace in music. The Minnesota born singer, songwriter, and multi-instrumentalist was introduced in March with "Easy For You," her first single via Island Records / LAVA Records and today releases brand new track "In The Wild."
X-Raided Releases "A Prayer In Hell" LP and "Parasite" Video Out Today!
Tipped for a momentous and very special comeback, underground rap phenomenon and Sacramento native X-Raided unleashes his anxiously awaited Strange Music debut album, A Prayer In Hell, today.
Today Nightmare pop artist Carlyn shares new single "Try to get away"
Her song "Try to get away" is inspired by wanting what you can't have. It's about two people who know they shouldn't be together but still can't help but fall back into each other every chance they get, almost as if the universe is playing games with them, bringing them together over and over to see if they can resist, but they never do. It signifies the feeling of being stuck, and the strong effort it takes to remove yourself from the relationship because the desire and the lust and the love are so powerful.
Lanterns On The Lake Release New Album, 'Versions Of Us' / Share Live Video For "Rich Girls"
Sam Pounds Releases Title Track From Upcoming Debut LP "Don't Forget Where You Came From"
Today, Sam Pounds released "Don't Forget Where You Came From," the title track from his upcoming debut LP due out June 23rd. This release comes via The Penthouse South/Sumerian Records and follows original tracks "Preacher's Daughter" and "She Get It From Her Mama" as well as covers by Palaye Royale, Bad Omens, Kings of Leon and more.
A GOOD ROGERING Release Video for "A Victory Lost"
The band comments "'A Victory Lost' is the final installment of a trilogy of videos from the first three tracks of our latest album Systematic Paralysis. The video embodies the dystopian theme of the album with imagery, characters, and backdrops that depict an unfolding reality that's sinister and taboo. The sonic landscape of 'A Victory Lost' is full of odd-meter catchy riffs, syncopated drumming, and heavy-hitting choruses that illuminate a message of skepticism in an age of dogmatism.
"We once again worked with videographer Marc Coronado who also did the second video in the trilogy Systematic Paralysis."
A Good Rogering Premiere Music Video for Guitar-Driven Single, "A Victory Lost"
Lamorn's Debut Album 'Forever' Out Today, June 2 on mau5trap; Forever Tour Launches June 7 in Chicago
Multi-instrumentalist, electronic music producer & artist Lamorn (Seth Person) celebrates today, June 2, the release of his debut full-length artist album Forever (mau5trap). The strong sense of joy and longing that pervades the 20-year-old's uplifting, danceable songs as they aim to resonate with listeners worldwide. Meanwhile, look for Lamorn–a Billboard 2022 21 Under 21 artist– to set off on his 'Forever' 18-date national U.S. tour this summer to showcase material from his new album and his other releases, launching June 7 in Chicago. The full routing follows below.
Foo Fighters 'But Here We Are'
Foo Fighters' eagerly awaited, hard-fought and already universally acclaimed new album, But Here We Are, is released today, June 2, 2023, on Roswell Records/Columbia Records.
A testament to the healing powers of music, friendship and family, But Here We Are has been preceded by an ecstatically received quartet of its songs. These four songs have demonstrated dimensions of sound and emotion that hint at the range and depth of this phenomenal landmark in the Foo Fighters canon.