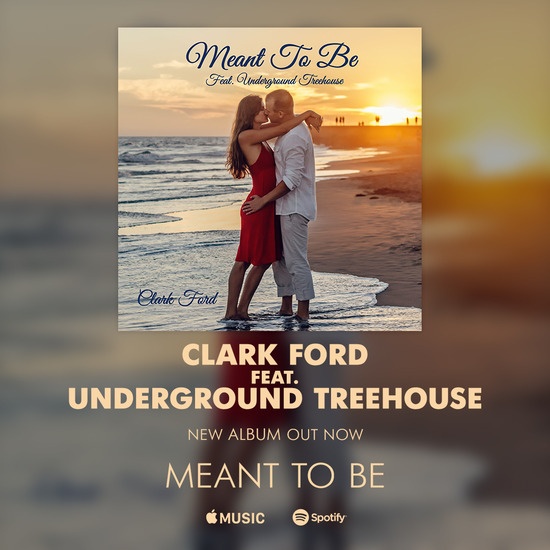 Clark Ford engages in a jazzy pop elegance with "Meant To Be (feat. Underground Treehouse)." Instrumentally rich, there is beauty to be found with the many different flourishes. Vocals rest right at the heart of the matter, allowing the songs to float gracefully. Melodies bounce off the walls, further adding to the inherent bliss of the piece. Rhythms keep things relaxed, for there is this sense of looking inward, of exploring one's motivations. Saxophone work has a soulful Chet Baker quality adding to the work's warmth.
Piano delicately flows through the swinging opener "I Believe in You." Spry accompaniment on "I've Been Waiting for You" unfurls with cunning grace. The playfulness of "For Better or Worse" messes with the theme, throwing the listener for a loop in a humorous, carefree manner. "Baby on Board Blues" has a gritty edge, perfectly working off the rest of the album and helping to further flesh out the narrative. Slow moving with its noir theme, "Live It Up!" has a significant buildup to that explosive finale. Much more subdued, "Tonight" has a wintery, late-night fervor. The laid-back atmosphere continues as "Every Moment" has a sparse, fragile quality. Great drumming adds to the meditative "I Gave My Heart to You." Yearning dominates the sweetness of "I Miss You." Closing things off on a high note is the delicate "Written in the Stars."
Website: https://drooble.com/clark.ford
Label Artist Page: https://bongoboyrecords.com/clarkford/
"Meant To Be (feat. Underground Treehouse)" reveals Clark Ford's uncanny ability to craft lyricism that drips with love and affection.