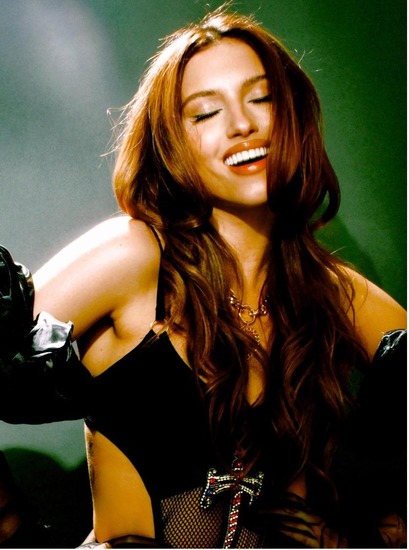 @skopemag news – friday – june 2, 2023 @ 12 pm est
https://www.facebook.com/SkopeMag/
https://twitter.com/skopemag
https://www.youtube.com/@skopetv2
https://www.instagram.com/skopemag/
APP – Apple iTunes –
https://itunes.apple.com/app/id1465224822?mt=8
@skopemag APP – Google / Android –
https://play.google.com/store/apps/details?id=hr.apps.n207414718
Support @skopemag –
https://www.paypal.com/donate/?hosted_button_id=3APKAKT8K6ETW
Genre-bending Duo MISSIO Are On A High With New Single "Easy"
"We all experience those moments where life can feel so good that it makes time temporarily stop for us. Maybe it's the first time you look your partner in the eyes in the morning. Maybe it's playing in the park with your children or your dogs. Or maybe it's the meditative practice of lighting up a joint after a long day of work while overlooking a sunset. Whatever it is, we hope that you find that thing that makes you feel Easy, Easy, Easy," reflects MISSIO.
EMPIRE STATE BASTARD SHARE NEW SONG "STUTTER"
Having recently announced their signing to Roadrunner Records, Empire State Bastard is led by Simon Neil (Biffy Clyro) and Mike Vennart (Biffy Clyro live guitarist and solo artist, ex-Oceansize), and features the legendary Dave Lombardo (Slayer, Testament, Mr. Bungle) on drums, with Naomi Macleod (Bitch Falcon) rounding out the live line-up on bass.
HULVEY RELEASES NEW SINGLE "USED BY YOU"
Despite his rapid growth in 2023, Hulvey remains focused on those around him. Working on growing as a father, husband and artist, Hulvey sees the Lord's hand in his life more and more everyday. "I get so much joy from looking at my son. Memphis doesn't have to prove himself at all. I just love him because he is my son.." says Hulvey. "I realized that God sees me the same way. This song is me realizing how much my Father cares about me. That is what gives me my energy, not just trying to love God on my own energy or strength."
The Aquadolls release their third studio album 'Charmed' via Enci Records
OUT NOW: NASHVILLE'S LGBTQ+ COUNTRY ARTIST TORREY MCDOWELL RELEASES DEBUT EP 'NOT A MAN'
This four-song EP is a reflection of the struggles Torrey faced opening up about her identity, making it perfect for PRIDE month playlists. Listeners are drawn in by songs Not a Man and Outloud, which showcase a longing for society's acceptance regardless of who you are and who you love. The title track is a heartbreaking example of what it's like to deeply desire support and acceptance regardless of the conditions of your love story. Additional tracks featured on the EP include previous releases It Gets Better and Come on Back to Georgia, Torrey's most recent release about missing a long distance partner.
MEET BREEZ KENNEDY: 17-YEAR-OLD VIRAL SENSATION RELEASES DEBUT SINGLE "LOVE CRAZY (BLOWING UP YOUR PHONE)" VIA STANDARD RECORDS/DEF JAM RECORDINGS
CANADIAN DANCE-POP ARTIST RÊVE RELEASES ELECTRIFYING NEW SINGLE, "BIG BOOM" VIA ASTRALWERKS
Recorded in Toronto and produced by Grammy-nominated and JUNO-winning production duo, Banx & Ranx (Dua Lipa, Sia, Little Mix, Sean Paul), "Big Boom" is an energetic body of work that is bound to ignite the dance floor. The song was also co-written by the production duo, Rêve and Peter Hanna (Robin Schulz, Little Mix, Chainsmokers). With the irresistible dance-pop vibes of "Big Boom", the new track arrives on the heels of bringing home the 2023 JUNO Dance Recording of the Year for Ctrl + Alt + Del (x2 Platinum-certified).
60's Psych meets Indie Rock // "Declarations of the 3am Freeway"
Soaked in the bright psychedelia of the 1960's and dipped in the indie rock explosion of the new millennium, The Velveteins are best described as a bridge between the two. Inspired after living out of a camper van on the beaches of Australia for a year, frontman Spencer Morphy returned to Canada and started the band with co-songwriter Addison Hiller in 2014. Later joined by Dean Kheroufi, Daniel Sedmak and Cam O'Neill, the fivesome have since made a name for themselves for their incendiary live performances.
Haviah Mighty returns with dancehall-tinged "Huh"
"Huh" harbors hard-hitting drums and rumbling bass that weaves through elements of house/dance, hip-hop, and R&B in line with hits from Tinashé, Miguel, or The Weeknd. While it promises to be a summer banger, it also delves to the depths of the human heart, Haviah staying true to her poetic touch.
Joan Jett and the Blackhearts Release New Digital EP "Mindsets"
Mindsets is a perfect blend of punk and rock n' roll that feels timeless and immediate at once, serving as a reminder of what Joan Jett and the Blackhearts are all about. Each of the six new tracks on the EP feature their own spin on the band's signature tight instrumentation and heavy guitar riffs, effortlessly pairing with Jett's vocals that remain full of attitude and urgency. Both a voice and force to be reckoned with, Jett continues to deliver a sound of conviction and energy.
MERCY MUSIC Dive Headfirst Into Denial With Sludgy Single "Found Out I'm Useless"
"This song is about being gaslit while in such a deep stage of denial," says vocalist and guitarist Brendan Scholz of Las Vegas-based pop-punk outfit MERCY MUSIC on the band's sludgy new single "Found Out I'm Useless" taken from their upcoming fourth full-length album What You Stand To Lose out June 30, 2023 via Double Helix Records/SBÄM Records. Scholz adds that the song is about convincing yourself the situation is still salvageable even though, in your heart of hearts, you know it's not, "The truth is right in front of you, but you constantly refuse to accept it." The lighthearted sarcasm of lyrics such as "I fit the pieces, but still fail to excel / Unwanted / I stay the course, and sail the ship straight to hell / Don't want it" helps counter the overall frustration. Bassist Jarred Cooper adds, "[The song is] a little bit of a departure, but I think it fits well on the record. It really gives me '90s slacker vibes."
BREAKOUT PRODUCER NURKO DROPS AMBITIOUS 'DISCOVERY' EP
Discovery kicks off with "Eternity" featuring Dayce Williams, a tender, acoustic soundscape which soon coalesces into a crescendo of electro-pop grandeur. Next up is a trio of stunning singles including "Too Long" with Cruel Youth, Save Me (From Myself) with Kyle Hume, and "Love Is A Highway" featuring NERIAH. Each manages to pull at the heartstrings while also delivering soaring synths and unforgettable drops. The EP winds up with the spectacular "Art of Letting Go."
HALF MOON RUN RELEASE ANTICIPATED NEW ALBUM "SALT" TODAY
"For that song alone, Devon went through several hundred different Tascam recordings, mining for lyrical and melodic content," says Conner Molander. "We've been working on that song for the better part of a decade, and that's true of several songs on this record."
Josh Gallagher Pulls on Our Heartstrings with Honest New Single "Human"
Singer-songwriter Josh Gallagher is back with another country hit "Human" which is sure to have you singing along. Unlike some of Josh's boot-stomping drinking songs like "Bar Fools" and "Them Cans," this new single shows his more vulnerable side. A song about realizing even our heroes are human just like us, Josh's storytelling lyrics and gritty voice will pull at your heartstrings.
Kah-Lo Unveils Toxic Female Energy On New Single 'Karma' Out Now via Epic Records
Today, Grammy-nominated Nigerian dance-pop vocalist Kah-Lo releases her new single 'Karma' on Epic Records.
Rufus Wainwright Shares Star-Studded New Album 'Folkocracy'
The star-studded collection of folk music reinventions arrives via BMG in a range of formats including digital download, CD, and vinyl.
Allegra Miles Releases "Heal My Soul"
"I experienced a lot of depression/ anxiety and traumatic experiences when I was young, so as a survival method, I subconsciously taught myself to withhold my emotions and always pretend everything was ok. In the past few years as I've been working through the trauma and reconnecting with my inner child, I've slowly but surely learned to allow myself to release and FEEL everything much more freely, which has made it possible to heal. It's been the absolute most important part of my healing journey" ~ Allegra Miles
thee B.P. Releases Sultry New Single "Lay Low"
Rising hip hop and R&B artist thee B.P. has released his dreamy new single "Lay Low." Perfectly capturing the essence of the honeymoon phase of a relationship, "Lay Low" evokes a welcomed sense of romantic escapism. With an impressive vocal range and undeniable charisma, thee B.P. guides listeners into his blissful daydream. "Lay Low" is available now to stream and download on all digital platforms.
OTR X UFFIE UNVEIL NEW SINGLE, "LOOKING DOWN FROM SPACE"
Uffie recalls, "We had such a fun day making 'Looking Down From Space,' filled with discussion of space, the world, and trips of the night. I love how this record pulls at your emotional strings, while still being feel-good and having that easy, summer night banger feel."
PLATINUM-CERTIFIED ARTIST SAM HAFT IS TELLING YOU TO "GROW UP" ON HIS NEW SINGLE FEAT. CG5
Today, platinum-certified artist and songwriter Sam Haft woke up and chose violence on his new single "Grow Up" featuring CG5. This is the first track from Sam's forthcoming electronic-pop EP Bad Times, due July 14. The bass-heavy track is accompanied by a grungey video from Emmy-nominated horror director Roxy Shih that follows a frustrated Haft looking for some sort of escape from his personal tensions – and finding that release in bullying some hapless high-schoolers in an over-the-top game of laser tag.
ZZZ. TAPS TRIPPIE REDD FOR EMOTIONAL NEW SINGLE "SAD & ALONE"
"These girls, they're all the same, I can't explain it." Zzz. croons over gently plucked guitar. "You're a noose with your love, you always leave me hanging." Filled with pain and longing, the track still manages to seduce with its soulful harmonies and disarming heart-on-sleeve vulnerability: "Now sad and alone I still can't forget about you."
Stella Santana shares new single + announces 'Distant' EP out 7/14
Today, LA singer-songwriter and genre-bending artist Stella Santana shares her new single "Attention", marking her second offering from her upcoming new EP Distant. "Attention" seamlessly weaves from an R&B-infused track into an infectious beach-pop-infused production, resulting in a sultry indie-disco vibe as she reminds us not to take others for granted and to prioritize our presence in relationships.
Coinciding with the track is a captivating visual, showcasing Santana against a backdrop of the rolling ocean, adorned in a floor-length fur, all while exuding an air of opulence as she demands our undivided attention.
Inhuman Condition Unleashes video for new Track "Panic Prayer"
Florida death metallers Inhuman Condition have released a music video for their new single "Panic Prayer". The title-track is available on all streaming services in addition to the band's bandcamp page, where preorders are now available.
JEFF DRACO DROPS SURPRISE SINGLE, "NEVER GONNA BE THE SAME"
Months in the making, "Never Gonna Be The Same" sees Draco again collaborating with rising indie darling Blake Ruby on co-production to create a forward-thinking song that tested the limits of his songwriting and creativity. The end result is a gritty release oozing with nostalgia, slick guitar riffs, and intricately layered textures. A song that contemplates both the changes affecting society around him, like violence in schools, and the changes he's facing as he goes from a recent college graduate to now facing a world filled with uncertainty, 'Never Gonna Be The Same' is meant to be as much a step back as it is a reason just to let go and dance as the world burns.
DJibouti and Feinte share "Love Bug," house for the people
DJibouti and Feinte have come together to create house music for the people; it's indie loverboy, pop vocals over extremely danceable early house beats from two of the up-and-coming kids who are reshaping NYC's house + party scene. "Love Bug" is a perfect example of the beauty of this collaboration – a necessary reaction to heartbreak over bumping beats that help to wash yourself clean.
Katelyn Tarver Signs With Nettwerk; Shares New Single/Video + Announces Headlining Tour + Forthcoming LP In 2024 
"Starting to Scare Me" delves into the vulnerable depths of Tarver's introspection, offering a raw and honest exploration of detrimental tendencies. The track confronts the allure of indulging in harmful behavior as a temporary escape, rather than confronting the underlying causes head-on. Tarver, known for her poignant lyricism and emotive vocals, examines her personal journey of evasion and acceptance. Sonically, the track graces the edges of nostalgia, recalling 90s influences that propel pulsing guitars and memorable hooks to the forefront.
Sizzy Rocket releases new single "MOMMY"
In the midst of the SIZZY ROCKET'S ROCKSHOW IN THE BASEMENT Tour, "MOMMY" was teased via ultrasound on Mother's Day, making friends and family alike freak out. The synth-driven single arrives today serving the perfect mix of bold beats and empowering lyricism to take over the club all month long.
Uncured Releases New EP 'My Design' and Premieres "Fight This War" Video
Metalcore band Uncured drops its latest EP, entitled My Design. Featuring six original tracks and a cover of Linkin Park's classic "One Step Closer," this release propels the band into the center of today's active rock scene. My Design was produced by brothers Rex and Zak Cox, and was recorded, mixed, and mastered by Conclave Studios.
COREY KENT HITS THE PAVEMENT WITH THE RELEASE OF NEW ALBUM BLACKTOP
Oklahoma native/Texas based Corey Kent releases his major label debut Blacktop today via RCA Nashville/Sony Music Nashville. The 10-track album features writing credits from Kent himself as well as Morgan Wallen, Ryan Hurd, Kelly Archer, Lydia Vaughan and more with production from Jay Joyce and Chris Farren.
DEVON COLE RELEASES NEW SINGLE & MUSIC VIDEO "1-800-GOT-STRESS" TODAY
In the track, Devon reveals a vulnerable side as she wrestles with anxiety. She adds, "'1-800-GOT-STRESS' is a song about feeling helpless and lost. I've struggled with anxiety throughout my life, and there are times when I've been unbelievably low. Now that I'm older, I've got a better handle on how to cope—and meds help—but there were times in my early teens and in university where I could not see the light at the end of the tunnel. And that's a really scary feeling. So, I wanted to create a song that conveys those feelings of helplessness. All I needed in those times of mental struggle was to feel seen. I hope people who listen feel seen."
Francisco Martin Reflects On The Tug and Pull Of Failing Relationships With "Lily"
Singer-songwriter Francisco Martin has just released "Lily," a steady, groove-filled pop hit about the tug and pull of a relationship on the rocks – when you know it'll end soon but can't help but still hold on. "This song started one late, hazy night with my closest friends and family and was finished at the legendary Stupid Youth Studios," Francisco adds. "While the song sounds easy-going, the lyrics pull at your heartstrings." The release follows "Passenger Princess," a soulful, vibrant track that showcased a softer, more sensitive side of Francisco, in contrast to his breakthrough EP 'Manic,' which found dreamy falsetto and robust belting serving as conduits for conversations about mental health, relationships, angst, and human disconnection.
Generationals' Defining Album Out Today (Polyvinyl)
After 14 years of creating music, New Orleans indie pop duo Generationals have made the record they have been pursuing from the start – Heatherhead is out today on Polyvinyl Record Co, including new track "Death Chasm." Produced by Nick Krill (The War on Drugs, Clap Your Hands Say Yeah, Spinto Band), previous singles on the album received high praise from KCRW, KEXP, SiriusXMU, Paste, BrooklynVegan, FLOOD, Earmilk and beyond. The NYC women-run POND Creative (Soccer Mommy, TOLEDO) created vibrant, analog videos and images for the project, which also features album and single art from empty theater photos as part of Michele Bressan's Waiting for the Drama. The band is excited to fill seats again on tour this fall, following a previous sold-out run.
DEFIANT PRESENTS DROP NEW SINGLE "PISTONS;" ANNOUNCE 'JIGGY IN JERSEY (FT. MCVERTT)' MIXTAPE
United under the banner of Defiant Presents, the Trio's upcoming project demonstrates the Earth-shaking chemistry between Bandman's smooth, rapidfire rhymes, Sha's booming delivery, and MCVERTT's indomitable, high-BPM production. Spanning 26 tracks, including the third installment of the epic "Jiggy In Jersey" trilogy, Defiant Presents: Jiggy In Jersey (ft. MCVERTT) arrives on June 30th via Defiant Records / Warner Records.
NYC's Sister. returns with a new single, "Guts"
Sister. consists of Hannah (they/she, of h. pruz), Ceci (she/her), and James (he/him). Sister. happened by accident—during senior year of college, Ceci wrote a song for a course assignment and asked roommate Hannah to sing it. The band released their debut EP "Soft Spot" in August of 2020, and their sophomore EP "Something / Nothing" in September 2021. Now, Sister. is gearing up to release their debut LP, Abundance. The nine songs, largely about friendship, span three years worth of collaborative songwriting, with the heart of the record originating in "Abundance", a song Hannah and Ceci wrote together based on the Ralph Waldo Emerson essay "Gifts".
Charlie Farley shares new single "Midnight Cowboy"
The self-written track takes listeners on a journey through the wild and unpredictable world of late-night adventures. The protagonist, known as the Midnight Cowboy, navigates a life filled with fleeting encounters and restless desires. However, when a special someone enters his life, everything changes. Farley's powerful vocals and the infectious rhythm bring the story to life, immersing listeners in a tale of wild nights, heartfelt emotions, and ultimately, the transformative power of love. Download and stream "Midnight Cowboy" HERE.