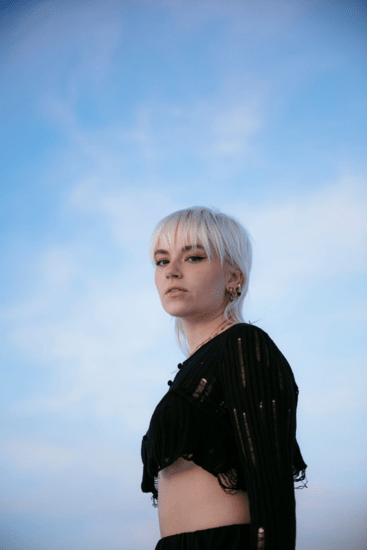 @skopemag news – friday – june 2, 2023 @ 10 am est
https://www.facebook.com/SkopeMag/
https://twitter.com/skopemag
https://www.youtube.com/@skopetv2
https://www.instagram.com/skopemag/
APP – Apple iTunes –
https://itunes.apple.com/app/id1465224822?mt=8
@skopemag APP – Google / Android –
https://play.google.com/store/apps/details?id=hr.apps.n207414718
Support @skopemag –
https://www.paypal.com/donate/?hosted_button_id=3APKAKT8K6ETW
LACUNA COIL Release Highly Anticipated Single "Never Dawn"
Italian metal titans, LACUNA COIL, have unleashed their recently announced single, "Never Dawn," today, June 2nd, 2023. This highly anticipated track marks a significant milestone in the new chapter of LACUNA COIL, who have captivated audiences worldwide with their unique blend of gothic and alternative metal.
"Never Dawn" showcases LACUNA COIL \'s signature sound with its haunting melodies, powerful guitar riffs, and the mesmerizing vocal harmonies of Cristina Scabbia and Andrea Ferro. The song delves into the depths of the human spirit, exploring themes of resilience, inner strength, and the eternal struggle between light and darkness. LACUNA COIL \'s ability to intertwine introspection and intensity creates an immersive listening experience that will undoubtedly resonate with fans old and new.
SEKOND SKYN ANNOUNCE NEW SINGLE/VIDEO "MY HEAD" ++ LISTEN
From Forked River, NJ – the hard-hitting rock/metal band, Sekond Skyn has released their single/video for "MY HEAD". The band consists of Jesse Shar (Lead Vocals), Mark Monjoy (Guitar), Zack Miranowic (Guitar), Brian Jennings (Bass), and Tommy Spano (Drums/Backing Vocals). These seasoned set of musicians play off each other so succinctly that the beat and melodies coincide effortlessly with the rhythm. Sekond Skyn creates a dynamic full sound and solidifies a behemoth stronghold that resonates. "My Head" undeniably relays their works and their forthcoming album release later this year. Sekond Skyn is a high-functioning beast that produces its well-known New Jersey sound. Get ready for a force to be reckoned with.
New Pride Month Single from Multi-Grammy Certified Artist
Tim Young is a multi-Grammy certified vocalist, songwriter and music producer from New York City. Over the years, Young has had the privilege of working with the likes of Paul McCartney, David Bowie, Max Martin, Ashanti, Hugh Jackman and Lin-Manuel Miranda, to name a few. His atmospheric rock meets alternative pop sound, has been described as Lana Del Rey meets Journey, meshing atmospheric storytelling with aggressive audio production, to create something that is uniquely his own. His lyrics share brutally honest and tragically hysterical stories from his very colorful and very strange life.
NEW VIDEO: Songstress Marianna Winter shares Live Performance video 'Consequences' (FFO: SZA, Kehlani, and Alina Baraz.)
New Tune // Sody – "Frozen Lake"
Today, British star-in-the-making Sody releases her heartwarming new single "Frozen Lake." The song comes complete with a truly stunning official video that hits the soul's core alongside Sody's forever top notch songwriting prowess.
Grammy Nominated Recording Artist Chris St John Releases His Newest Album "The Sinner And The Saint"
Chris has traveled extensively, living in China during college and navigating five continents for recreation and mission work, providing healthcare, school supplies, clothing, and food for impoverished people, particularly orphans. His experiences have given him a deep well to draw, intelligent, and thought-provoking lyrics. He combines catchy, beautiful, and unique melodies, time signatures, and tempo changes to provide a landscape for his poetry.
OMB PEEZY RELEASES "THINK YOU READY" MUSIC VIDEO
Connie Talbot – Easier Pretending You're Dead
Country Artist and Activist Jenna DeVries Releases Female Empowerment Anthem "Self Made Man" to Kick off Pride Month
Jenna DeVries is better than ever with her new single, "Self Made Man." With songs in the country, pop, and rock categories, Jenna proves once again that her fiery voice and powerful songwriting can mend genres seamlessly.
Vancouver Musician Beau Wheeler Releases New Single/Album FLYING COLOURS
'Flying Colours' is the second single and title track from Beau's new album and follows the release of 'Arizona', which was released last year. Inspiring and full of hope, 'Flying Colours' is a triumphant song about coming out of the dark and into the light.
Jelly Kelly Leads an Indie Rock Revolution with New EP "Warm Water"
In recent years, Jelly Kelly has consistently produced music that surpasses their previous work, showcasing their evolution as a band. Led by Keith Kelly, who is also a singer and guitarist in Monogold, Jelly Kelly started as a side project but has grown into a distinct entity. The band consists of Jared Apuzzo on drums, Nicolas Dube on guitar, and Dom Bodo on bass.
Multi-Award-Winning Country Group Lonestar Release 'TEN to 1'
As Forbes journalist Pam Windsor noted earlier this year, "Lonestar is still going strong." Last week, People Magazine spotlighted the importance of the band's song, "I'm Already There" for Memorial Day and underscored the song's cultural importance as "the blockbuster hit that Lonestar took to No. 1 on the country charts back in 2001," adding, "'I'm Already There' has long pulled on the heartstrings…an unofficial anthem of the U.S. military."
Review: Lonestar is Back and Better Than You Remember on New Album, 'TEN to 1'
Bristol's Indie-rock four-piece Chasing Kites unveil bittersweet new single 'Two Towns'
Discussing the inspirations behind the single, vocalist and lyricist Matt Donnelly explains, "Two Towns dives into the frustration of having a relationship taken away from you through no fault of your own. It also explores the period of time immediately after the relationship's breakdown, when you're unable to keep your ex partner off your mind even when you're sleeping."
Sam Pounds Releases Title Track From Upcoming Debut LP
Today, Sam Pounds released "Don't Forget Where You Came From," the title track from his upcoming debut LP due out June 23rd. This release comes via The Penthouse South/Sumerian Records and follows original tracks "Preacher's Daughter" and "She Get It From Her Mama" as well as covers by Palaye Royale, Bad Omens, Kings of Leon and more.
THE CHAINSMOKERS RELEASE HYPNOTIC NEW SINGLE AND OFFICIAL MUSIC VIDEO FOR "SELF DESTRUCTION MODE" WITH BLUDNYMPH
Grammy® Award-winning and chart-topping artist/producer duo The Chainsmokers have released their second single from the TCS5 Era, "Self Destruction Mode" with genre-bending dark rap/pop artist Bludnymph, today. The song, which fans have been rabid for on social media, arrives alongside an official video that was directed by Jeremiah Davis and filmed on the Santa Monica Pier.
Debut album from Ghanaian star Camidoh
Ghanaian popstar Camidoh announces himself as a major global talent with debut album Love Is The Answer (L.I.T.A), out 2nd June on Crux Global / Moves Recordings.
Several years in the making, 'Love Is The Answer ( L.I.T.A )' is an 15-track odyssey of Afropop delights overflowing with Camidoh's vibrant charisma and vocal ingenuity. A love letter to his native Ghana, it features fellow homegrown talents Sarkodie, Stonebwoy, Kwesi Arthur, M.Anifest and Amaarae.
Adam Lambert And Sigala Release New Single "You Make Me Feel (Mighty Real)"
The single, which is the official song of London Pride, is a cover of the 1978 classic disco party anthem by LGBTQ+ pioneer Sylvester about celebrating self, freedom and uniting everyone. On June 23, Lambert will perform the song live on Good Morning America and on July 1, he will headline London Pride.
KENZO B DROPS ENERGETIC NEW SINGLE "BFFR"
Though well-known as one of drill music's most promising young voices, on "BFFR" Kenzo leaves behind that scene's larger-than-life menace and maximalist beats for something lean, buoyant, and positively relentless. It would be easy to place "BFFR" in any number of lineages—you could say its tempo was ratcheted up by the exploding club rap scenes in the Tristate and elsewhere, or that its taunt of a hook makes it seem like it was beamed in from the late '80s—but the fact remains: even when stripped down to its core elements, Kenzo's music is unmistakable. "Don't gotta be in the room," she raps toward the song's end, "my name could get it shaking."