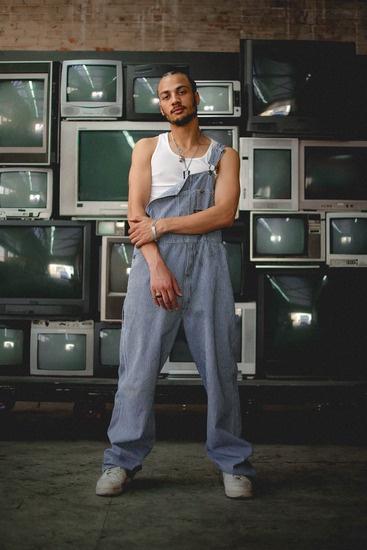 Jay Kayze, the Bay Area artist, is back with his second single, "You Heard," from his highly anticipated debut EP, "Before I Go." This introspective track delves into the complex topic of identity and the impact it has had on Kayze's life. As a biracial artist, Kayze confronts the pressures of correcting others' narratives about his racial background. However, in "You Heard," he takes control of his own power, shedding the weight of external assumptions and focusing on his personal growth and artistic journey.
Recorded initially in his friend Koste's living room, "You Heard" comes to life in its accompanying music video set against the breathtaking backdrop of Joshua Tree, CA. The video captures Kayze's captivating performances amidst the arid desert landscape, exuding a sense of acceptance and newfound strength. Model and influencer Litzxrubi accompanies him throughout, symbolizing loyalty and support. The video's aesthetic, with its summer vibes and airy atmosphere, beautifully contrasts with the song's weighty lyrics, creating a visually stunning experience.
Jay Kayze, a rapper, singer, and multi-instrumentalist, has aptly earned the title of the "artists' artist." His versatility, skill, and meticulous approach to his craft have garnered attention and admiration. While currently based in Los Angeles, he continues to draw inspiration from his experiences in the Bay Area music community. Kayze's music serves as a platform for discussing his personal struggles, bridging the gap between his love for language and instrumentation.
Kayze's relentless work ethic stems from a challenging upbringing. Raised by a single mother who worked tirelessly without government assistance, he witnessed her transform a retail job into a Vice President-level position at a Fortune 500 company. Inspired by artists like J. Cole, Anderson .Paak, Childish Gambino, and Chance the Rapper, Kayze infuses his music with the swagger of a generation embracing diversity and enrichment. He seamlessly blends elements of old-school hip-hop/R&B with new-age rap and pop, drawing influence from his upbringing listening to Lauryn Hill, the Black Eyed Peas, Busta Rhymes, and Dr. Dre.
Kayze's talent has earned him the opportunity to perform alongside his childhood idols, including Nas, Rakim, and Too Short. With millions of streams on platforms like Spotify, Soundcloud, and YouTube, his artistry has caught the attention of industry legends such as DC Young Fly and The Game. The future looks bright for Jay Kayze as he continues to push boundaries and carve his own path in the music world.
"You Heard" serves as a testament to Jay Kayze's resilience, authenticity, and unwavering dedication to his craft. With each release, he solidifies his position as a rising star, captivating audiences with his thought-provoking lyrics, dynamic performances, and ability to bridge the gap between musical genres. As his fan base continues to grow, there's no doubt that Jay Kayze's talent will take him to even greater heights in the industry.