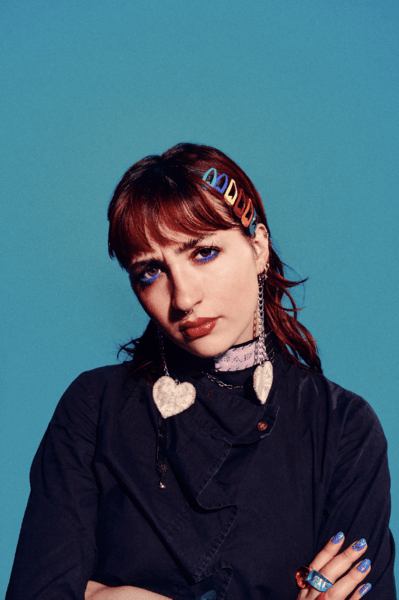 @skopemag news – thursday – may 18, 2023 @ 10 am est
https://www.facebook.com/SkopeMag/
https://twitter.com/skopemag
https://www.youtube.com/@skopetv2
https://www.instagram.com/skopemag/
APP – Apple iTunes –
https://itunes.apple.com/app/id1465224822?mt=8
@skopemag APP – Google / Android –
https://play.google.com/store/apps/details?id=hr.apps.n207414718
Support @skopemag –
https://www.paypal.com/donate/?hosted_button_id=3APKAKT8K6ETW
The Japanese House x The 1975's Matty Healy – "Sunshine Baby"
"Sunshine Baby is my nickname for my dog, and my ex and I always used to lay on the beach together being sunshine babies. The chorus is kind of a submission to the end of our relationship, but singing it in a positive light. There's a transience in every part of a relationship, and in the circle of everything it comes back around," Says Bain.
OMAH LAY RELEASES NEW INTROSPECTIVE VIDEO "safe haven"
Creature Cult share powerful alt-electro-pop new single 'I did this to myself' | Managed by Various Artists (Cassyette, Ashnikko, La Roux, Mel C)
On the track, Connar says, "I set myself to self-destruct and pushed everyone away when I needed them most. I was going through some heavy stuff in my life and I felt completely at my limit and couldn't handle everyday social situations. I didn't see any of my friends or family and made everything as difficult for myself as possible. I guess you only know what you had once it's gone. This song is about coming out the other side and realising what I'd lost."
MOLLY BURMAN RELEASES NEW SINGLE 'BEAUTIFUL PEOPLE'
Gen Z singer and songwriter Molly Burman has released her brand-new single 'Beautiful People', which is set to precede her latest EP 'Worlds Within Worlds', due to be released in August.
Lala Salama's single Summer Love is out today – Summer shoegazing from Finland
Lala Salama, the newest signing to the All That Plazz record label, is joining the summer hit parade with the release of the irresistibly cheerful single Summer Love. The new single, which is being released on May 17, doesn't pale sonically alongside the world's biggest contemporary indie bands at all thanks to mastering by American Grammy nominee Ryan Schwabe.
Mecha Mecha – Pair 'My Hero The Homewrecker' With A Light And Smoke Show (Music Video Out May 18)
Icewear Vezzo preps for new project with first solo release of 2023, "Back On Road" OUT NOW
JOAN & THE GIANTS Raise A Glass To Hearbreak City In Indie Pop Gem 'Cool Kid'
Renowned Boorloo/Perth alt-pop indie band Joan & The Giants are celebrating the release of their latest melancholic track 'Cool Kid' out May 18. Jangly guitars, catchy hooks and personal storytelling make up a track that is a catalyst in their ever-growing catalogue.
Econoline Crush Are Back With New Single "No Quitter" And Canadian Tour Dates
Baaba Maal – releases new video for 'Yerimayo Celebration'
Featuring regular collaborators including Cheikh Ndoye on bass ngoni and Momadou Sarr on percussion, it is a glorious, positive percussion-heavy celebration of music and how in troubled times it can open the mind and hearts and fight cynicism and chaos.
New music: Irish alt-pop artist KEHLI announces her debut EP 'Pity Party' out July 21st and releases new single "All Outta Love"
After returning earlier this year to deliver her captivating singles "Lose U Now" and "Dead Body", the latter of which picked up support on BBC Radio 1's Future Pop with Mollie King, Apple "New In Pop" playlist addition in 72 Countries, and Spotify's Fresh Finds playlist, Irish pop starlet KEHLI has now announced the details behind her eagerly-awaited debut EP 'Pity Party', as well as delivering the new lead offering "All Outta Love".
Dexys release title track from forthcoming album 'The Feminine Divine'…
Dexys today release the title track from their eagerly anticipated new album The Feminine Divine. The album comes out July 28th on 100% Records.
FRACTURES delves into an energising deep house soundscape with 'Do Nothing'
Fractures is back with his latest single 'Do Nothing', pulled from his forthcoming LP Shift. With his latest single, we hear the Melbournian artist leaning further into a deep house soundscape, while maintaining the same club-stomping intensity as his past releases.
YAOUNDÉBOXINGCLUB releases stunning collaboration with tmdistant // LISTEN HERE
Fresh off her debut EP I Thought I Knew You, Boy Was I Wrong which has received significant editorial support on Spotify— with "Carry Me Away (I Wanna Feel)" and "When the Movie Ends" being added to New Music Friday UK, Our Generation, Fresh Finds, Fresh Finds: UK & IE and an alternative future, singer-songwriter and producer YAOUNDÉBOXINGCLUB isn't slowing down yet as she unveils her new single, "Did It My Way", a stunning collaboration with Essex-based alternative artist tmdistant.
Cinematic Symphonic Metal Prodigy Max Enix presents "The Broken Face" (Official Music Video)
Visionary metal composer Max Enix has released his latest video clip "The Broken Face," taken from his upcoming album "Far From Home." The animated video clip was produced by Dronicon Films and is now available to view on YouTube:
Bristol dream-pop outfit Oslo Twins announce debut EP and release new single "Miss Yesterday"
Bristol born dream-pop outfit Oslo Twins have announced their debut EP 'Back To Nothing' will be released 28th July via Fascination Street Records – a new label founded by producer Ali Chant (Yard Act, Perfume Genius, Aldous Harding, Katy J Pearson) in partnership with Bristol's Factory Studios.
MUTOID MAN ANNOUNCE FIRST ALBUM IN 6 YEARS
Punk Rock and Metal superheroes Mutoid Man, the venerable trio consisting of Cave In vocalist/guitarist Steven Brodsky, Converge drummer Ben Koller and the newly added High on Fire bassist Jeff Matz have announced their first new album in six years, Mutants, available July 28th. Today hear the album's first single, "Call of the Void," a tightly harnessed bonanza of dexterous pinch harmonic riffs, lizard-brained half-time chugs, and a call-to-arms chorus with a relentless double-kick beat. The song arrives with a Two Minutes to Late Night directed video where the band breaks out of their robotic confines, eventually transforming into their true mutant self.
PIGEON WIGS – Announce 'Rock By Numbers' Mini-Album (7 July) || Listen to "Hold Up!" Now
Rising retro-revisionists – PIGEON WIGS – have unveiled the new single: "Hold Up!".
The track is the Cardiff quintet's first new music of 2023 and is taken from a brand new mini-album 'Rock By Numbers', due to arrive on 7 July via Clwb Music.
Hyper-confessional Mental Health EP – OUT NOW
Mandi Crimmins is the chaotically-relatable rockstar you've been searching for. This Los Angeles-based Berklee grad is known for her vulnerable raw lyrics and unhinged pop hooks that draw the listener in. Mandi suffers from Borderline Personality Disorder and does not hide that, but instead uses it to connect and relate to listeners also struggling with mental illness. Her fierce authenticity has garnered her a cult following of 40k on TikTok, with the mental health community rallying behind every release.
Cody Lawless (formerly KNOWN.) shares "It's Always Warm In San Araya" from upcoming debut LP out June 23
Cody Lawless (formerly KNOWN.), an indie-pop singer-songwriter hailing from Mission, B.C., is sharing his new single, "It's Always Warm in San Araya," and its gorgeous accompanying music video. Speaking on the fictional town at the center of his forthcoming debut album, Sunshine State of a Happy Camper, Cody said "This album, on the surface, is about a small beach town called San Araya and its inhabitants, and their struggles and triumphs in life. Covering subjects such as love and lust, appreciating existence, psychedelic drugs, and bohemian lifestyles."
ALEX MCEWAN SHARES THE NEW SINGLE 'RODEO STAR' FROM THE NEW ALBUM 'IN A WORLD WE DON'T KNOW' WHICH FOLLOWS ON SEPTEMBER 28TH
'Rodeo Star' tells the story of a man whose big ambitions have remained unfulfilled. Instead of the rodeo star of the title, its narrator is a cab driver in the heart of Nashville. While he never lost sight of those dreams, his reality is that they're unlikely to come true. Yet deep down he knows that is who he really is, regardless of how his life has turned out. It's a song which is full of the yearning, nostalgic and world-weary qualities that make Alex McEwan such an engaging writer. Those aspects are also delivered with the grainy, dusky soul of his vocal, beautifully plaintive slide guitar, and lyrical references to advice passed down the generations – plus a fleeting fictional cameo from Johnny Cash.
Psychedelic Doomsters ORBITER Reveal "Hollow World" Album Details; New Single and Music Video "Beneath" Out Now
Helsinki-based riff worshippers ORBITER have revealed full details of their debut album "Hollow World". The album was created as an atmospheric trip through light and shade, with both crushing heaviness and fragile sensitivity, and these themes are perfectly reflected in the album artwork created by visual artist Akatius.
Today, the band has also released "Beneath", the second single from "Hollow World". Watch the music video here: