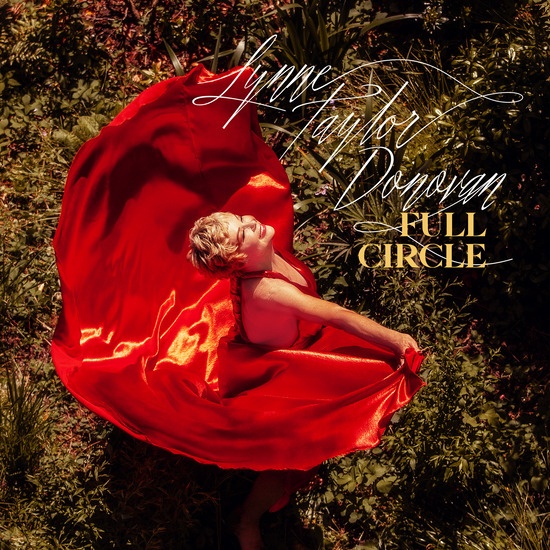 Country music has always been big in Canada, whether the average beer-guzzling, beer-belied American realizes this or cares to admit it or not. However, with all its wide-open country and rural regions, it only makes sense that country music would thrive in this nation. One artist that has been making great country music since she was but a wee thing is Lynne Taylor Donovan. Born in Vancouver, Canada, Full Circle is one of two albums this busy singer will be releasing this year. The next, Movin' On, will come out in the fall. With its wide variety of country styles and sounds, Full Circle represents the talented vocalist well.
One of the explanations behind the album's title is that Donovan's first music came out when vinyl releases were about the only music format game in town. This one is coming out in that flat, physical format, which takes Donovan full circle – if you will – back to the way she started. Perhaps another explanation for this naming convention might be how much of the music on this release sounds like it could have been created years ago, maybe even decades prior. The album, for instance, opens with the orchestrated "Half Heaven, Half Heartache," which is a pained ballad that sounds like something Patsy Cline might have tracked. Donovan sings it like a letdown lover, exactly the way Patsy would have done it.
Another highlight is "Weekend Sinner," which expresses the pull of temptation upon the country person's soul. Of course, this temptation involves cheating, and most every country sin song involves either alcohol or adultery – or in the most effective cases, a little of both. This one is given a rootin', tootin', hoedown arrangement. The guitars twang down low, while the piano plunks and the fiddle saws. It's an unusually happy sounding song, though, for such low moral behavior. However, sonically, it totally works.
With "Talk To Me," Donovan sings to a partner about talking things out. This is so foreign to most guys. To many, the phrase, 'We need to talk it out,' is the worst possible suggestion. However, as much as some alpha males hate this word stream, Donovan (and most every woman) knows that talking it out is sometimes the only way to reach a workable resolution.
One of the album's prettiest songs is called "(Never Thought I'd) Make It On My Own." It's a kind of personal empowerment song. When someone breaks up with a special significant other, it's many times difficult to see any kind of bright future on the horizon. Such is the case of the teller of this story, in this song. This person comes to the important realization they are stronger than they've ever been before. It's true that hard experiences are usually the ones that build the most character in humans, and such is certainly the case with this song character. When you can't see past your immediate pain, you aren't able to view what might be right around the corner. And that something around the next corner might be bigger and better than what came before. But we don't know what we don't know.
http://www.lynnetaylordonovan.com/
https://www.facebook.com/people/Lynne-Taylor-Donovan/100063831245092/
https://twitter.com/LynneTDonovan
Lynne Taylor Donovan is a talented and experienced country singer, and Full Circle finds her doing what she does best.
-Dan MacIntosh