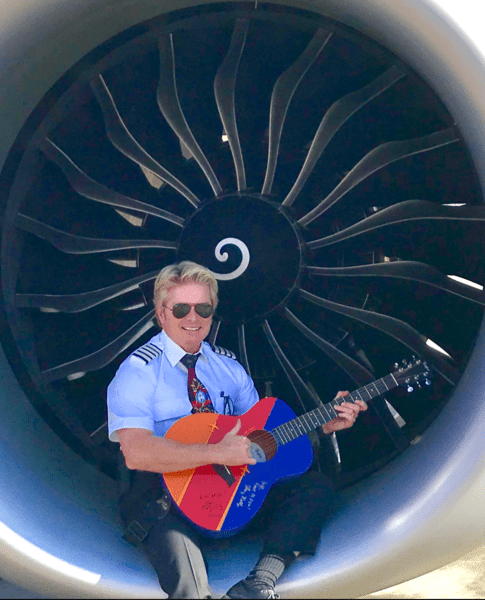 Jeff Senour is a true Renaissance man. Often referred to as "Pilot by day, Rocker by night", born in Portland, Oregon and raised mostly in Southern California. His Dad was an Electrical Engineer and flew private airplanes for fun. His Mom was a a Violinist who as a young girl was in various movies as a young Actress in Hollywood. They both taught Jeff from an early age to believe in yourself and that with hard work you can achieve anything you want in life and that's exactly what Jeff did.
Ever since his first ride in a Piper Cub with his Dad at 5 years old, he began his professional aviation career. Earning every flight certificate and paying for college by working numerous jobs, eventually he became a Flight Instructor at Van Nuys Airport in California. After earning his wings in a Learjet, Jeff went on to fly famous celebrities, CEO's and high profile customers, as well as becoming a Screen Actors Guild movie Pilot. Jeff went on to fly a highly modified aerial camera platform called Vectorvision designed by 5 time Academy Award winner, Bob Nettmann. Jeff eventually became a well known aerial film Pilot earning credits in such blockbuster movies as "True Lies", "Executive Decision", "Silence Of The Lambs", "Hot Shots" and "Space Cowboys" to name a few. He also was a photo chase Pilot for numerous airframe manufacturers and aerospace companies filming the Blue Angels, Thunderbirds, Canadian Snowbirds, NASA Dryden at Edwards Air Force Base, Boeing, Lockheed, McDonnell Douglas, Bombardier and Gulfstream, to name a few.
Jeff also went on to become an experienced Helicopter Pilot as well and spent numerous years flying Channel 9 News in Los Angeles as well as film flying in Hollywood. In 1993, Jeff hired on as a Pilot for Southwest Airlines and recently retired after 25 years as a Senior Captain for Southwest. He enjoyed the culture of one of the most iconic Airlines in the world and after millions of miles and thousands of passengers, he always enjoyed inspiring his customers with some fun and inspiration through his music. You could catch Jeff many times actually performing with his custom Taylor guitar, a gift from Gary Kelly CEO for winning the President's Award and often singing to his passengers before their flight.
Jeff's gift of music has also carried into the founding of his rock band CTS-Called To Serve. As a Singer/Songwriter with 3 studio albums with record label BMG, Jeff has dedicated his music to pass along the American Dream, honoring our Veterans and First Responders. The music of CTS has landed the band in venues across America including festivals, the Pentagon, USS Midway, USS Missouri and many more. Jeff's music has won numerous awards, radio play and even several movies through ASCAP. Jeff also produced a concert series integrating high school orchestras and CTS to bring the inspiration of Aviation and Music together in a concert performance teaching young students to live their dreams.
Jeff's life is an example of where two passions came together. His skills as an Airline Pilot as well as a Screen Actors Guild Aerial Coordinator and Singer/ Songwriter for CTS, inspire the creativity of aerial photography and music. As an aerial formation Pilot creating some of the most stunning aerial footage in the world flying next to almost every Military jet in the inventory to capture the birds eye views of aircraft in flight. Jeff says the perspective of Aviation and the music of CTS is the melodic story of his life and that we can all achieve great things in life if we work hard enough and believe in ourselves. To date Jeff has logged over 30,000 hours, almost 3.5 years in the air.
Jeff also is the host of a YouTube TV show called "Backstage Pass With Jeff Senour" featuring amazing people doing incredible things and is presently writing a book called "Reach For The Sky".
As the Chief Pilot for Mod Jets, one of Jeff's biggest rewards is bringing his 30,000 hours of experience to mentor all the Pilot's of Mod Jets, teaching a hands on approach to Aviation and Life in general.
Jeff just released his book called "Life Lessons From 7 Miles High" on Amazon and Kindle.