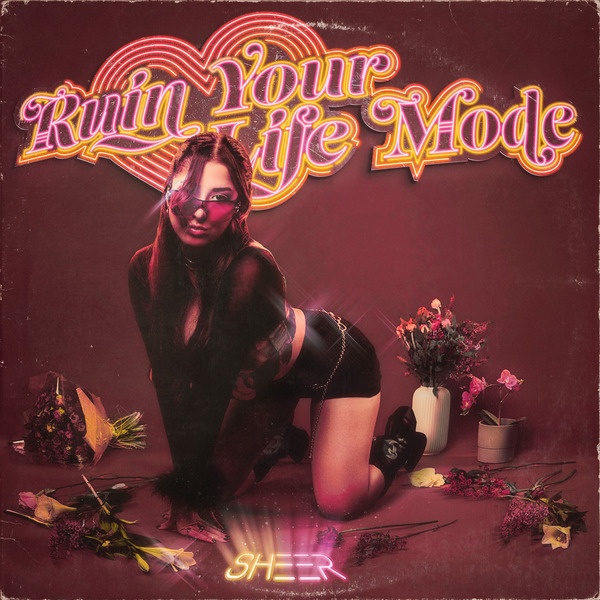 "Ruin Your Life Mode" is a great single from Israeli born and based singer Sheer Haimov and expands on her recent string of musical successes. The 22 year old has blazed an unbelievable early trail working with excellent collaborators, but the burning heart of her art lies in her hands alone. She comes to her art with one of a kind life experiences. Haimov served for a time in the Israeli Defense Force, required for all citizens of the nation, and has experienced things few other pop stars can ever claim to have witnessed. Despite those experiences, or maybe even because of them, she never forgot her love for music fostered at an early age and returned to it in full force following the conclusion of her term of service.
It's a good thing. We need more performers like this. In the hands of a lesser performer, "Ruin Your Life Mode" would ring shallow. Instead, Haimov opens up in a way few performers do thanks to a voice that's capable of inhabiting a wide range of the vocal spectrum. Many listeners, newcomers and existing fans alike, will find her varying vocal attack to be the most invigorating element of this performance. She careens through an assortment of emotions without ever losing her handle on the song and her phrasing brings already excellent lyrics to even greater life than before.
It is a disappointing love affair song and doesn't land on just one emotion and stay there. She has several interesting lines throughout the track that listeners can hang their hats on and doesn't wallow in repetition. Anyone who has experienced a messy and/or nasty breakup will relate to the emotions she expresses throughout "Ruin Your Life Mode" and her talent for writing personal lyrics that the audience can identify with separates her from the vast majority of by-the-numbers performers working today.
The accompanying music gives everything even greater power. It's dominated by electronic instruments, particularly the synths heard during the cut, but eludes the sterile sound often common with such an approach. The arrangement likewise displays a dynamic power we don't often hear in modern pop instead of relying on a formulaic approach. Many listeners will especially enjoy the harder hitting sections of the track that keep the overall song from sounding too samey. It's restless, exploratory, and always good.
It does not run on too long either. She gets into the listener's head and under their skin without taking up residence. This focus makes the song all the more intense without ever threatening to overwhelm you. "Ruin Your Life Mode" makes its intensity work for the song instead and emphasizes the thorny emotional terrain she's covering. It is not the last word from Sheer Haimov. Not by a long shot. She'll be back with another song, probably soon, maybe even a longer release. It is, however, her finest song yet and certain to exponentially expand her fanbase without having sacrificed her unique voice to get there.
Jordan Raab