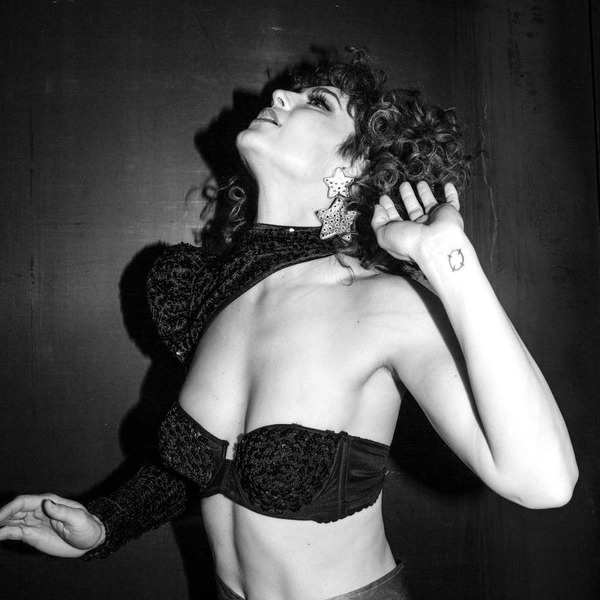 Although Elizabeth Ghandour describes the music she makes with the band Elour as 'femme rock,' a much more accurate term might be 'angry femme rock' because Ghandour mostly sounds angry, sometimes raging at named and unnamed machines throughout the album Blood Running.
The recording opens with one titled "Reputation" where Ghandour screams/sings, "Take your weight off me." With this opening salvo, it's clear Ghandour is not at all someone to be messed with. Ghandour is the daughter of an American mother and a Lebanese father, and grew up singing songs from musicals (music her grandmother loved) and Lebanese folk (her father's music). She soon trained to be a singer – specializing in opera and musical theater, which – of course – led her to New York City. However, it was there Ghandour discovered folk music. Since then, though, her music has continued to evolve beyond the Americana music she had at first been creating. Blood Running is the sound of a rock singer greatly inspired by punk rock's spirit.
While anger is a common thread running through many of these twelve tracks, the keyboard instrumentation that introduces and runs through the kiss-off song, "Waste Of My Time," sounds a lot like David Bowie's Brian Eno produced Berlin recordings. Lyrically, though, Ghandour sounds exasperated by an unfruitful relationship with this song. "I don't need you," she repeats, just in case this loser lover doesn't get the point the first time. She feels like she's been a fool for loving this sad sack.
"Fade," where Ghandour wonders aloud if a man might "be the one," nevertheless sounds anxious and agitated, and not at all like a girl who is falling in love. It's almost as though Ghandour woke up on the wrong side of the bed, and everything she sings/says comes out edgy. She just can't help it. She's in a bad mood.
Guitar music is the album's primary instrumental driver on the album. Electric guitar chords, for example, introduce "Ha," while Ghandour sings its verses sounding bored, but goes into a screamo mode on the choruses.
The more pop-y "Good Girl," finds Ghandour wondering if she's a good or a bad girl. One is left speculating if she's a good girl that's gone bad, or just a girl playing the part of the bad seed. Every once in a while, during this song, Ghandour's trained vocal skills come through. She's in a rock band, but she hasn't forgotten her training. "I'm a good girl/But I sometimes do bad things," she sings. So, what makes a person 'bad,' then? Isn't someone that does bad things, in fact a bad girl? Also, is this angry music Ghandour's true self, or is it just one of the colors in her personality? That is up to the listener to decide.
https://www.elourmusic.com
https://www.instagram.com/elourmusic
https://www.facebook.com/elourmusic
Whether you believe Blood Running is Elizabeth Ghandour's true colors or not, it sure is heartening to hear some balls-to-the-wall rock and roll again. The album ends with "Up All Night," where Ghandour tells us, "I sleep all day to stay up all night." This doesn't sound like a party anthem, though. In comes off more like a personal nightmare, instead. Therefore, welcome to Elour's nightmare.
-Dan MacIntosh