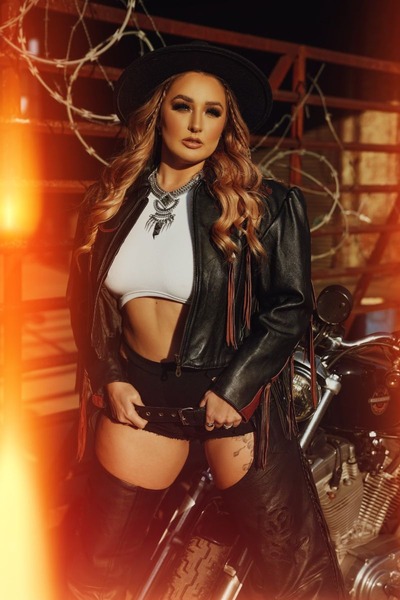 @skopemag news – friday – march 17, 2023 @ 9 am est
@skopemag HQ – http://smarturl.it/skope
Buy & Sell @skopemag Marketplace
https://skopemag.com/category/services
OUT NOW: Glitter Wizard's Glam Fueled New EP
For fans of platform shoes, vintage synths and sonic speedballs, the new EP serves as an entry point to the band's glam labyrinth. It finds the Wizards injecting more '70s junkshop fuel into their shtick, akin to the likes of Slade, Hello, and Angel, with some Sweet thrown in to boot into their already stack-heeled, glitter-sparkled splendor. Glitter Wizard have truly loaded up Kiss the Boot with plenty sequin-laced riffs, leather-clad hooks, and stardust-laden harmonies.
DOECHII RELEASES HER FIRST SINGLE OF 2023 "WHAT IT IS (BLOCK BOY)"
A recent recipient of Billboard's prestigious Women in Music Rising Star award, (previously bestowed upon Lady Gaga, Billie Eilish and Nicki Minaj), the single is her first release of 2023. For the song she links with fellow Floridian, Grammy-nominated rapper Kodak Black for her first-ever collaboration with a male artist.
NATALIE JANE SHARES NEW SINGLE, "seeing you with other girls"
The Poodles release rare Japan Bonus Track 'Never Enough'.
The Poodles was formed in the fall of 2005 and six months later they participated in the swedish leg of Eurovision song contest, which led to the band's big breakthrough. The debut album, "Metal Will Stand Tall", was released shortly after and climbed to the top of the Swedish charts. Since then, the band has toured the world and had several albums at the top of the Swedish charts , including 'Performocracy' which was released in 2011. The Poodles have also become well-known faces among Swedes and are still regularly seen on national TV.
Night Tapes herald new EP with dreamy single 'Selene'
DIY dream pop trio Night Tapes return with their luscious new single 'Selene', out today on Nettwerk Music Group.
A shimmering soundscape filled with beguiling vocal hooks, 'Selene' is the lead single from the band's upcoming third EP Perfect Kindness, which drops later this year, and precedes their debut outing at this year's SXSW Festival.
MEDIA RELEASE:: THE ANSWER SHARE NEW ALBUM 'SUNDOWNERS' RELEASED TODAY – MARCH 17
Northern Irish rockers The Answer finally release their seventh and long-awaited new studio album today, St. Patricks day, March 17, 2023. Titled 'Sundowners', the record was produced and mixed by rising British rock producer Dan Weller (Enter Shikari, Bury Tomorrow) and will be supported by a run of album showcase performances on a 16-date UK and European date tour.
Benda Creates a Bloodbath on Murderous 5-Track 'Hostile Homicide' EP for Bassrush Records – OUT NOW
Benda is booked as support on ATLiens 'Space Cathedral' Tour (tied to their EP on the label from last year) and almost all stops on Sullivan King's 'Thrones of Blood' Tour. His label debut "Camo Diamond Rollie" with Borgore has amassed more than 1M streams.
Fever Pitch release striking self-titled EP Featuring lead single 'Escape'
Following on from the release of their dynamic track 'Escape', Sydney alt-rock group Fever Pitch deliver their impactful debut EP, Fever Pitch. The self-titled effort signals the arrival of an exciting new presence, as Fever Pitch brings together a strong collection of influences from across the realms of alt-rock, indie, pop and groove, in creating music that feels incredibly fresh.
YVES TUMOR RELEASES LONG AWAITED NEW ALBUM
Yves Tumor has released their feverishly anticipated new album Praise A Lord Who Chews But Which Does Not Consume; (Or Simply, Hot Between Worlds) via Warp Records. Preceded by the world-building visuals for "Heaven Surrounds Us Like a Hood" (directed by Cody Critcheloe), "Echolalia," and "God Is a Circle" (both directed by Jordan Hemingway), the album as a whole is a profound reveal of Yves Tumor's ever-expanding creative vision, rendered as an intoxicating montage of arresting hooks, uncanny arrangements, and hypnotic songwriting. The album's meticulous execution is treated to a wide angle production from Noah Goldstein (Frank Ocean, Rosalía, Rihanna, Bon Iver) and buttressed by the visceral mixes of Alan Moulder (Smashing Pumpkins, Nine Inch Nails).
U2'S SONGS OF SURRENDER IS OUT NOW
Chloe Star Reveals New Single & Video "Straight Girls"
BENTLE Reveals New Single "Sideshow"
SCOTT MATTHEWS releases breath-taking new single + announces UK tour!
The track is the first to be taken from his forthcoming album, 'Restless Lullabies', in which the Ivor Novello award-winning songwriter has boldly reincarnated the songs of its electronic predecessor, 'New Skin', with an equally audacious offering of the purist acoustic soundscape that has long been coveted by fans.
Claptone launches new label Golden Recordings with anthemic single 'Euphoria'
DJ, producer, kind soul and the enigma that is Claptone launches his own label, Golden Recordings, with inaugural single 'Euphoria' out on March 17th.
"I created Golden Recordings to celebrate House Music and its everlasting golden era. To revel in its strong roots as well as its diversity and open mindedness, which bring forth new sounds and flavors every day. May it continue for another eternity in this and at least 3294 other parallel universes."
THE UNDERCOVER HIPPY — Releases New Single: "Greed" || + New Album: 'Poor Little England' Out 7 April
Chiming with the wave of scandals that have rocked the UK in recent weeks, from Hancock's Whatsapp messages to Boris' botched honours list, despite being written at the height of the Covid outbreak the themes at play in "Greed" couldn't be more apposite to the here and now…
Hozier returns with new EP 'Eat Your Young' & announces summer UK headline dates…
Featuring songs lifted from Hozier's forthcoming full-length album Unreal Unearth due later this year, Eat Your Young touches on the album's exploration of Dante's Inferno and reflects upon two of the nine circles of hell: gluttony and heresy.
CLIFTON 2.5 — Returns with "Outskirts of Nowhere" Single || + Title-Track of a New EP Out 14 Apr
London-based singer-songwriter and multi-instrumentalist – CLIFTON 2.5 – has unveiled "Outskirts of Nowhere", the second single and title-track of her debut EP due 14 April via Leafy Outlook.
MistaJam returns with club-ready scorcher 'Nothing Else Matters'
The consensus bedrock of the British dance scene MistaJam returns on scintillating form with the anthemic new single 'Nothing Else Matters', out 17th March on Virgin Records Germany.
DJANGO DJANGO — Release New Single: "Don't Touch That Dial" Ft. Yuuko || + New Album "Off Planet" Out 16 June
DJANGO DJANGO today release 'Off Planet Part 2', the next 5 tracks from their album, Off Planet, which will be available in full on 16th June 2023 via Because Music. The new music arrives as the band release new single "Don't Touch That Dial" ft. Yuuko, plus a stretch of instore shows and festival dates.
Jenna DeVries Tells The Story of Leaving her Closeted Life Behind in "Daddy's Little Heart Attack"
Jenna DeVries breaks free from conformity and embraces her out loud and proud self in riveting new single and video for "Daddy's Little Heart Attack." The single is now available on all digital streaming platforms.
RISING POP STAR NERIAH RELEASES NEW NO ONE CRIES FOREVER EP
No One Cries Forever highlights NERIAH's strength as a songwriter as she perfectly expresses the catharsis of moving on from a relationship and finding yourself. The EP explores themes of heartbreak, sadness, and self-discovery, all of which will be explored deeper on her debut album releasing later this year. Though the project deals with the end of a relationship and the painful aftermath, it has a hopeful undertone and demonstrates that even the most devastating heartbreaks eventually heal.
TEI SHI RELEASES NEW EP 'BAD PREMONITION'; NORTH AMERICAN TOUR STARTS IN APRIL
The confessional new single is a powerful ballad that amplifies Tei Shi's graceful, heart-wrenching vocals as she expresses the pain of being mistreated and used. The gritty visual depicts Tei Shi fearlessly trekking around town while on tour throughout the US, as she sets herself free from the pain she's harbored over the past few years. "MONA LISA" touches on the pain, false hope, and deceit Tei Shi underwent as an artist and ushers in her EP, BAD PREMONITION.