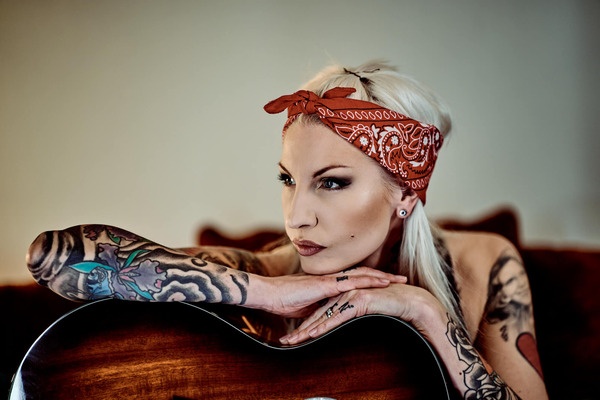 @skopemag news – monday – march 6, 2023 @ 7 pm est
@skopemag HQ – http://smarturl.it/skope
Buy & Sell @skopemag Marketplace
https://skopemag.com/category/services
Californian rock group Fellow Robot tease Andrew Scheps produced new album with hard hitting "Talk To Me"
Fellow Robot have teamed up with Andrew Scheps (Green Day, RHCP, Adele, Metallica, Hozier, Johnny Cash) who helped co-produce and mix "Misanthropioid", with the album coming out on Scheps' own ToneQuake Records.
"Talk to Me" is a post punk demonstration and the hardest hitting track on the album. The song does well in contrasting the serene orchestrations within "Misanthropioid" and "it's purposefully messy, simple and loud" the band says.
Third & Delaware Release New Single "Mayflower" + Official Music Video; Sign to Lion of the North Media!
Metalcore band Third & Delaware released their latest single "Mayflower" along with the official music video on February 24, 2023. The band recently signed a management deal with Lion of the North Media.
Badge Epoque's Max Turnbull & Michael Rault announce new LP as Symphony Orchestra (Telephone Explosion)
Symphony Orchestra is a new group from Maximilian Turnbull and Michael Rault. Both Rault and Turnbull are accomplished songwriters, performers and producers in their own right, with Turnbull leading The Badge Époque Ensemble, playing with the group Darlene Shrugg, and once releasing records under the name Slim Twig, and Rault having released several psychedelic rock & roll classics under his own name in the past decade. The pair have worked together in various capacities for many years, writing and recording together on U.S. Girls' In A Poem Unlimited, and contributing to each other's releases, but Symphony Orchestra is their debut as an official creative unit.
FIRE SETS FIRE Releases Official Music Video for Single "Fire Sets Fire"!
Fire Sets Fire is a kick ass Rock band that is reigniting the BAD ASSery missing in today's rock music! The band released the official music video for their single "Fire Sets Fire"!
Camp Bedford Share Single "Jupiter" via Ones To Watch
Brooklyn based folk-pop trio Camp Bedford share the second single "Jupiter" from their upcoming debut EP So Often & So Sweet, out March 31st. With Roxanne Quilty on guitar and vocals, Mariela Flor Olivo on lead rhythm guitar and vocals, and Tallen Gabriel helming the cello, the queer and femme-led band's deep friendship shines through in their music. At once witchy, nostalgic, and magical, "Jupiter" and "2 AM" (released in February to warm reviews) both capture Camp Bedford's sonic essence beautifully, setting the stage for what's soon to come from the band.
Cinematic Symphonic Metal Band Bastion's Wake Drops Powerful "Sunflower"
"'Sunflower' is the culmination of our angst for, and inspiration from, our friends in Ukraine," Sami Hunter of Bastion's Wake explains. "Ten or so months ago, while we were in the studio recording drums for our upcoming second album, Go Tell The Bees, Ray started noodling around on a guitar riff and the rest of us joined in with an explosion of creativity. Luckily, our engineer, Kirby, had the studio mics on and captured the entire thing, so we were able to go back and really write out what we wanted to say. Ben and Ray really rocked the bass and guitar, and Sami and Rob sat down and wrote out the lyrics."
802 Share "My Girl" Single + Short Film via Brooklyn Vegan | Debut Track Out Now via All DSPs, Making US Debut at New Colossus Festival in NYC
After releasing hip-hop beats with the likes of Raekwon (Wu Tang Clan) and touring in and outside Denmark under the name Slowolf, Andreas Asingh moved from Copenhagen to his childhood Djursland, Denmark, where a new project was born.
John Fogerty Joins Spotify's Billions Club with "Have You Ever Seen The Rain"
Written by John Fogerty and released in January 1971, "Have You Ever Seen the Rain" was released with "Hey Tonight" as a double-sided hit from the band's sixth studio album, Pendulum. The record found the California band at the height of their global popularity, following a string of hit singles, an appearance at Woodstock, and their first European tour. That hard work was evidenced in the single's performance – as it hit No.1 in Canada, Malaysia, and South Africa, and landed in the Top 10 in more than a dozen countries around the world, including Australia, Singapore, Brazil, and the US, where it would eventually be certified 3X Platinum by the RIAA. In the years since its release, "Have You Ever Seen the Rain" has remained a classic rock staple.
K-Pop Group, CRAVITY, Release 5th Mini Album, MASTER : PIECE
Mixing electro-funk vibes with 2000s pop, "Ultimate freedom" is the theme of the lead track "Groovy." Showcasing CRAVITY's youthful energy through fresh visuals and diverse colors, the music video takes you through a journey to find the missing piece of a puzzle. CRAVITY's message is that each of us is the protagonist of our own lives, whether in reality or on TV, and we have the limitless possibility of becoming whoever we want to be. As the album progresses, it introduces the message of love, hope, and dream; and these come together to form the keyword "empathy." The theme of wanting to pursue their true passion is not only something that any youth can go through in their life, but also CRAVITY's way of creating its unique team color.
SHINee'S ONEW Releases First Full-Length Solo Album, 'Circle'
To celebrate the release, ONEW held a special three-day concert, ONEW 1st CONCERT 'O-NEW-NOTE,' in front of a live audience in Seoul from March 3-5, with the last show broadcast online globally via Beyond LIVE. His first-ever solo concert, the shows were met with excitement from fans around the world, with audiences in 74 different countries tuning in.
IMPERIAL DEMONIC: Black Metal Promotions Streams Entirety Of 'Beneath the Crimson Eclipse'
The emerging melodic black metal project is rising from the underground to bring forth something as vicious and violent as it is elegant and melodic. IMPERIAL DEMONIC first emerged as a solo project, showcasing project architect Cameron Åhslund-Glass' impressive musical prowess. Expanding the lineup, Andy Heathen (vocals), Daniel Dempster (lead guitar), Kacper Lewandowski (rhythm guitar), and Gareth Murdock (bass), were enlisted, completing the vision for the band.
OUT NOW: MBNel & Doodie Lo Drag You Down to the "Other Side"
The track is driven by boastful horns and ominous piano keys that are paired with a ghostly opera vocal sample mimicking the effects of a siren luring you to the other side. Nel and Doodie play off each other's energies, as if they're two devils sitting on your shoulders tempting you to indulge some of your more repressed urges. The video features the pair racing around Atlanta in a blacked-out Benz warning anybody who steps to them that they'll be sent to the other side.
Skope Magazine x Hot For Crime (party-ready rock n' roll)
Hot for Crime plays timeless rock 'n' roll – guitar, bass, and drums – in the classic tradition, equally influenced by the '60s and '70s greats, all the way up to the modern day, with buzzsaw guitars, melodic choruses, and a backbeat you can't lose it. Their music meant to be played loud, preferably on your car stereo, with the top down, as you speed along L.A.'s fabled Sunset Strip, where they fit right in.
Tenille Townes & Bryan Adams Debut Official Music Video for "The Thing That Wrecks Me"
ICYMI: PAP CHANEL RELEASES BOASTFUL NEW SINGLE "LEFT RIGHT" OUT NOW—TURNS A NEW PAGE TO HER PRETTY AND PAID MOVEMENT
Referencing today's highly anticipated release Pap shares, "You gotta pay the cost to be the boss! and I never mind letting that be known! While creating this track, my goal was to bring all of my do's and don'ts to life."
CAFUNÉ SHARE NEW SINGLE "PERSPECTIVE"
Elaborating on the new song, the band shared, "'Perspective' came about from conversations we were having about the death of relationships in our respective lives and the disorientation that can come with shifting into a new season of life without someone who was once your everything."
JONO MANSON channels vintage Stones on his new single premiering today
Today, Jono Manson is premiering his new single, "The Further Adventures of Goat Boy and The Clown," a raucous rocker that channels Exile On Main Street-era Rolling Stones with its horns and wide open guitar sound. The song premiered today at Americana Highways and will be available on streaming services Friday; pre-save HERE. Manson's Blue Rose debut, Stars Enough To Guide Me, will be out March 31. A profoundly gifted writer, producer, and performer, Manson weaves the threads of his remarkable life and career from his NYC beginnings in the city's '90s blues-rock scene to his current life as an artist and a producer with his own studio, The Kitchen Sink, in Santa Fe, NM. The songs on Stars Enough To Guide Me are diverse and genre-bending, drawing on roots, rock, soul, and country traditions as they paint vivid portraits of resilient characters standing tall in the face of time's relentless march, and Manson's performances are similarly determined, delivered with a passion and conviction that's as honest as it is empathetic.
MONEY MARK reimagines IMAAD WASIF's "Mr. Fear, So Long" into a whole new monster
"In the studio, it was like watching Gene Wilder in Young Frankenstein," says IMAAD WASIF about the brilliant reworking of "So Long, Mr. Fear" that celebrated producer and artist MONEY MARK presented him with. Comparing the track to the classic 1974 Mel Brooks film isn't so farfetched, as the new interpretation that he stitched together doesn't render it so much as a "remix" per se as much as a whole new beautiful beast. "Mark just hooked pure electricity into '… Mr. Fear' and re-animated the song in a totally new way, some kind of alien funk with its dark vision intact. It's danceable as fuck."
ADRIAN BENEGAS To Release Arcanum Full-Length May 5th Via Reaper Entertainment; New Video/Single Featuring Ronnie Romero Now Playing
UPPLOPPET Launch New Single "Thinking Of Me"
Danny Towers & DJ Scheme Announce Project, Nab Babyface Ray for "Trap Baby" Single
Empowering New Single from Swedish Pop Artist
Linda Varg is a Swedish pop artist who brings a unique and fresh sound with her empowering and uplifting anthems. With influences ranging from pop and rock to reggae and urban, her music is sprinkled with a punky attitude and a 90's flavored tinge. Her musical career has been a colorful one – born in a small village in Sweden with a population of only around 25 people, it's been a wild ride to where she is now. From winning the TV show Popstars and landing multi-platinum status with the group Supernatural, to signing a major label deal with Warner Music, Varg has devoted every second of her life to music. She's had the pleasure of performing as Annie in the musical Chicago in Copenhagen, living out her childhood dream, and was also one of the finalists of Swedish Idol in 2010. All of this eventually led to Varg deciding to take the plunge into a solo career and she has never looked back since.
ELVENKING ADDED TO PROGPOWER USA LINEUP
Pagan power/folk metal masters ELVENKING will be playing Day 1 (Sept. 6) of ProgPower USA. They will be replacing POWER QUEST who have cancelled all remaining show dates. Tickets are still available for days 1 & 2 of the festival.