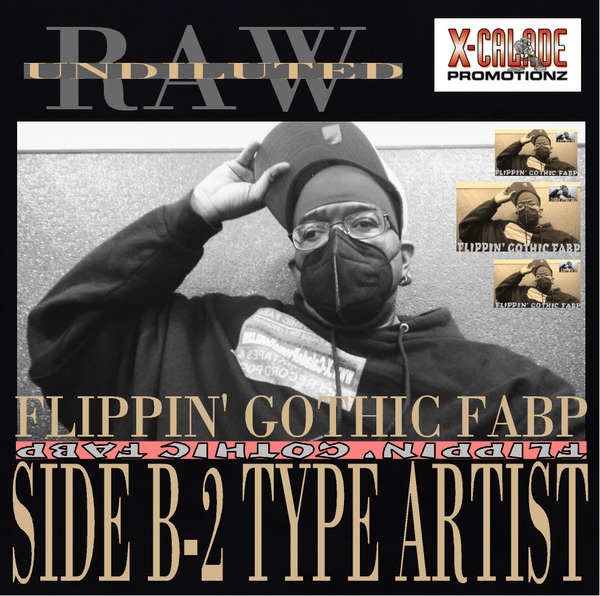 Flippin' Gothic Fabp offers the sound of the streets on the visceral, grimy-laden "Side B-2 Type Artist". Keeping things distinctly lo-fi, there is a rawness to the album, one that feels rather intense to behold. His lyricism continues to be the main attraction for the journey draws from his own life lived to the absolute fullest. With nods to the strong rap tradition of the Empire State, he wastes no time in laying down eerie atmospheric synthesizer alongside some truly physical beats. On the rather DIY aspect of the sound, he brings to mind some of the Memphis rap scene of the early 90s as it has that same level of intensity, unflinchingly honest.
The broken beats and snare hits start things off strong with "Don't Ask Me 2". Absolutely and utterly cryptic "Champagne Scream" lets the single synthesizer that weaves its way into the track add to its rather bleak aspect, with sudden piano chords punctuating the overall otherworldly quality. Beat boxing on "Like a Truckman" gives it this visceral edge. Virtually pushing things to their breaking point "Running Home Qns" has a bleary quality. Keeping things stripped down to the absolute essentials is "Side B". Layers add to the sheer heaviness of "Starving Artist". "Pull up to See" closes things off with a defiant stance, one that neatly ties together all that came before it.
"Side B-2 Type Artist" shows off Flippin' Gothic Fabp's uncanny ability to bring the listener into his own sonic universe.
http://www.X-CaladePromotionz.com