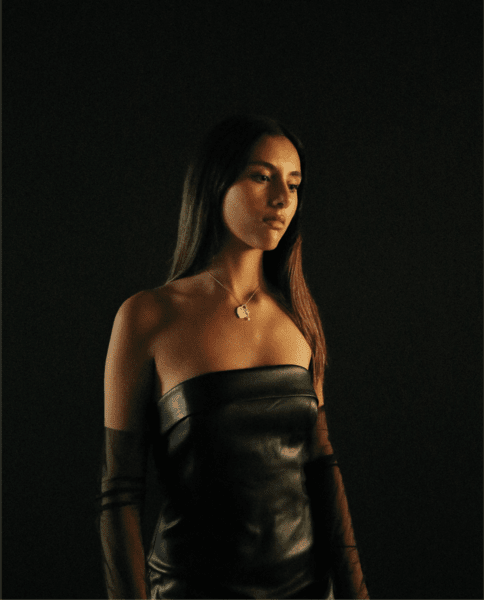 @skopemag news – monday – january 23, 2023 @ 8 pm est
@skopemag HQ – http://smarturl.it/skope
@skopemag Menu – https://skopemag.com/2022/07/11/skopemag-editorial-services-the-menu
Pearla Shares New Song "Unglow The," Final Single Off Debut LP Out 2/10 (Spacebomb Records), Brooklyn Release Show on 2/25
Pearla today shared her new song "Unglow The," the final single off her forthcoming debut album Oh Glistening Onion, The Nighttime Is Coming, due out February 10th, 2023, via Spacebomb Records. An arresting showcase of her stirring vocals and varied, unpredictable instrumentation, "Unglow The" steadily builds to a massive, thumping crescendo – all with an air of mysticism and wonder that Pearla radiates across the LP. The Brooklyn, NY-based artist (née Nicole Rodriguez) also today announced a hometown album release show at Public Records on February 25th. Pearla will also be an official showcase performer at SXSW 2023.
Rising producer Naughty Alice marks her return in style with new R&B cut 'bloodline'
Naughty Alice, aka. 24-year-old London-based producer and songwriter Alice Haine, crafts vibey hook-laden alt pop and R&B tracks. Immediately catchy yet wholly original, her music combines sensuous female vocal melodies with bass focused beats.
C M Talkington Announces New LP ft Renée Zellweger, Shares "Two Steps" via Rolling Stone | 'Texas Radio' LP Due 3/17 via Birs Recs
Today marks the announcement of C M Talkington's latest work, an LP entitled Texas Radio, due March 17, 2023 via Birs Recordings. To kick off the record cycle, he has shared the record's first single, "Two Steps," featuring vocals from Renée Zellweger.
NECROPANTHER: Colorado Blackened Death/Thrash Outfit To Release Betrayal Full-Length; New Track Streaming + Preorders Available
The metal genre-manipulating band from Denver has always crafted their full-length releases around cult sci-fi/dystopian future cinema. Betrayal intertwines the movie The Warriors with the Greek story of Anabasis by Xenophon (on which The Warriors is based).
Nihilistische KlangKunst To Release Haradwaith's 2nd Full-Length Album "The M-Theory"
Nihilistische KlangKunst set March 3rd, 2023 as international release date for Haradwaith's 2nd Full-Length Album "The M-Theory". Haradwaith is a German Black Metal band since 2003.
After many years of silence HARADWAITH presents their second album "The M-Theory" on CD via Nihilistische KlangKunst. The second album remarks the way from the earth to the space and the way of a long discovery to the galaxies. Some members from the band are well known in the scene for their work in the bands Ordeal & Plight, Grabak, Secrets of the Moon to name a few.
Gone To Color shares the music video for "Voyeur Nation" (Tarwater Yello Remix)
"'Voyeur Nation feat. Carson Cox (Tarwater Yello Remix)' is one of two remixes the German duo Tarwater did for this song, the other of which will be released with The RMXS on Jan. 27th. We love how Tarwater builds on and emphasizes the rhythmic qualities of the song, resulting in fireworks for the senses. Though it retains many features of the original song, Tarwater brings fresh energy and inventive soundscapes." -Gone To Color
Alternative Rock Band DON'T BELIEVE IN GHOSTS Release Official Music Video for Single "Always Right"
Alternative rock band Don't Believe in Ghosts released their latest single "Always Right" on Friday January 20th. The new song combines state-of-the-art indie-pop production with a modem alternative rock sound, all surrounded by lyrics about the internal battles and self doubts we all face. Today, the music video for the song released featuring the band performing while everything goes wrong.
Mia Baron Releases Pensive New Pop/Rock Single "Normal Again"
"People change and [their] mental health is not always good. [It's] okay, they just have to learn to cope with things and develop a new normal," explains Baron.
"Normal Again" features Baron's emotive vocals and 90s inspired riffs, creating a moody atmosphere which echoes the confusion that she felt at the time of writing.
MA's Blak Madeen Deliver A Soulful And Introspective New Single "Draw The Curtains (C-Doc Remix)" FT. Stalley
Blak Madeen (Al-J & Yusuf Abdul-Mateen) deliver a soulful and introspective new single Draw The Curtains (C-Doc Remix). The track stays true school with production by SpitSlam Record Label Group beat architect C-Doc and cuts by Cheese. "We recorded this a while back, but we had to give an official release. Stalley set the tone and we added on" says Yusuf. "Usually I try to let the people respond, however if I may say this is truly a great song" says Al-J. "Stalley hails from Massillon Ohio, which is an area that I lived in for a number of years. Although I don't know him personally, it was cool to have a connect through music" says C-Doc. Check it out now on your preferred digital streaming platform.
UPDATED: Rising Artist Beth Crowley Releases New Single "The Ghost Who Is Still Alive"
With her cinematic pop songs and emotional piano ballads, the singer-songwriter is an avid book lover which inspires her writing and emotion into her releases. Inspired by the book, The Invisible Life of Addie LaRue by V.E. Schwab, Crowley's upcoming releases are inspired by her love for reading and specific books.
LA Based Effervescent & Melancholic Alt Pop New Release
"Roller Coaster" features silky, effervescent electronics, textured vocals, and an emotion grabbing performance as Michael Dean recalls his intimate memories. Directed by Derrick Webb and Christopher Jackson, the music video for "Roller Coaster" contrasts moments of Michael Dean in love and walking hand-in-hand down the Santa Monica Pier with moments of the artist alone on the beach as he contemplates his relationship.
Dave Okumu & The 7 Generations Release Chapter 2 From New Album 'I Came From Love'
Today, Dave Okumu & The 7 Generations release the second film from a four-part series titled The Intolerable Suffering Of (The) Other which features the new single "Black Firework".
Both releases are from Okumu's forthcoming project I Came From Love which will be released Friday April 14 via Transgressive Records. The album is a tapestry of the Black experience that explores ancestry, the legacy of slavery, what it means to exist in an unjust society, and Okumu's own family history.
Willie J Healey shares new single 'Thank You' feat. Jamie T
Willie J Healey is today sharing a brand-new single, 'Thank You' feat. Jamie T. It is the latest track to be taken from his forthcoming album Bunny which has a new release date. Bunny is now due 25th August 2023 on YALA! Records.
Puppets of Castro Release Their New Pop Rock Album 'Nude Descending and Elevator'
Nude Descending an Elevator is the newest 12-song satirical pop rock album featuring Darryl Purpose on vocals. Darryl's voice with Andrews melodies and riffs gives a James Taylor meets Counting Crows sound. It's catchy and clever with each single bringing something new to the table.
CHOIR Release New Single "Drawn To An Early Grave"
CHOIR, the one-human entity cross-nationally from Singapore and Brazil, is preparing to release the new album Songs for a Tarnished World on March 24th, 2023. Composing extreme metal that crosses genres, CHOIR constructs dark ambient realms. Today, the band has revealed the first single from their upcoming opus, "Drawn To An Early Grave".
German Based Twin Brother Duo, Amistat Sign To Nettwerk and Share the Cinematic "Falling"
"I was reflecting on the last decade," recalls Jan. "There were so many moments where we knew we were on the right path, but we kept falling. Maybe that's how it needs to be for a certain moment of time—or even forever. While you live life this way, try to keep your head up, but keep going and accept failing and falling are part of it. We love this Denzel Washington quote, 'Fall down seven times. Get up eight'."
Toronto Folk-Rock Luminary Evelynne Ross Releases Soulful New Song "Old Oak Tree"
Taken from Ross' new EP, Against the Fence, "Old Oak Tree" is built on twanging, riffing guitars, mid-tempo percussion, and Ross' own soulful vocal. Thematically about strong family roots, Ross weaves a tale about a woman ready to make a difficult decision in her life: "Nobody, nah nobody is gonna hold her back/ Throw her off the track/ You'll see/ She's got her roots from her mother/ She's like an old oak tree."
J.Stalin Remains a Bay Area Legend on "S.580"
YVNGXCHRIS REFLECTS ON THE IMPACT OF OUR FALLEN HIP HOP LEGENDS IN NEW VISUAL "SERENITY"
With his infectious energy, relatable bars and unique aesthetic, yvngxchris is ready to shock the game like a lightning bolt. Leaning into his poignant, reflective side on the wonders of loss, the Virginia native shares his new video for "Serenity" off his VIRALITY project. Directed by BoxBoys, the new cinematic visual follows Chris as he remises on the cultural icons including XXXtentacion, Nipsey and more.
THE LAST REIGN Release Cover of ARCH ENEMY's "Ravenous"
Melodic death metal band, THE LAST REIGN have revealed a cover of the ARCH ENEMY classic "Ravenous". The track is from their upcoming album Endangered Pieces which will be released on February 24th, 2023 and is a compilation of three EP's.
The band comments "Finishing off the collaboration EP with Jesse Isadore is Ravenous by ARCH ENEMY. Since covering IN FLAMES and AT THE GATES on previous releases, we figured paying homage to another classic melodic death song would help round out the EP well."
Folk Singer/Songwriter Eric Selby Releases His 3rd Studio Album, 'Dang Fool'
Dang Fool is a retrospective look at an emotional journey that suggests that it is time to stop looking in the rearview mirror and it is time to start looking forward. A good representation of this is that, although he's never recorded a cover on any of his records but he felt that recording his own interpretation of The Beatles' "Tomorrow Never Knows" as the last song on this record was an apropos way to finish out this release since the title, alone, suggests hope, mystery and potential.
French female-fronted prog-metal/rock band Wedingoth release and stream new album 'Five Stars Above'
About 7 years after their latest record 'Alone in the Crowd' (2016), French female-fronted prog-metal/rock band Wedingoth finally released its fourth full-length record called 'Five Stars Above' and available right now as a self-released on digital through all legal platforms.