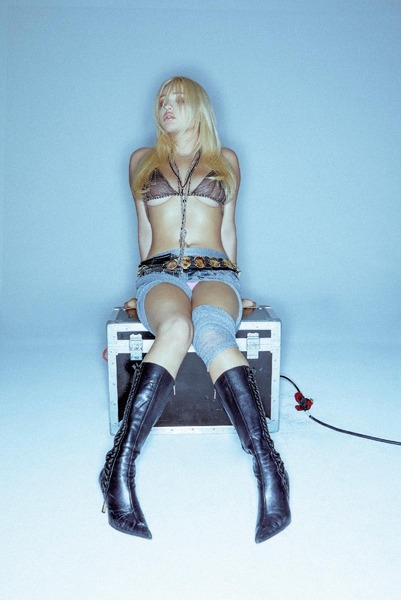 @skopemag news – friday – january 20, 2023 @ 11 am est
@skopemag HQ – http://smarturl.it/skope
@skopemag Menu – https://skopemag.com/2022/07/11/skopemag-editorial-services-the-menu
Mafro releases anticipated debut EP 'Bloom'
"Dance music's next major breakthrough act" NME Top 100 penned rising UK artist, producer and multi-instrumentalist Mafro is releasing his anticipated debut EP, 'Bloom', out 20th January via LG105.
Mafro produces emotive dance music, inspired by the UK garage and house scene he grew up listening to as a born and raised North Londoner. His tracks playfully toe the line between euphoria and melancholy, drawn together by infectious hooks and melodies.
LWE and Mainstage partner up for brand new festival 'SISO'
This paradisiacal setting will play host to some of the hottest DJs and brands in dance music. Playing on picturesque beachside stages, many of which will be curated by headliners and music partners, dancers can explore new musical avenues, taking in extended and intimate sets from some of the world's best DJs in one final summer celebration. Alongside this will be villa parties, secret beach parties and so much more. Attended by just 3000 like-minded attendees and partnering with Amnesia presents Pyramid, Appetite, Denis Sulta's Sulta Selects, Dusky's Pressure, Drumcode, EC2A, Enzo Siragusa's FUSE, FLY, Foundation FM and Patrick Topping's Trick brands. Line up announcements are expected to come later in the year.
Arlissa plays with fire on new single "Games"
LA-based, German-British Pop singer-songwriter Arlissa is coming into her own with the announcement of her forthcoming debut album The OPEN-HEARTED – her first full-length project since going independent. She welcomes in the new year with the release of her sixth single "Games" on January 20th.
LOTAN release new single and video "Ashera"
The seven-headed dragon LOTAN rises again, this time to unleash a new digital single, titled "Ashera", from the upcoming self-titled album.
""Ashera" is a doomed but yet aggressively inspired melodic black metal song. Originally the mother, then wife of God, Ashera was banished entirely in 630 bc when her statues and sacrament were banished from the temples", vocalist Rubin offers, about the song. "In this song, her names represent the hope for a rise against the oppression of the female voices in religion. Burn the text that binds you and freedom you shall find!"
IZO FITZROY SHARES THE NEW SINGLE 'GIVE ME THE HIGH' & AND ANNOUNCES NEW ALBUM 'A GOOD WOMAN' OUT ON 28TH APRIL 2023
Izo FitzRoy's first two albums, 'Skyline' (2017) and 'How The Mighty Fall' (2020), saw the multifaceted gospel, blues and jazz singer songwriter, set herself apart from her contemporaries. Her uplifting harmonies, powerful lead vocals and raw, dynamic live performances instigated waves of international critical acclaim and won her plays on BBC Radio 2, BBC Radio 1, BBC 6Music, BBC London, JazzFM, a FIP Selection award, the 'Heavy Rotation' feature on NPR in the US, plus head towards almost half a million monthly listeners on Spotify alone.
JAKE ISAAC SHARES THE NEW SINGLE 'START AGAIN' – WATCH THE OFFICIAL VIDEO HERE
Jake Isaac is at the forefront of a British soul renaissance. Fusing a soul voice and sensibility with the craftsmanship of classic songwriting, he expresses in song the vulnerabilities that men rarely feel comfortable discussing. A kindred spirit to his friends such as JP Cooper, Jacob Banks and Michael Kiwanuka, Jake Isaac nonetheless operates in his own lane, his artistry connecting with fans (150 million+ streams to date) and iconic artists (Sir Elton John, Sting) alike.
KIM PETRAS Releases New Single "brrr"
Produced by ILYA (Ariana Grande, Normani, Ellie Goulding), "brrr" shivers with glacial synths and crystal-clear vocals and is about knowing what you want and finding someone who isn't intimidated by you that will come closer and show you how cool they are.
A deep voice that introduces itself in our heads like a catchy ear-worm. An ode to free ourselves from the norm in a deep dive into the sub-cultures of the 90's. House & Hip-Hop are intertwined, challenging the non-believers with an exquisite style. The latest track from Folamour "Freedom" invites us into the latest world this legendary producer has created. Out now via Ultra Records, this impactful and lean back release is not to be missed.
ADA MORGHE SHARES THE NEW SINGLE 'HERE NOW' – WATCH THE VIDEO HERE
Jethro Tull announce 23rd studio album 'RökFlöte'; launch first single 'Ginnungagap'
Jethro Tull are pleased to announce their 23rd studio album, 'RökFlöte', which is set for release on the 21st April 2023 via InsideOutMusic. Following 2022's 'The Zealot Gene', the band's first album in two decades, Ian Anderson and the band are returning with a 12-track record based on the characters and roles of some of the principle gods of the old Norse paganism, and at the same time exploring the 'RökFlöte' – rock flute -which Jethro Tull has made iconic.
Indie-rock future star Bo Milli examines her role in fight against climate catastrophe on new single "Good Kid"
(20th January) Bergen, Norway-based one to watch Bo Milli has released her new single "Good Kid" – a powerful and personal examination of her responsibility in the fight against a climate catastrophe, whilst challenging the expectations (and the norm) of generations before her.
FIRE OF LOVE – new single from the Swedish artist Di Leva's upcoming album The Hybrids!
After touring Sweden for the past six months, both solo and with his acclaimed, sold-out David Bowie show, Di Leva is now preparing for the release of his upcoming album The Hybrids, which will be the artist's first full-length production in ten years. With its lyric about the importance of being present and always focusing on what is really important in life, Fire Of Love – the last single before the album's release next month – is released today on all major music platforms worldwide.
Irresistible Indie Pop from Viral London Artist
Nashville Artist Dusty Leigh Huston Brings The Heat With New Country-Rock Single "The Hell I Won't"
Singer/songwriter Dusty Leigh Huston releases country-rock hit "The Hell I Won't." The single is now available on all digital streaming platforms.
Dusty Leigh Huston can be characterized by catchy lyrics, strong vocals, and the confidence she exudes. Huston knows there will always be people that will doubt her, underestimating what she is capable of. She can not wait to prove them wrong.
EMIR TAHA releases new single 'Astigmat' via Polydor
Today, Brixton based Turkish artist Emir Taha shares brand new single "Astigmat", out now on Polydor Records. Taken from an upcoming project due this spring, "Astigmat" continues his knack for combining Anatolian psychedelia with the bump and grind of South London. The verses are sung in his mother tongue and choruses in English, over beats bringing to mind the lo-fi bedroom stylings of Jai Paul by way of The Weeknd.
JACK KANE REVEALS STELLAR NEW SINGLE 'WE'D BE GOOD'// LISTEN HERE
Kicking off his 2023 after an exciting 2022, rising newcomer Jack Kane looks set to continue his upward trajectory with the reveal of infectious new single, 'We'd Be Good'. Having gained support from areas such as CLASH, Wonderland, House Of Solo and Atwood Magazine on the back of gorgeous debut EP Under Your Spell, We'd Be Good sees Kane laying earthy vocals over an indie pop arrangement as he laments a relationship that can't quite get over the final hurdle.
Declare Bankruptcy with OTO's new single "Go Broke"
Nashville sensations On The Outside (OTO) have released their new single titled "Go Broke" via The Frequency Music LLC/Mailbox Money Records.
On their new song, On The Outside have flipped a financial metaphor into a light-hearted ode to true love. Co-written by hit songwriter Jimmy Robbins, along with OTO members Andrew Bloom and Jon Klaasen, the song is a sweet tale of devotion and the desire to spend all your time with the person you're in love with.
Out Now: Plasma Canvas Have Heard It All Before on "Election Year Relapse" Via SideOneDummy
Coloradan punks PLASMA CANVAS return to kick off 2023 with "Election Year Relapse", a driving melodic punk ripper that delivers a withering indictment of mainstream politics. The track is the third single to be released in anticipation of the group's sophomore album release, DUSK, due out this February via SideOneDummy.
We Are Scientists Release 'Lobes,' video for focus track "Turn It Up" out today
The band have been steadily dropping teasers from the full-length LP for the past few months to a reception of unwavering critical acclaim, and now listeners are treated to the full Lobes experience. The record also features new track "Turn It Up" – a mighty groove-laden number which showcases more of We Are Scientists' astute funk-infused sensibilities.
Chicago's Korporate Releases "Zelle" Single/Video Today
OUT NOW: SOHMI Shares New Single 'Only One'
Continuing to hone her unique 'minimal pop-tech' sound and multidimensional skills as a singer, songwriter, and producer, 'Only One' is a tantalizing addition to SOHMI's growing catalog. Through dreamy tones and effervescent pop accents, SOHMI crafts a mesmerizing soundscape that makes one forget the urge to pin things down within the typical boundaries of genre. Steadily grooving basslines, sultry vocals, and fluttering melodies, 'Only One' is an intoxicating breath of fresh air. 'Only One' serves as the second single off SOHMI's upcoming Recital EP, due out early 2023, following her breakout hit 'Somebody'.
OUT NOW: BLUR drummer DAVE ROWNTREE's debut album RADIO SONGS
Featuring the 6Music playlisted single, "Tape Measure," and a handful of introductory tracks that have introduced Rowntree's own music some thirty-two years after Blur's debut record Leisure was released back in 1991.
Macklemore Releases 'HEROES' Ft DJ Premier. Album BEN Out March 3rd
Last year saw the 10-year anniversary since the release of The Heist. The RIAA organization officially certified 'Can't Hold Us'DIAMOND and honored Macklemore & Ryan Lewis as one of the most successful duos of the last 65 years of RIAA Gold & Platinum history. Diamond certifications make up less than 1% of RIAA's Gold & Platinum program. These are awarded for 10 million sales and streaming equivalents earned in the United States alone with only 19 acts having more than one Diamond single in RIAA history. 'Can't Hold Us,' ft. Ray Dalton marks their second Diamond Single Award (following 2015's 'Thrift Shop' ft Wanz) from the same album, an incredibly rare accomplishment.
METALLICA: "SCREAMING SUICIDE" SECOND TRACK & VIDEO FROM UPCOMING ALBUM
FORTY FEET TALL Unravels Rage-Fueled, Political Single "We Can't Go Back To Normal", New EP Out Early Spring
"This is our most blatantly political, angry song we've made," says Portland-based indie rockers FORTY FEET TALL about their rage-fueled new single, "We Can't Go Back To Normal." "Cole [Gann, lead singer/guitar] wrote the lyrics pretty freshly off of protests and it talks about very specific events that happened in Portland, as well as much broader problems that everyone experienced and continues to experience."
GRAMMY-NOMINATED RECORDING ARTIST GENE NOBLE DELIVERS LONG-AWAITED ALBUM 'FEEL A WAY'
Today, Grammy-nominated singer and songwriter Gene Noble kicks off the new year with his latest album, Feel A Way. The New York-bred vocalist shares his highly-anticipated LP, which builds on the momentum of "Whatever It Is" released at the tail end of 2022.
Resignation shares "Apologies Necessary" from forthcoming EP for Friend Club Records
Toledo, Ohio's Resignation will release their You Are More Than Right Now EP via Friend Club Records, February 10. 2023. Today, the EP's second single, "Apologies Necessary" is available via all streaming platforms.
Cor de Lux release single "Rumors" from forthcoming Media, out Feb. 10
COR DE LUX grew out of the music scene of North Carolina's Outer Banks in 2018. The band found each other over a by chance conversation about a love of music between its two founding members (guitarist Tim Lusk, and guitarist and vocalist, Dawn Moraga) while Moraga waited for a phone repair in Tim's shop. This turned out to be the catalyst for their band's formation, with John Bliven quickly added on bass and Thomas McNeely stepping in for founding member and drummer Dana Quinn in early 2022. Their music (a mixture of post-punk, goth-tinged pop and shoegaze) has earned the tongue-in-cheek nickname 'Shoe-Gazi' by friends.
OUT NOW: Barclay Crenshaw and Eprom Release Official Remixes of Yung Skrrt's 'McDonalds' On Dirtybird Records
After discovering the fast food themed hip-hop track on Bandcamp, Barclay Crenshaw and Eprom each crafted remixes befitting their DJ sets. Wrapping the Yung Skrrt original in wobbling basslines and gritty synths, Barclay Crenshaw brings 'McDonalds' to the dark side with his remix. Twisting with layers of distortion, Barclay Crenshaw's remix is a heavy companion to the acidic remix delivered by Eprom. Vibrating with offbeat percussion and wonky, experimental tones, Eprom transforms 'McDonalds' into a glitchy underground deep cut. Together, Barclay Crenshaw and Eprom's spirited new interpretations celebrate the outlandish, oddball lyricism that is 'McDonalds'.
Almost Charlie "A Whisper In A World Too Loud" (Words On Music/Broken Silence) VÖ: 17.2.2023 + Video out today
manchmal ist persönliche Bekanntschaft gar nicht zwingend erforderlich. So handelt es sich beim transatlantischen Projekt Almost Charlie um die musikalische Kollaboration zweier Künstler, deren Kontakt sich auf die virtuelle Welt beschränkt. 2003 antwortet der in Berlin lebende Sänger und Multiinstrumentalist Dirk Homuth auf eine Internet-Anzeige des New Yorker Lyrikers Charlie Mason. Der sucht einen Komponisten für die Vertonung seiner Texte. Die beiden werden sich einig, Almost Charlie ist geboren. Die mittlerweile 5. Kooperation «A Whisper In A World Too Loud» des deutsch amerikanischen Projekts erscheint nach erfolgreichen Release in den USA am 17.2.2022 via Words on Music/Broken Silence in Europa.
ELOISE ANNOUNCES DEBUT ALBUM 'DRUNK ON A FLIGHT' OUT APRIL 14 (AWAL)
A breezy pop anthem that puts Eloise's natural songwriting abilities at the forefront, the song tells the tale of a love gone sour. Directed by Balan Evans, the video chronicles the bittersweet aspects of a relationship as it begins to unravel. Opening at an airport terminal and climaxing with an emotional group dance scene, the video is one of her most ambitious yet. "Drunk On A Flight" paves the way for more of the singer's exquisite vocals and heartfelt storytelling – branching beyond her signature marriage of jazz-tinged soul and folk.
2KBABY RELEASES INFECTIOUS NEW SINGLE "MOOD SWINGS"
Despite what a title like "Mood Swings" may suggest, the song has a decidedly optimistic outlook. 2KBABY sings over minimal percussion and emotional chords with a distinct sense of world weariness which makes its celebratory, melodic moments all the sweeter.
LULLANAS Return with New Single "Cheap Silver Lining" Feat Luke Sital-Singh
They say, "One of the many thoughts that loop in the anxious mind is doubt. 'Am I overanalyzing this?' or 'Are we hanging on by a thin thread of hope?' 'Cheap Silver Lining' is a song for the over-thinkers…for the people who read in-between, above, below, and around the lines right in front of them. We were lucky enough to have our schedules align with one of our favorite artists, Luke Sital-Singh, while we were in Los Angeles. He co-wrote and produced the song, and we couldn't resist asking him to be a feature on it!"
Meltt Releases New Single "Blossoms" Off Forthcoming EP 'Another Quiet Sunday' Out March 3rd
"'Blossoms' is about making an effort to see the beauty in nature and experiencing the 'real' it has to offer. It shows us an escape from manufactured environments that we are constantly immersed in and accustomed to. The track also provides a feeling of connection with your past, or a general human past. With an appreciation for the natural world, 'Blossoms' tries to convey a feeling of the 'glow' you might have when having these experiences outdoors," states Meltt about the new single.
THE MINKS Announce Sophomore Album, CREATURES OF CULTURE Due March 3, 2023
Nashville based psych-rock explosions The Minks are set to release their highly anticipated sophomore album, Creatures of Culture on March 3, 2023. The smoldering, ten-track collection highlights the group's distinct talent for storylines, esoteric humor, and undeniable rock n'roll grit.
Video: Baby Stone Gorillas – "Block Benders"
Kerala Dust Share New Single / Album Out Feb 17 via Play It Again Sam
Talking about the track, Edmund Kenny of the band said: "'Still There' is one of the only songs I've ever really written about this crippling anxiety that's been following me around for decades now. Is there somewhere you can go to or do to escape it, or is it always going to be there, somewhere? Recently, I've almost been able to look at that anxiety as a thing that's separate from me, and put a fraction of it into words, like in Still There. It feels good to share, especially when there's a guitar riff involved."
Ben Sloan announces debut album, muted colors (feat. Moses Sumney, Serengeti, etc.), releases video for "1e&a"
On March 24, 2023, percussionist and producer Ben Sloan, who has performed and recorded with The National, Moses Sumney, Beth Orton, Mouse on Mars, Rozi Plain, Serengeti, and WHY?, releases his debut album, muted colors, a shapeshifting exploration of genre-fluid sound. And he brings a few of these friends on the journey.
SYDNEY ROSE DEBUTS NEW SINGLE "TELL HIM I MISS HIM"
Sydney expanded on the song, "'Tell Him I Miss Him' was initially written from the perspective of a fictional character who has had a best friend all his life, but over time the friend changed in ways he couldn't control. The song can be about a parent, loved one, or friend. People grow and change constantly and sometimes all you can do is sit and watch. You wish for things to be as easy as they were when you were younger."
SOLO SOLO Release Debut EP and new single!
Austin-based bedroom pop duo Solo Solo today released their debut self-titled EP and lead single "Wedding Guests". Following the releases of singles "No Sleep", "Pure Graffiti" and "Sudden Sea", the band explores the new wave of DIY in their first official release. Combining shoegaze dream-pop with an authentic and fresh production sound, while the songwriting unveils a personal and confessional view into the band, creating an intimate atmosphere which will leave you exceedingly compelled to listen.
Termanology feat. SuperSTah Snuk "Run The Court" (VIDEO)
London's Matt Maltese Announces New Album 'Driving Just To Drive' Out April 28; Shares New Track
London artist Matt Maltese has today announced his fourth album Driving Just To Drive for release on April 28 via Nettwerk and has also shared its title track "Driving Just To Drive." Driving Just To Drive is the first major body of work from Matt since his acclaimed third album Good Morning It's Now Tomorrow arrived in 2021.
New Single by LoudChief & Samil "Black Ops" + EP announcement
"Black Ops" is the second single for the upcoming EP, "5 Piece & A Biscuit: Everything On Everything" by rapper Loudchief and producer Samil. The single comes with 2 guest features from Dirty Meech and Madison Da Great. The song is an ode to east coast hardcore rap influences and details street life hardships in the city. The EP comes out on February 10th. The final single before the EP drops is titled "Franchise Player (Jayson Tatum)" featuring Willie The Kid and is set to release on January 27th. The first single from the EP "Breathe Easy" was released on September 2022.
Ahmen Drops Empowering New Single "LOVE LETTER" ft. Anjelica Sky and Jeremy Paxton
Rising hip-hop artist Ahmen has released his newest single, "LOVE LETTER" ft. Anjelica Sky and Jeremy Paxton, the first release off of his upcoming album Per Aspera Ad Astra. The powerful single encourages listeners to speak up and invite change, on their own terms as culture shapers. Uplifting, impactful, and on a quest for justice, the track is Ahmen's direct response to the demands of young people for a more just and joyful world. CEO and keynote speaker by day and hip-hop star by night, Ahmen perfectly fuses the two worlds of his non-profit organization, Our Turn, and his musical career. "LOVE LETTER" is the perfect combination of what Ahmen stands for. The track is available now for streaming and download on all digital platforms.
RESTLESS ROAD RELEASE UPLIFTING NEW BALLAD "ON MY WAY"
"'On My Way' is a song we wrote as a reminder to ourselves that it's okay to be a work in progress. It's okay to not have all of the answers. It's okay to fail," says Zach while Garrett echoes, "we want fans to take away that it is perfectly normal to not be perfect, and that it is important to embrace and be true to yourself." Colton says of writing the song, "it's one of the most vulnerable songs we've ever written. It helped us through one of the most uncertain times of our life, so we wanted to release this song and we hope that it can help other people too."