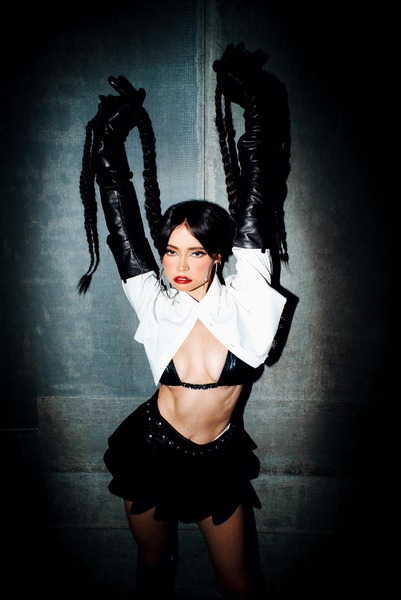 @skopemag news – friday – january 6, 2022 @ 12 pm est
@skopemag HQ – http://smarturl.it/skope
@skopemag Menu – https://skopemag.com/2022/07/11/skopemag-editorial-services-the-menu
Kepi Ghoulie Premieres First Single "Happy When It Rains" With New Noise Magazine
"Full Moon Forever" is a covers record which saw Kepi enlist the help of friends such as Ara Babajian (The Slackers), Ian Fowles (Aquabats, Gerard Way), Aaron Minton (Prima Donna), and Kevin Preston (Green Day) all lend a hand in bringing this record to life.
D2UR Are Ready To Turn Up The Amps And "Live Again" With New Single
Following up their smash, "Right Now", D2UR are turning up the volume on their newest single. "Live Again" features Diane Isbister's powerhouse vocals, mingled with husband Mike's rock riffs. The track is an open highway fist pump – the unleashing of a former life and heading out to find a new one.
ZEVIA CONFRONTS HER FEARS ON NEW SINGLE "pain's my only home"
"I wrote this when I was around 18 years old," Zevia says. "From that age on, I started getting diagnosed with more mental health problems very fast that I learned to hide from those I love. I know people all ages can relate to this song, and I know it will make me feel less alone. Even though it's 3 minutes long and a bunch of deep sentences, it's almost saving my life in a way because of everything I put into it. I know by far this will always be a song I remember for the rest of my life and career, even with future songs down the road."
[Video Submission] Amadeus360 ft. Nems & Lil Dee " Set It Off"
YellowStraps returns with new single 'flowin feat. Sam Wise'
Belgian artist YellowStraps continues his hot streak with 'flowin feat. Sam Wise', out 6th January on Haliblue Records/Universal Music France.
A sophisticated modern hip-hop jam, 'flowin feat. Sam Wise' combines YellowStraps' quick-fire flow and lucid lyricism with a jazz-inflected production. The official video coincides with the single release, featuring both Yvan and Sam perform a slick laidback jam in an empty car wrecking yard.
'Safari Gold' brand new 'Last Chance Addict' Single Out today 6th January
Welsh alt-pop quartet 'Safari Gold' re-emerge with their latest single Last Chance Addict, released on January 6th 2023.
Lead vocalist's Morgan and Danny – "The song plays on general morality and the less glamorous side of thrill seeking. An up tempo song for the deeper soul'd out there."
Fliptrix in shelling mode on 'SM58'
Fliptrix knew 'SM58' was going to do exactly what he hoped it would after performing it for the first time (at the same live show that features in the official video). With Onoe Caponoe and Ramson Badbonez in attendance; the crowd responded with an insane energy to every verse, the exact same energy Wundrop has perfectly captured in the minimalist, low-frequency production that sees the track expertly traverse the ultra-fine line between orthodox and unorthodox.
YOUNG DRA FEAT. NLE CHOPPA NEW SINGLE OUT NOW
DRA recently performed to a sold out crowd at Madison Square Garden opening for MTV's "Wild'n Out Tour", supporting acts including A-Boogie Wit a Hoodie, Glorilla, and Bobby Smurda. DRA's music is a mix of hip-hop, trap, and soul; what he refers to as a "musical gumbo." DRA cites influences including James Brown, Baha Men, and The Notorious B.I.G. Having grown up in a once notoriously dangerous neighborhood in Chicago, Young DRA has been driven to use his voice to spread a positive message and promote a lifestyle apart from violence, stating: "What's the point of rapping if you're not rapping about something of substance?"
BABYTRON ANNOUNCES NEW ALBUM FT. LIL YACHTY, RICO NASTY, BABYFACE RAY, CORDAE AND MORE
Detroit rapper Babytron has announced Bin Reaper 3 New Testament, part two of Bin Reaper 3, which saw the Old Testament release in October of 2022. The album includes features from Lil Yachty, Rico Nasty, Babyface Ray, Cordae, Remble, KanKan, Certified Trapper, DaBoii, and more (full tracklisting below), with production from Helluva and ByeKyle, among others. Babytron has established himself as a singular voice within the ecosystem of an exploding Detroit hip-hop scene. With quick-witted humor, the ability to rap on any beat you put in front of him, and a fervent fanbase Tron became one of the leading artists to come out of the city in 2022.
FAIM Unveil New Song From Upcoming Final LP
FAIM have announced their final LP titled "Your Life and Nothing Else" for Safe Inside Records and have shared a brand new track.
"When I moved to Washington State, we knew we couldn't keep going with the band indefinitely." says vocalist Kat adding "Being older, we really wanted to spend our time off work not just touring, and this band had started taking a lot of that personal time away. Putting an end date on the band has allowed us to give 100% to this band in a specific time frame. Plus, we know this is a scene for the youth, and we didn't want to overstay our welcome. "Opus" is about all of this. Did I make smart life choices? Can I let go of something that has been an integral part of my life for the past 6 years? Was it all a waste of time?
NERIAH Releases New Single "Puppet On A String" Out Now
"Puppet On A String" highlights NERIAH's abilities as a songwriter as she analyzes an unhealthy relationship from a foreign perspective. NERIAH fully immerses herself in this role, with the chilling chorus proclaiming, "'Cause you're my puppet on a string, you just move the way I please, always tell me everything." While her music often takes an unflinching look at heartbreak and breakups, this single puts NERIAH in the driver's seat for a unique but equally poignant viewpoint.
Elle King Releases Bodacious New Song "Tulsa" Off Upcoming Album
While Tulsa has been named checked in many country songs, this is the first time it's recognized for its spelling in reverse. "Tulsa is a song about doing someone wrong," said King of the tune that includes the lyrics But if you spell it back to front you gonna know what I mean, he went back to Tulsa. "This is not about tearing women down but it's about putting the blame on the wrongdoer. If a man is cheating on you, it's not her fault because there are a million other girls he would do it with. And he'll just cheat on her too. It's a song about uniting and not taking shit from this real P.O.S."
YAHRITZA Y SU ESENCIA KICK OFF 2023 WITH BRAND NEW SINGLE "CAMBIASTE"
QUEEN NAIJA CONFRONTS LIL MEECH IN NEW VIDEO & SINGLE "LET'S TALK ABOUT IT"
YoungBoy Never Broke Again Presents Mega-Anticipated New Album I Rest My Case Today
Beginning 2023 and another chapter with a bang, history-making GRAMMY® Award-nominated Louisiana-bred rapper and one of the most-listened to artists in the world YoungBoy Never Broke Again uncovers his mega-anticipated new album, I Rest My Case, today! It notably marks his official debut release under his own Never Broke Again, LLC and Motown Records.
Peter Gabriel Releases New Single "Panopticom" From The First Album of New Songs in 20 Years i/o
Today, on the first full moon of 2023, Peter Gabriel has revealed the first new song from his forthcoming album i/o. The track is accompanied by a cover image by the artist David Spriggs.
Written and produced by Peter Gabriel, Panopticom was recorded at Real World Studios in Wiltshire and The Beehive in London.
David Guetta & Bebe Rexha drop acoustic version of global smash 'I'm Good (Blue)'
David Guetta and Bebe Rexha have released a sizzling acoustic version of their collaborative #1 hit single 'I'm Good (Blue)', out today.
A dazzling, stripped-back take, the acoustic version of 'I'm Good (Blue)' accentuates the simplistic beauty of the track. The global smash original reached a new peak of 11.6 million global streams on New Year's Eve alone, reaching #1 on the Spotify Global chart and reentering the Official Charts at #10 this week.
Music Submission: The 30s
For those who grew up in the golden age of pop-punk, 'Justice Partners' will be a revelation – proof that the genre is as potent now as it ever was. A defiant anthem against intolerance, this track boasts huge hooks, power chord heavy guitar riffs, and a constant rhythmic barrage. It is the sound of the genre growing up and taking a stance in the most meaningful way possible.
STARGAZER release "Can You Conceive It" video and digital single
New Tune // Florence Arman – "Hello Florence, How Are You?"
Florence Arman starts off 2023 with a note to herself in a rather silly yet incredibly infectious track titled 'Hello Florence, How Are You?' that will make its way onto her sophomore EP out soon. Despite it being written in jest, it showcases Florence's brilliant songwriting that's both honest and funny which are things fans are coming accustomed to in her growing discography.
Slade's Don Powell & The Dreamers Return With New Single 'Don't Let Me Be Misunderstood' From Upcoming Debut Album
Slade founding member and drummer Don Powell strikes again, a year after the formation of this new band 'Don & The Dreamers'. Back with the new single 'Don't Let Me Be Misunderstood' and also announcing their debut album , Don and his band once again showcase their musical majesty, building yet more momentum and showing no signs of slowing down.
Cadende: The Israeli Rock Duo follows a buzzy release with the new EP "The Big Wheel"
While inspired by the sights and sounds impressed in the minds of two 1970s Israeli kids, The lyrics of the songs of The Big Wheel are a reflection of the personal journeys of the two artists, today an AI researcher and a real estate engineer/entrepreneur, and both family men. Musically, the styles vary from alternative/electronic rock to old-school ballads, with a recognizable influence of modern European prog metal.
Nashville indie and pop-punk riser Jack The Underdog releases reimagined EP 'Acoustic Variants'
Nashville indie and pop-punk riser Jack The Underdog releases new 'Acoustic Variants' EP, featuring live acoustic versions of his singles "Junkie," "high holiday," "Hate That 4 Me," "Dolly," "scared of you," "Conversation," and "Wastin' Away."
We Are Scientists Kicks Off 2023 With "Settled Accounts," Premiered via Under The Radar
"It's nice that things have come full-circle," says We Are Scientists vocalist/guitarist Keith Murray about the band's groovy, synth-laced indie track "Settled Accounts" (which premiered via Under The Radar). "Strident old Keith would have argued that funk was the one true musical genre. And here we are, with our funkiest tune yet." Taken from their eighth official studio album Lobes (release date: January 20, 2023 via Masterswan Recordings), the track brims with chiming, funk-infused guitars while its epicly soaring chorus begs for a singalong.
Skope single submission: Pete Santos, "my ting". Afro-fusion meets hiphop in Finland
About his new single, Pete says "The key message of 'My Ting' is that it's not just about you. Throughout the journey there will be people who tell you you can't do it, or who will try to hinder your growth process. You have to keep in mind that you are just one piece in the puzzle – there are the people you work with, your family, your community and all the people you represent."
Bad Sounds Release New Single "More Than I Can Afford" Today 
The relatable track is a response to the cost-of-living crisis, currently happening in the UK. Touching on the complex and conflicting feelings, the track shines a light on how things are currently playing out for so many people right now. Bad Sounds adds, "Being poor and living in an expensive city. Plus trying to eat healthy, not trash the environment, buy organic foods, and support local businesses. These are all things that we try really hard to do in our everyday lives, but it kind of feels unattainable to maintain the moral standards we set ourselves. So, we end up feeling really guilty all the time for not being able to live up to that code of ethics every second of every day. This problem has only really been compounded by the ever-increasing financial divide in the UK. Hence "I bet a clean conscience costs more than I can afford". You just end up doing your best and lying to yourself about your shortcomings."
PASCAL LETOUBLON & ILIRA RELEASE "TIME AFTER TIME"
Empowering, uplifting, intense. Pascal Letoublon's music combines all of these elements into an irresistible signature earworm. He got his global breakthrough in 2020 with "Friendships" which reached over 127 million streams. A TikTok hype ensued and finally an updated vocal version of the song with feature singer Leony was released which went Gold in France and Germany. The charismatic Frenchman has also proven his amazing talent for atmospheric tracks and innovative productions with his unique remixes (e.g. for Sophie and the Giants).
Caye Shares New Single "A Door"
Today, LA-based artist/producer/songwriter, Caye (pronounced KAI), shares his brand-new single, "A DOOR." Written and produced by Caye himself, "A DOOR" is a laid back, atmospheric track that meditates on how we should take time to slow down and reflect on ourselves and find a door inside our hearts that can lead us to that inner peace we're all striving for.
Cat Clyde Debuts "I Feel It" Single/Video with Under The Radar | LP Out Feb. 17
Today, Canadian indie-folk artist Cat Clyde has released the emotive new album single "I Feel It" which reveals her experience of being an empath. The song focuses mostly on the positive elements but also a little about the challenges, feeling relief and solace through connecting with nature. The evocative and haunting new track follows lead single "Mystic Light" and marks the first time Clyde has played piano on a recording. Her brand new studio album Down Rounder is due out February 17, 2023.
Hail The Sun shares virtuosic new single "Mind Rider"
Today, progressive alternative quintet Hail The Sun released their new single and video "Mind Rider" on Equal Vision Records. You can watch the official video here and stream the song here. Their new single is their first release since critically acclaimed 2021 album New Age Filth. The band, consisting of Donovan Melero (vocals), Aric Garcia (guitar), John Stirrat (bass) Shane Gann (guitar) and touring drummer Allen Casillas (who appeared on their new song) will be joining fellow luminaries The Sounds of Animals Fighting on a month long North American tour starting on Friday, January 6th.
Baby Stone Gorillas Announce 'The Military' Mixtape, Drop the Top in "WOP" Video
Ping-ponging off one another with complementary styles and electric chemistry, Baby Stone Gorillas are heating up the L.A. scene with their searing street raps. Plotting the next step in their conquest of the rap game, BSG announces The Military, their next mixtape. Spanning 23 tracks, the next mixtape refines the group's hard-hitting West Coast sound, its glossy textures, funk-forward rhythms, and boosted bass adding emphasis to quartet's raw lyricism. The only voices you'll hear on the album belong to the Gorillas themselves–Top5ivee, P4K, 5Much, and EKillaOffDaBlocck–who shoulder the full trackload without outside features. With contributions from West Coast sound architect like RonRonTheProducer, Juneonnabeat, and more, The Military releases on February 10th via Park Money Records / EMPIRE.