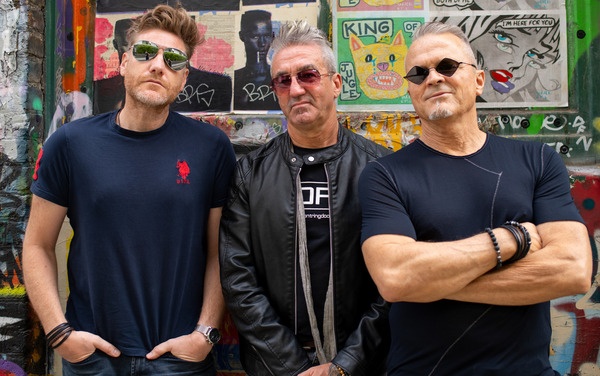 Ahead of their new second album, Aliens Don't Ring Door Bells give an exclusive interview to readers at Skope. Gearing up for a new year, ADRD shares their forthcoming second record will include 12 songs, including the three already released singles – 'Hello 2 You,' 'Don't' Touch' and 'Big Old Nowhere.' 
Read for more exclusive details in the below Q&A. 
Hi Aliens Don't Ring Doorbells, how are you doing?
We're doing great! 2022 has been a busy year for us 'Aliens'. ADRD has released 3 songs off of our upcoming 2nd album on two EPs. The first EP had two songs on it, the single 'Hello 2 You' which charted on Billboard's Adult Contemporary Top 30 and a 'B' side called 'Don't Touch'.  In October we released a second single 'Big Old Nowhere' which is getting a lot of airplay at the moment.  In October and November we finished recording the remaining tracks for our 2nd album at the iconic RAK studios in London. The new album will have 12 songs total including the three released singles mentioned. To say the least we've been busy but loving every minute.
How would you describe ADRD in just three words?
Melodic Pop Rock – Simply put, we like using chord changes that are interesting and this results in melodies that have a bit of movement but still have that rockin' edge that we like as well.  We don't think our strength is in singing a single note to a DAW (Digital Audio Workstation) generated looped beat rhythm for example, although some artists do that very well, we take a different path that's refreshing to our listeners we're told.
Out on the 21st of October, 'Big Old Nowhere' is the latest single to be released from your new album, what can you tell us about it?
Big Old Nowhere was recorded at Dean Street Studios in SOHO, London. Dean St is one of those iconic recording studios where everyone from David Bowie to Ed Sheeran and Adele have recorded at yet it is a studio you can feel right at home in.  Big Old Nowhere was produced by Roy Stride of Scouting For Girls along with co-producer, Alex Oldroyd.  Roy knows how to write hits and really connected with what ADRD are trying to achieve and along with Roy got a great sound out of the Big Old Nowhere effort.  We also recorded another song with Roy and Alex producing called AMANDA which will become the 3rd major single release from the upcoming album and I believe this goes out the second half of January so stay turned!
What would you say the creative process looked like for this album and how did it compare to your debut?
The first album was really the first original recording any of us had made on vinyl. We were fortunate enough to work with some great people for that first album.  We learned a lot and applied it to our efforts for this second album.  We decided to challenge ourselves and work with a number of different producers and musicians to create something different but still very much Aliens Don't Ring Doorbells music on this second effort. This time instead of recording the entire album at one studio as we did for the first album, we recorded in four different studios in both Spain and the UK.  Creatively, we added Mark Boden to the line-up on keys and vocals. If fact, Mark stepped in at the last minute for our first ever tour when our keyboardist at the time (Christian Pearl) had a change of heart about touring and Mark did such a great job that we invited Mark to not only play keys on the second album but to also co-write with both Adam and Dorian and the result is a new song called The Best of Me which will be on the new album. 
Which track are you most looking forward for fans to hear?
There is a new song coming called AMANDA in January 2023 which was produced by Roy Stride as I mentioned earlier and this tune has a great danceable vibe to it so we really look forward to what fans say this coming January.
Who would you say your biggest inspirations are as a band and have they played a part in influencing this new record?
Our band influences really vary because Adam's background was British pop in the 90s and Dorian's background is more in rock n roll and jazz so from that basis we tend to listen to bands like the Feeling, Go Go Penguin, Radiohead, Maroon 5, Bobby Darin and the Matt Schofield Band. These are just some of the inspirations feeding into our music. I think if you listen you will also hear some classical music influences particularly Mozart who really knew how to create and keep interest in a song 
What's been your own personal favourite releases of 2022?
For Adam that release would be Hello 2 You as it was something we wrote to brighten our moods as we once again opened our doors to the sunshine after the pandemic and for Dorian that song would have to be Don't Touch which was released as the b-side of the Hello 2 You single earlier this year. One interesting fact is that reed section in the song is made up of four saxophones all played by Dorian (soprano, alto, tenor and baritone) with the soprano playing notes normally played by trumpet, 'it's a nice fat sound' according to Dorian!