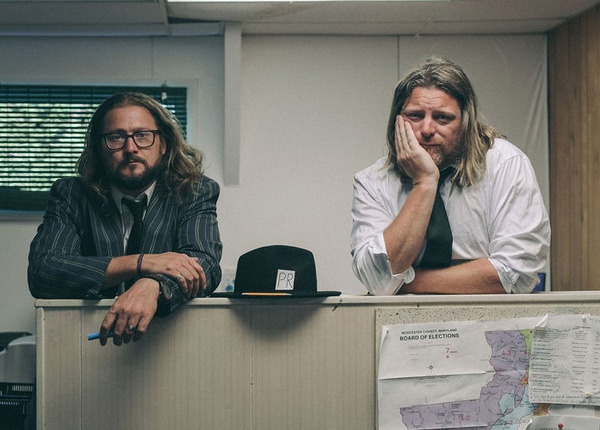 Journos is a duo made up of award-winning journalist & lyricist Bryan Russo and punk-rocker Ryan Abbott and together they are playing 'In The Key of WTF'. This full-length album is the debut release for Journos and what a doozy it is. 'In The Key of WTF' will give you plenty to think about and will stir up many different feelings & emotions.
This new record has its fair share of political jabs and cunning pokes at issues in society that is all programmed 'In The Key of WTF'. Love 'em or hate 'em, Journos is not afraid to shake the tree and get their musical hands dirty while having a damn, good time in the process. With witty and snarky content that will either make you laugh or yell, 'In The Key of WTF' displays all of these fine qualities. Whether you like it or not, Journos has come to play 'In The Key of WTF' as this duo is taking aim and calling its shots.
The album fittingly starts up with "The Opener" and right away the listener will pick up on humorous lines & catchy riffs where the material is also meaningful and musically rich. Next, roll into "Something Worth Feeling Again" where this cool jam will get you pumped up with its infectious rhythm. It's time to get your hands & ears on some "Dirty Money" where the audience will let loose and enjoy this lucrative, listening experience. You will be marching to the snappy beat of "Oh Tyranny!" where the political punches are in full force. Track six, "What A Time To Be Alive", is beaming with peppy life and one will also feel like he or she is in a smokey lounge surrounded by jazzy & bluesy tones. Next up is "Nostalgia" that doesn't exhibit your typical, nostalgic charm with Journos highlighting negative imagery rather than happy memories. Track eight, "Don't Wake The Trouble", will ignite your senses and stir up emotions with this politically-charged song. The following number moves along at just the right pace as you take a leisurely stroll with "Lester Bangs". The album ends on a high note with "Learned Behavior" where a pleasing tempo and laid-back style is detected.
If you're a fan of: Tom Waits, Drive-by Truckers, Caamp, The Heavy Heavy, Wilco or Elvis Costello, then you may want to add Journos to your personal, playlist. Journos will get you riled up with 'In The Key of WTF', so sit back and enjoy the ride! Mission accomplished because Journos got your attention and made you listen all while 'In The Key of WTF'.
By Jimmy Rae