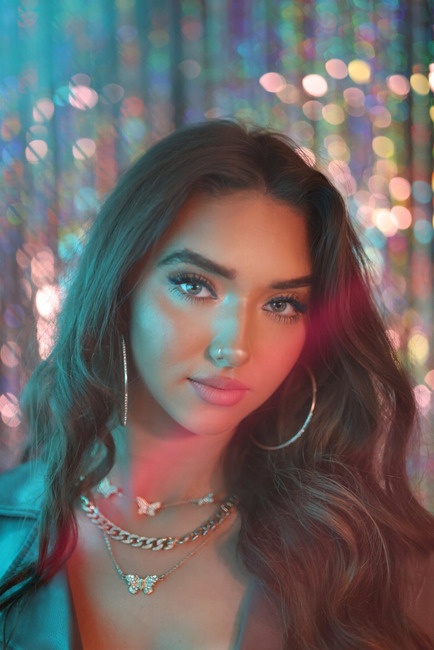 @skopemag news – friday – november 18, 2022 @ 9 am est
@skopemag HQ – http://smarturl.it/skope
Levi Riggs' Lyric Video For Current Single "Pour Some Whiskey On It" Premiered By Cowboys & Indians
Country music singer-songwriter, Levi Riggs is excited to announce the release of his new lyric video for his current single "Pour Some Whiskey On It"! Premiered by Cowboys & Indians, this hard-hitting, bass-infused single details the difficult things in life that often can't be helped. Covering everything from a bad relationship to getting fired, when these troubles happen, sometimes you need a good whiskey, a couple of prayers and everything will be alright. "I'll toast to my regrets" pretty much sums up this tune with proof that life isn't always perfect, but you deal with the situation and keep moving forward. "Pour Some Whiskey On It" is available now on all streaming platforms.
Lyric Music Video Premiere: Levi Riggs' "Pour Some Whiskey On It"
JORDAN WILSON SHARES NEW SINGLE + VIDEO 'TERMINALS'
The sonic equivalent of entering a dream world, the new single Terminals, the latest outing from Sydney singer-songwriter Jordan Wilson, murmurs and charms with otherworldly delights. Inspired by a cultural reset, Leonard Cohen and some well-timed real life absurdity, Terminals is also today accompanied by the release of a captivating and potent music video. And Jordan Wilson fans can also catch him performing the new single and many other musical delights alongside Motion Sickness at The Chippo Hotel in Sydney on Thursday 24 November and The Old Bar in Melbourne on Wednesday 7 December.
Hotel El Ganzo In Mexico Announces DJ Harvey, Carlita, Rodriguez Jr., Sainte Vie, Echonomist b2b Jenia Tarsol For NYE Event (Crania, Beach Parties)
Following the success of Ganzo X, Hotel El Ganzo's ten-year anniversary celebration over Halloween weekend, the revered creative enclave in beautiful San José del Cabo, Mexico returns with another immersive experience, this time taking over the property and nearby venues for a very special New Year's Eve soirée from December 29th – January 1st. Coined DREAMSCAPE, the event will welcome travelers, music fans, and adventurers to bring in 2023 amongst incredible live performances and DJ sets with beach parties, gourmet food, art installations, a Friday night party at the revered venue Crania, and more.
Bre Kennedy Announces New EP, 'Clarity' Out 12/16; Shares Title Track "Clarity"      
Today, singer, songwriter, and producer Bre Kennedy announces her new EP, Clarity, will be released on December 16th. Along with this news, she shares a captivating lyric video for the EP's title track. Watch it here, and stream the song across DSPs tomorrow, November 18, here.
Flipping through her journal, one word stared right back at Bre from various pages. Without realizing it, she had jotted down "Clarity" multiple times. Its meaning, i.e., "understanding," spoke volumes to how far she had come in a short time. Since her emergence in 2019, Bre pondered growing up too fast, the fulfillment of a lifelong musical dream, and the whirlwind of her early twenties through eloquent songcraft anchored by delicate instrumentation and dynamic vocals. After amassing streams and acclaim, she uses unfiltered lucidity to drive her aptly titled 2022 EP, Clarity, a sonic reflection of her personal metamorphosis over the past year that has led her to a more clear and hopeful perspective.
The St. Regis San Francisco's New Holiday Experiences
As the holidays quickly approach, I wanted to share news that The St. Regis San Francisco has announced festive, new gastronomic and stay experiences, including a holiday-inspired Art of Tea ritual, 12 Days of Cocktails, and a Family Traditions Holiday Package.
Holy Ship! Wrecked Announces Music & Activities Schedules, Sunrise Set with Justin Martin, and Party Takeover Set Times Ahead of 2022 Edition
Holy Ship! Wrecked, one of the most coveted parties on the planet, has announced the music scheduling, sunrise set with Justin Martin, and party takeover set times ahead of its 2022 edition at Hard Rock Riviera Maya, Mexico from December 13-17. This includes day-by-day programming for the Main Stage, Beach Stage, Pool Stage, Sunrise Stage, Tropic Stage, and Wrecked Stage.
RILEYY LANEZ RELEASES NEW SONG "NOT MINE"
Today, R&B singer/songwriter Rileyy Lanez has shared her latest single "Not Mine" via Columbia Records. Written from a place of vulnerability, the track is about facing the truth of wanting to have someone belong to you after the relationship is over.
GEORGE BARNETT releases dark euphoric banger 'Black Tank Top'!
During lockdowns George released his first two EPs with the label: "Bad For You" and "Make It Rain" which garnered 25 million streams with the track Stone Cold Classic winning a global car advertising campaign.
LEWIS THOMPSON FT CLEMENTINE DOUGLAS – 'ENCHANTÉ'
Love Remain drops vibrant new single 'Be With Me'
A restrained, high-energy dose of melodic electronica, 'Be With Me' pairs propulsive synths with angelic vocals. It follows recent singles 'No Tears In The Morning' featuring GYBG and 'Like Home', with the forthcoming debut album Still In Awe set to be released next year.
LIL TJAY DROPS OFFICIAL VIDEO FOR "GIVE YOU WHAT YOU WANT"
The New Blues Rock Single From Gary Dranow and the Manic Emotions Speaks on Living with Mental Illness
VALENCIA GRACE COMES FACE TO FACE WITH HER EMOTIONS IN VULNERABLE NEW SINGLE "FINAL DANCE"
"When I wrote 'Final Dance', it was scary because it was the first time I wrote about my depression," Valencia says. "I wanted the video to be raw and emotional. It paints the picture of someone who's not doing well. I hope people find comfort in the chaos and connect with it."
Cade Hoppe Releases New Single/Video "Past Time"
Opening with simplistic keys before livening with glittery synths and anthemic percussion, "Past Time" is an instantly catchy track. "'Past Time' is about relationship nostalgia and the selective memory that comes with it—in this case, not only are you positively selective in your memory, but you're really hoping your ex is not being negatively selective," says Cade. "Being stuck in the past can be a dangerous drug." Cade co-produced the track with his frequent collaborator Harper James (Eighty Ninety, James Bay, Aaron Taos).
Jordi Releases Debut Single "Hate You"
Singer, dancer and creator Jordi reveals her debut single, "Hate You," out on all streaming platforms today.
Hailing from Myrtle Beach, 19-year-old Jordi has spent most of her youth writing songs, dancing in studios, performing on stages across the US and creating online content that has earned her a dedicated fanbase. Her stunning covers, captivating vocals and creative online content have drawn over 12 million followers across social platforms.
Thomas Day Releases New Single/Video "The End"
LOLA BROOKE RELEASES HIGHLY ANTICIPATED TRACK "HERE I COME" – OFFICIAL MUSIC VIDEO OUT NOW
BENTLE Shares New Single "Darkest Blue"
Baddiel, Skinner & Lightning Seeds release 'Three Lions (It's Coming Home For Christmas)'
Lillasyster releases new single 'Forty Four Boxes'
Ukraine's alternative/industrial metal band AGHIAZMA release new Single "Mental Abuse"
Ukraine's alternative/industrial metal band AGHIAZMA release new Single "Mental Abuse", taken from band's second full-length album Carnage.
Listen to "Mental Abuse" here:
Maggie – Bad Habits
Kahil El'Zabar's Ethnic Heritage Ensemble shares new single 'Holy Man' celebrating Don Cherry via Spiritmuse
Today, Ethnic Heritage Ensemble shares 'Holy Man', the lead single taken from the forthcoming album 'Spirit Gatherer' out March 10th via Spiritmuse. Led by visionary percussionist and veteran bandleader b, Ethnic Heritage Ensemble's new album is a celebration of the legendary jazz pioneer Don Cherry.
Class new indie banger from Manchester's Chew Magna – OUT TODAY!
carpetgarden releases WTF is even going on? EP via House Anxiety
Kid Apollo release new single "lost in her phone" – new EP 'u the real star here' out now
kid apollo's new EP 'u the real star here' features the previously released singles "all on me", "camera shy" and "leave her" – receiving widespread press adoration (i-D, COLORS, Notion, CLASH, The Line Of Best Fit, GUAP, New Wave Magazine, DUMMY Mag, Noctis Mag, Early Rising) and huge Spotify editorial support (RADAR: First Listen, Our Generation, Alternative R&B, Fresh Finds, Just Dropped, The Other List, Fresh Finds R&B, an alternative future).
Country Trio Kopper and Kash Release Inspiring Music Video for "The Best I Can"
Country Trio Kopper and Kash release a new music video for their newest single, "The Best I Can" available on all streaming and download sites. The family trio transports their audience through a difficult difference of opinion, that they attempt to overcome, the 'best they can.'
FRANCE'S POMME RELEASES "VERY BAD"
Today's new song "Very Bad" is not entirely the first time she ventured out with English language music. Her latest album Consolation includes "when I c u" for instance, and last January, she collaborated with Norwegian artist Aurora. Their duet "Everything Matters" has been streamed +25M. In 2020 she made a cover of Feist's song "The Park" on the Goodnight Songs For Rebel Girls' compilation.
Alt-pop sensation Sir Jude releases debut album 'Revelations' + focus track 'Secret Safe'
With her theatrical approach to modern-day pop, Sir Jude's diverse range allowed her to intricately connect the dots and create Revelations, her first full length project. Marking such a prominent period in her life, Revelations is a body of work that represents a sonic journey of unravelling internalised misogyny and discovery of the self, wherein each song the same question is posed: What does it mean to be a woman today?
Lucifer Star Machine Launch New Single & Music Video "I Wanted Everything"
Rapid-rising London lyricist PSI.KO returns with her mellow-trill rap cut "To Me, From Me"
A true product of diaspora, PSI.KO balances her heritage of both East and West with a balance of common sense and flair only found in the city. Keeping her anonymity by not showing her face, her key focus stays true to the creation of art, rather than the cult of personality.
THE LUKA STATE SHARE THE NEW DIY VIDEO FOR 'MORE THAN THIS'
The Luka State recently announced the March 10th release of their eagerly anticipated second album 'More Than This' by sharing its title track. The song was inspired by an encounter that frontman Conrad Ellis had with a single mother of two while he was delivering food parcels during the pandemic. "She did everything she could for her boys working 2 jobs a week to put food on the table but she was let down by the system" says Conrad. Her tale is a tragedy, symptomatic of what should be a national scandal with so many families going through similar experiences.
KARU releases new album "An Imaginary Journey" via Beat Machine Records
Today, KARU – the collaborative project of Italian double bassist and producer Alberto Brutti – has released his new full-length album titled "An Imaginary Journey" via Beat Machine Records (home to Healing Force Project, J Shadow, Maxwell Simmons and more).
Danish composer Jonas Colstrup's new album "At The Crest" out now via 7K!
The recording process of "At The Crest" " was all about finding an intuitive and natural expression, hopefully tapping into an aesthetic of some kind of archetypical raw power. It's about embracing complexity with no resolutions, and the consequent discomfort of unfamiliar emotions."
DEAD MEADOW: new single and video for "Valmont's Pad" out now
US psychedelic rock luminaries DEAD MEADOW release their new single and video "Valmont's Pad", taken from their new album "Force Form Free" to be issued this December 9th as part of Blues Funeral Recordings' special PostWax series.
Marsha Bartenetti Releases New Song "Dust In The Wind"
Contemporary Adult singer Marsha Bartenetti presents her latest record "Dust In The Wind". The song is a classic song by Kerry Livgren of the group Kansas. The original song was recorded in 1977. Its lyrics are poignant at this current time.
Marsha shares: "During this absolutely unfathomable year, one of great losses-of friends, family members, jobs, homes. Through it all we have experienced the fragility of life-and all the notes of our existence. All we are is dust in the wind".
Swamp Eyes Gets Cinematic in New Single, "Dig A Hole"
Take a Danny Elfman soundtrack, punk it up, then throw it in a wood-chipper and out the other end you'll hear the experimental sound of Swamp Eyes, the Strange Folk project of Southern Indiana-based singer/songwriter, Sam Kuban. Hitting streaming platforms today via Wally Opus Records, Kuban, a multi-instrumentalist, gives us the first single off his upcoming debut album (dropping Dec.9.); a dark, cinematic folk fable titled, "Dig A Hole." Legendary vocalist Lou Kelly sums it up best: "This sounds fantastic! The folksy melody 'to sing while doing manual labor part' in the beginning is just serene. I was definitely not expecting the explosion of dissonance and screaming, which sounds huge by the way! It really feels like a fully fleshed-out musical embodiment of a scene, or something that is part of a greater narrative.
Plastic Barricades / New Single Out Today!
Powerful Hiphop / R&B Girl Group XG release a new rap video featuring 4 members
The high-powered girl group XG made waves worldwide with their second single 'MASCARA', placing #1 on iTunes chart in 17 countries and territories in addition to Spotify's 'Viral50' in 21 territories.
Last month, XG released solo vocal performances by CHISA, JURIA and HINATA, receiving huge acclaim worldwide.
On-the-Rise Country Music Artist Dallas Remington Releases New Single, "Guilty"
On-the-Rise Country music artist Dallas Remington has released her new single, "Guilty." The latest in a string of single releases, the tongue-in-cheek tune was co-written by Craig Wilson, Nancy Deckant and Dallas Remington. "Sometimes being overly honest with your co-writers works out in your favor. One day instead of just saying 'I'm sorry I was late' or 'sorry, there was traffic' like most people would do, I felt the need to tell Craig and Nancy, in detail, why I was late for our writing appointment. I had seen the most gorgeous metro police officer and a fire truck full of good-looking firemen on my way. Both of those situations had me so flustered that I got lost trying to get to our writing session. That led to a very long conversation about my attraction to men in uniform and the next thing you know, "Guilty" was born!" shared Dallas Remington.
Crossbone Skully, Tommy Henriksen's New Band, Releases Their Debut Single; Official Music Video to Premiere at San Francisco Fan Expo on 11/26
"Evil World Machine," the first single from the exciting new multi-dimensional Crossbone Skully project dropped today. Next Saturday, November 26, the video which was directed and animated by Riley Donahue (Saturday Night Live) will premiere live at the San Diego Fan Expo. Fans will get their first look at Tommy Henriksen's carefully crafted character: Crossbone Skully, and the character's world, which inspired its own upcoming graphic novel, "Thing #1." The first single from Crossbone Skully's debut album "Evil World Machine" is now available to stream and download HERE.
Drew Holcomb & The Neighbors Release New Single "Gratitude" Today
I wrote this song a few days before Thanksgiving last year with my friend Ketch Secor. We were talking about all that was wrong with the world, the troubles everyone is facing, the political division, the unrest, all the post pandemic blues, and yet in the midst of it, how much there is to be grateful for. I remember asking my grandfather many years ago near the end of his life, what was the best gift he had been given. Without hesitating, he said "Well life itself." That has stuck with me for all these years, despite the troubles and sorrows we all face, we have breath in our lungs, old memories to reflect on and new memories to make, people that we love and people that have loved us, smells and sounds that bring us peace, old friends, changing seasons, and so many other things to give us light in times of darkness. Seeing life through this lens is sometimes an act of courage, and one we needed to remind ourselves of on that day when we wrote this song. – Drew Holcomb on "Gratitude"