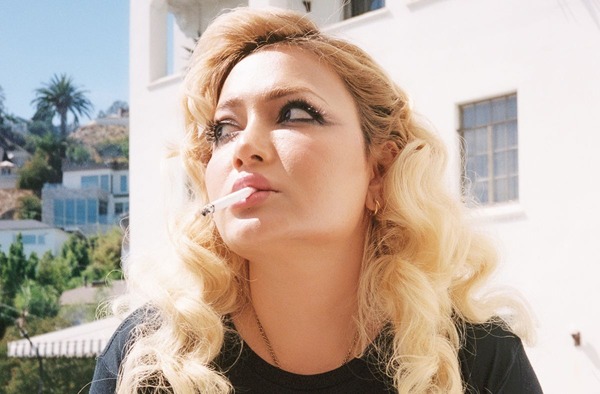 @skopemag news – friday – november 18, 2022 @ 12 pm est
@skopemag HQ – http://smarturl.it/skope
Dark Folk Duo NYTT LAND Reveals Western-Inspired Version of "The Blues Of Ragnarok" & Official Music Video
"The Blues of Ragnarok", was originally released on their latest album 'Ritual', and has been reworked in western-inspired ways. Releasing the new transformation of the song, the duo combines their captivating signature throat singing with rhythmic sounds, matching guitar riffs and melodic elements, immediately drawing the listener into its ethereal soundscape.
The Vindys Release "Bugs" Music Video Today To Celebrate Special Edition Vinyl Release Next Week
Mckenna Grace BreakThrough Music
Emmy nominated singer, songwriter and actress Mckenna Grace released today her single, Self Dysmorphia via Photo Finish Records available to stream now on all DSPs [Here]
AZANTI – 19-YEAR OLD NIGERIAN BOY WONDER – RELEASES DEBUT ALBUM HEART PARTS & NOSTALGIA VIA DEF JAM RECORDINGS
Azanti, the 19-year-old singer, songwriter, and producer 'boy wonder' born in Ondo State, Nigeria, was introduced to U.S. audiences over the summer with "GetTIN' Hot," his premiere U.S. major label single and video via Def Jam Recordings, today releases his hotly-anticipated new album, HEART PARTS & NOSTALGIA. The album includes "Late 4 Dinner," the new single and video premiering across all platforms today.
London's rising star JAY BIZZY unleashes his stylish EP HOODSOMNIA, alongside a sharp visualiser for lead track "Nostalgia"
Queer, non-binary, Cree singer songwriter Siibii
French Hard Rockers BLACKRAIN Release New Single & Lyric Video for "Raise Your Glass"
Nashville Based Singer-Songwriter Dave Thomas Junior Drops New Single "Guess I'll See You Around"
Dave Thomas Junior has a penchant for creating emotional yet comforting music. "I heard Henry Shukman talking about the first time he had a samadhi type experience, looking at a boat on the horizon as the sun set. I made this song while I was thinking a lot about that, so hopefully it has a tiny drop of that sort of calmness contained in it," states David Thomas Junior about the track's inspiration.
BLUEBUCKSCLAN PAY TRIBUTE TO SPENCER WEBB IN "PRETTY MUCH" MUSIC VIDEO
Gotta Get Back To My Baby by BECK BLACK
††† (CROSSES) SHARE EVOCATIVE NEW SINGLE AND VIDEO "SENSATION"
Disturbed's Eighth Studio Album, Divisive, Out Now Via Reprise Records
Today, multi-platinum rock band Disturbed release Divisive, their eighth full-length album, via Reprise Records. Bulldozing the way for the record, the group have previously released the unpredictable and undeniable new singles "Unstoppable" "Hey You," and "Divisive." "Hey You," the album's first single, emerged as their 15th #1 single at Rock Radio. At the same time, it has already gathered 25 million-plus streams and counting, only increasing anticipation for Divisive.
Explore the "Beautiful Temporary" in Maddie Hogan's New Country Pop Single and Video
Out Today // Elizabeth M Drummond – Congratulations EP + Underground
Today Australian singer-songwriter Elizabeth M. Drummond releases her 6-track debut EP entitled "Congratulations." Collectively you'll find a smorgasbord of moods across an indie-rock soundscape featuring some of the best songwriting you'll hear on a debut EP released in 2022. You can listen immediately to the EP digitally, including new single 'Underground,' out via new talent label Young Poet.
Ela Ozturk Goes Back To Her True "Roots" In New Single
Soulful pop artist Ela Ozturk has just released her new poetic single "Roots." This stripped-back and truthful song is full of unique instrumentation and passionate vocals that will strike the hearts of listeners while encouraging them to be their authentic selves. "'Roots' focuses on rebuilding yourself after someone has broken your connection with who you are," says Ela Ozturk on the deeper meaning of the song. Her inspiring message influences the audience to take control of their lives and build the person they want to be after losing their way. "The lyrics describe a comeback story," explains Ozturk.
The Dirty Nil Unveil New Single "Bye Bye Big Bear"
Lux Lyall releases thought-provoking new single 'Draw Blood'
Acclaimed singer, songwriter and poet Lux Lyall has released her brand new single 'Draw Blood', described today by Wonderland Magazine as "brimming with haunting melodies and seductive harmonies". It is the latest song to be taken from her forthcoming second album Runaway Bride out next year via Smoking Mermaid Records.
Belters Only drop euphoric new single 'Superstar'
An infectious, pumping house version of the 90s classic of the same name, 'Superstar' sees Belters Only tap into their trademark blend of euphoric build-ups, feelgood piano chords and soaring vocals. A viral smash in the making, the first TikTok teaser of the track has already amassed over 850,000 views. The new single has been their most requested record all year with huge demand from fans after being played in their sets all Summer.
Ela Ozturk Goes Back To Her True "Roots" In New Single
Soulful pop artist Ela Ozturk has just released her new poetic single "Roots." This stripped-back and truthful song is full of unique instrumentation and passionate vocals that will strike the hearts of listeners while encouraging them to be their authentic selves. "Roots" is available on streaming platforms worldwide.
Queer singer-songwriter Olive Klug signs with Nettwerk + shares "Out of Line" single
Today, Nettwerk is excited to announce the signing of LA-via-Portland queer singer-songwriter Olive Klug (they/them). A key player in the new wave of contemporary folk artists, Olive Klug is known for their beautiful tone, vividly honest storytelling, and modern lyrical sensibility. Their style takes inspiration from genre icons like Joni Mitchell and Brandi Carlile as well as modern favorites like Lizzy McAlpine and Adrianne Lenker. In conjunction with their signing to Nettwerk, Olive Klug shares their new single "Out of Line."
FOUSHEÉ RELEASES MUSIC VIDEO FOR "SPEND THE MONEY" FEAT. LIL UZI VERT
NEW MUSIC: NATE SMITH DROPS "WRECKAGE"
Written by Nate alongside Mary Kutter, Chris Sligh and Paul Wrock, "Wreckage" first captivated fans when he shared part of the song on his social media platforms, growing his collective following by 270k+ since the first time he previewed the track. The gripping and emotive song will be featured on his upcoming, self-titled album along with his current Gold-certified single "Whiskey On You," which is Top 15 and climbing at country radio, as well as recent releases "I Found You" and "I Don't Wanna Go To Heaven."
TALK Unveils "Run Away to Mars (Strings Version)"
KIM DRACULA RELEASES "DROWN"
SAN ROMAN Releases Debut Solo Album 'MESSY'
ACCLAIMED GUITARIST JD SIMO RELEASES NEW SINGLE "AFRO BLUE" HIS INNOVATIVE TAKE ON JOHN COLTRANE
The past year has been a whirlwind for Nashville based guitarist, singer, songwriter JD Simo as he today releases his innovative take on John Coltranes' "Afro Blue" the next single from his upcoming LP, Songs From The House of Grease out on January 13, 2023.
Detroit Producer Antt Beattz Releases "Thanksgiving" with DJ Drama and Tee Grizzley
LUDACRIS COLLABS WITH GOOGLE TO RELEASE SINGLE + INTERACTIVE VIDEO "BUYING ALL BLACK" FEATURING FLO MILLI & PJ IN SUPPORT OF BLACK-OWNED FRIDAY
Black-owned Friday was launched in 2020 to re-imagine the annual post-Thanksgiving shopping event as a day to celebrate Black-owned businesses that were facing serious systemic challenges as the pandemic was accelerating. At the same time, a noticeable increase in searches for Black-owned businesses was occurring online.
LEWIS THOMPSON RETURNS WITH ADDICTIVE NEW HOUSE SINGLE "ENCHANTÉ" FEATURING CLEMENTINE DOUGLAS
Speaking about the track, Lewis says: "Enchanté! I grew up listening to dance music from all over the world and Enchanté is a cocktail of my favorite influences from Chicago to Paris, all written and produced in London featuring Clementine Douglas on vocals. Enjoy!"
SABLE RELEASES SPRAWLING NEW SINGLE, 'EMILY'// LISTEN HERE
For teenagers, I think falling in love can feel like an act of defiance. It's a moment you step away from childhood and move closer to the person you imagine you might become. Emily, named after the ever-iconic Emily Dickinson, is about the giddy throes of a young romance. It's about tumbling head over heels for someone who probably won't stick around, and not really caring, because being with them – even for a matter of weeks – feels like a glimpse into some great, bright future.
NORAJ CUE RELEASES ODE TO LIFE FORMATION EP ON ALL DAY I DREAM
Today, Amsterdam-based producer and DJ Noraj Cue joins Lee Burridge's All Day I Dream label for the first time to release the Ode to Life Formation EP, which includes Noraj's original mix of the title track, accompanied by two remixes courtesy of Anton Tumas.