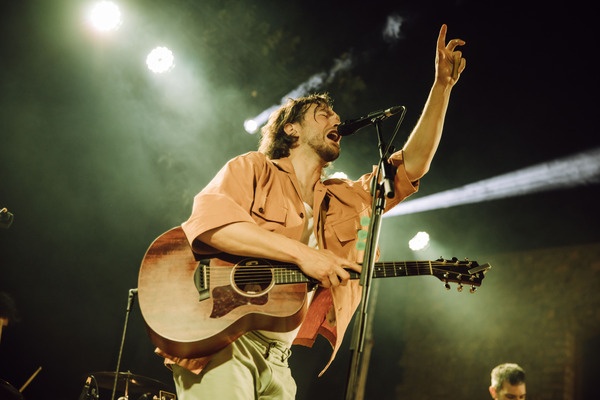 @skopemag news – friday – november 18, 2022 @ 6 pm est
@skopemag HQ – http://smarturl.it/skope
Ruth Koleva Announces Release of 'This Christmas'
Ruth Koleva has led a prolific career leading up to her Warner Music debut. After growing up in Bulgaria in the after math of the collapse of the USSR, she and her family moved around extensively. These travels through Europe and Asia gave her a complex view on humanity, and inspired her to become a voice for underrepresented people across the world. She has since become particularly successful in her home country, where her single 'Salty' was the 3rd most played song of the year. Many of her other singles have constantly painted a presence in the Top 10, making her one of Bulgaria's most recognized voices.
Blanco Brown & T.I. Release "Trap Still Bumpin'" Single And Music Video
Bridal Party Share New Single "Pool" via chorus.fm | Look Out for More Music + New Album This Winter
"Pool", the second single by art-pop quintet Bridal Party from their forthcoming LP Cool Down outlines the joy and challenge of coming out of your shell after periods of isolation. The lyrics of "Pool" were penned by guitarist Joseph Leroux in a demo in early 2019, their mantra-like simplicity inspired by the Porches album of the same name. "I wanted the lyrics to feel potent and understated. They were written with building myself up in mind, in a time when I was looking for a lot of validation from other people. I wanted to remind myself with a song, of the value of choosing yourself and choosing periods of quiet, before coming back into your communities."
Toronto Rising Pop Star Victoria Alex Says "Let's Pretend" In New Single
Submission for Skope Magazine – Single Out Today
"Holy Water" is a dark alternative rock song meant for this time of year, with the sun setting earlier and earlier. It's about making the best of what often feels like a world that is continuing to fall apart. The song ebbs and flows, and builds to an all-encompassing sonic cloudburst.
NEPTHISIS Unleashes Witchy Anthem "In The Shadows"
The dark cinematic project NEPTHISIS by Sheila Eden has unveiled the new Gothic single "In The Shadows". Eerie synths, haunting orchestration and thundering electronics form a thrilling back drop for Sheila's soaring vocals. A spectral manifestation of soundscapes, "In The Shadows" ebbs and flows between moments of tranquillity and the realms of nightmares.
Cautious Clay Shares EP "Thin Ice on the Cake"
"I've always loved working with juxtapositions in my music", said Cautious. "Conceptually Thin Ice on the Cake relates to being on the edge of something really bad as we grow nearer to death, but birthdays are also about celebrating the positives and joys of life. The cake is a great symbol of that."
Malibu Babie Releases Debut Mixtape 'Malibu Babie SZN Vol 1'
"Most songs about unrequited love come from an energy of being sad because you can't have the one you want, so I wanted to make something that flipped that classic idea on its head that you can shake your ass to," shares Malibu Babie on her new song. "I don't resonate at all with the classical societal ideals that tell females, especially, that their value is tied directly into their relationship status…that's not how we live in the Malibu Babie universe! Making a song about wanting a guy to literally leave you alone because your life is so full without them felt so badass to me. Shoutout to my independent babies with high standards!"
R&B songwriter and producer: VIA releases EP, Hallucinating POV
This release is a dual EP concept, EP1 and EP2 are in contrast to each other. EP1 is called 'Hallucinating POV' as the main theme is a hallucination of love. I see the endless sky 'In Your Eyes'. 'Catch 22' gives you butterflies, feeling insecure and mood swings in between extreme ecstasy and melancholy. You came into my life 'just in time'. With no doubt, I will 'Wait For You' to make up your mind. 'Let Loose' is letting go of all the burdens and pressures from the insecurity that love brings along. Finally, Let's get lost, I'm blinded by the night and the 'Neon Light'. "So…Romance… Does perfect love exist? Or is it just in my head? Blinded by this beautiful yet deadly butterfly, it covers my eyes, my nose, my ears… I just want to drown in it"
THE LAST REIGN Release New Single "Sands of Fate"
Melodic death metal band, THE LAST REIGN have revealed their new single "Sands of Fate" via Decibel Magazine. The track is from their upcoming album Endangered Pieces which will be released on February 24th, 2023.
The band comments "The initial idea for our collaboration with Jesse Isadore was to put a three song EP together which would feature one original and two covers. The new song would also appear on his upcoming solo album and then we would each choose one cover. A version of this song has been around since the bands inception back in 2015. It has come a long way in it's development since then but there are still some remnants of the original demo version. Blending melodic death with a progressive metalcore sound to compliment Jesse's vocal stylings. He is a tremendous vocalist and it was a pleasure working with him!"
Bret Koontz & Truancy Club Share "Into My Dream" Single | Read the V13
Today, Bret Koontz & Truancy Club (ft. Maria Jacobson of Fran and members of Chicago group Famous Laughs) share their brand new LP, A Sparkle Road Cult, out now via Earth Libraries.
Dukes Of Roots and Natiruts Encourage You To "Try Happy"
Dukes Of Roots is proud to announce the newest single "Try Happy" with Natiruts. The new song, produced by Sean "YoungPow" Diedrick and executive produced by Rod Walkey, was the first written and recorded for the upcoming Dukes Of Roots project. It was later revisited by LionChld to include the Brazilian reggae roots band and Latin GRAMMY nominated, Natiruts. "Try Happy" is an uplifting tune about getting happy! It is the type of song that can lift low spirits, encouraging one to look on the bright side and lean into the happiness and blessings around you. The single is due out December 2 on all streaming platforms via Migration Records x YoungPow Productions!
ATLANTA'S HOTTEST RISING STAR 21 LIL HAROLD UNLEASHES NEW SINGLE & MUSIC VIDEO "DAMN" FEATURING G HERBO
PLATINUM SELLING POP PHENOMENON JOHN K RETURNS WITH NEW SINGLES "BE ALRIGHT" & "U SOMETIMES"
"Be Alright" hinges on a sunny bass line, coasting along on a funkified bounce. It builds towards a bold and buoyant refrain as promises, "We gonna be alright." In the accompanying visual, he spreads a little joy around the neighborhood before inspiring a cinematic dance routine complete with equally bubbly choreography in the rain, no less. Meanwhile, "U Sometimes" layers bright keys above a glitchy beat as John K croons, "Give me one more night with you alone, can you stay?" It unfurls a lovestruck and lush anthem.
Rockshots Records – Out Now! 17 Crash's Fourth Studio Album "Stamina" + New Music Video "Strike First"
"We took the inspiration for this song from the Karate Kid/Kobra Kai – movie/pictures, series. Therefore, it's necessary to be on guard, without, however, being defeatist or pessimistic. Be always prepared when things are going against you. Be brave and show no mercy to the ones with bad intentions towards you. Don't let them smell your fear, let them smell the taste of your fist."
News Item: SunDub Releases Sophomore Album 'Spirits Eat Music' with Easy Star Records
Earlier this summer, as they began rolling out music from their second full-length album, SunDub kicked things off by showcasing three diverse singles showing multiple facets of their musical approach on Spirits Eat Music. Starting with "Jump And Dance," featuring Lutan Fyah, the Brooklyn-based five-piece delivered an irresistible feel good tune perfect for the warm summer months. Switching it up, next came the title track "Spirits Eat Music," a catchy tune with a heavier theme that speaks to a personal message of love and loss for the band. The latest single "New Ways To Love," featuring GRAMMY-winning vocalist Peetah Morgan (of Morgan Heritage), inspires an optimistic outlook towards life through its uplifting lyrics.
Skope Magzine x 44Blonde (RIYL lil aaron, Lil Lotus, Beauty School Dropout)
Today we are celebrating the release of "Like You Love Me", a track produced by Sean Cook (Duckwrth) and written with Marino (Mod Sun, Blackbear, grandson, Huddy) – a truly powerhouse team that speaks to this young artist's potential.
The video was directed by Sam Fine (Blink-182, Maggie Lindemann) and co-starring ARIS – check it out now here:
'Wake of Disarray,' The New Album by Adam Giles Levy
British, singer-songwriter Adam Giles Levy returns more potent than ever with his new album, 'Wake of Disarray.'
The new album brings ten nail-biting tracks to the vanguard of alternative rock, each of which showcases Adam's natural ability to think beyond the box, and he bestows indisputable quality throughout. His performance is genuine, and his euphonic soundscapes draw from a wide range of genres, including folk, rock, and post-genre blues.
CID Embraces an Amorous Mood on His Stunning House Single "Hold Me Close" for Insomniac Records – OUT NOW
He's enjoyed consistent support from Pete Tong, BBC Radio 1, KISS FM, and has lent his lauded remix talents to pop music artists including Lana Del Rey, Halsey, Ellie Goulding. He has upcoming gigs at Home Bass!, Lights All Night, and headline shows at Treehouse (Miami), Rum Runners (London), Soundcheck (Washington), Exchange LA, 11:11 (El Paso).
Wall of Sound Records – Bahrain's 7MND Releases Animated Full EP Video For Introspective, Progressive And Wild Concept Record "Cataclysm"
The EP was self-produced by Hamad, mixed by himself and Jack Byrne, and mastered by Arran Dutt. It is expansive and emotive and recommended for fans of Between the Buried and Me, Northlane, and Tesseract.
For the EP's release day, 7MND is also sharing a full animated video, which can be viewed at –