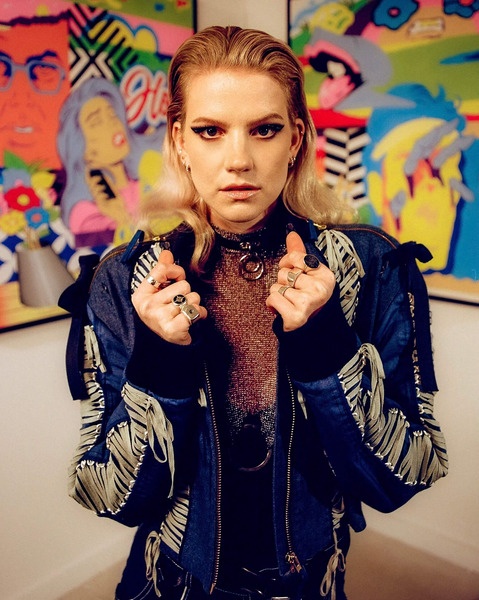 @skopemag news – thursday – november 17, 2022 @ 12 pm est
@skopemag HQ – http://smarturl.it/skope
ENTER SHIKARI share new single "Bull" feat. Cody Frost | Headline Slam Dunk Festival 2023
'Bull' feat. Cody Frost is the second stand-alone Enter Shikari single of 2022 and follows the band's huge summer return 'The Void Stares Back' feat. Wargasm.
Having lit up the mainstages at Reading & Leeds Festivals this summer and taken their live show across the US and Australia through the autumn, Enter Shikari once again welcome a collaborator into the fold for the seismic new single 'Bull'.
The Murder Capital Share New Song And Music Video For "Ethel"
Today, Ireland's The Murder Capital share "Ethel," the third single from their forthcoming second album, Gigi's Recovery. The meditative and plaintive opening line of the propulsive new single, "I always wanted it to be like this for us, strung out on love" finds the narrator at a precipice, the song a re-examination of past desires and priorities, whether they are worth still carrying, or if they should be left behind. The track bursts open in its latter half, with the lyrics, "I always wanted it to be like this for us, having our first kid name her Ethel," ultimately becoming a hopeful and cathartic directive, the path forward now clear. The band share about the new single: "The song 'Ethel' is a picture of a crossroads, really, asking you what you want from life. Whether you want to continue down a path of chaos, or make a change in your course. It's showing you what is possible when you make the decisions that bring a sort of cradled warmth into your future. The idea of 'Ethel' is that you can have what you truly desire if you put to rest those short-lived fixes that never bring you any real happiness."
Dr. Mary's Monkey // "Velvet Dreams" LP
Lovelle connects with Kojey Radical on sensual new single 'I Can't Stop Thinkin Bout U'
Written by Lovelle and Grammy award winning songwriter Ryan Ashley with production by Fergus Martin, 'I Can't Stop Thinkin Bout U' was penned during lockdown, in an effort for Lovelle to overcome a recent heartbreak. Propelled by her sensual, impassioned vocals, it's a track that is steeped in emotion. The heart-wrenching, monochrome official video – directed by London based filmmaker Kemi Anna Adeeko – features Kojey Radical playing the part of Lovelle's love interest. A long-time friend, he was the only person she envisaged taking up the role. Her first release since her 2020 debut EP Therapy, 'I Can't Stop Thinkin Bout U' has already garnered early support with a 'First Play' premiere by the legendary DJ Target on his BBC 1Xtra on his Tuesday 15th November show.
JESSICA WILDE is thinking of 'Kissing My Best Friend' on new deep pop single
Through her brutal honesty, sharp witted lyricism and evocative singing vocals, 'Kissing My Best Friend' is a journey into the depths of Wilde's mind, holding us on the edge of our seat with a cinematic musical backdrop and South London grit as she's… 'Thinking of Kissing her best friend'.
Siv Jakobsen enlists Ane Brun for stunning new single "Sun, Moon, Stars"
"Sun, Moon, Stars" offers the biggest moment of reprieve from the upcoming album's thematic weight. Gloriously arranged with silvery strings and elegiac horns that subtly build alongside the song's swelling current, it finds Jakobsen singing through a storm and coming out the other side thanks to someone who has become a bedrock of her life, singing "You are the reason I am alive".
SIPHO. SHARES EPIC VIDEO FOR 'ARMS'
SIPHO. shares the epic video for latest single 'ARMS', out via Dirty Hit. 'ARMS', which was described as a "prayer for freedom" by The FADER upon release, has already received critical praise, and now SIPHO. levels up again with a stunning video directed by long term collaborator Cal Barnes (Jorja Smith, FOALS).
Get Into The Christmas Spirit With Karine Hannah's Version of "Have Yourself A Merry Little Christmas"
This song is one of the most beloved Holiday tunes, written in 1943 by Hugh Martin and Ralph Blaine. The song was originally sung by Judy Garland in the 1944 musical, Meet Me in St. Louis. It gained popularity among musicians, obtaining many versions of some of the most beautiful vocals. Karine Hannah contributes to that list with her soulful sound and powerful high notes.
SOPHIA ALEXA REVEALS STUNNING NEW EP 'BEFORE I GO' // LISTEN HERE
Having gained widescale press acclaim, racked up an impressive number of streams and proved a hit in the web3 space, multi-talented California born, London based newcomer Sophia Alexa today reveals her stellar sophomore EP, Before I Go. A collection of winsome, autobiographical folk-pop songs showcasing fluttering vocals and gorgeous instrumentation, the EP serves as further testament that this is an artist to watch over the coming months. Speaking on EP focus track, Sophia states:
ROWSIE treat Christmas with realism in "Christmas In Soho"
"Christmas In Soho" by Rowsie is a story of love, loss and goat-head rings during the Christmas season, with the band delivering a solid rock'n'roll track to drive it all home…
NEWS: L'Orange and Solemn Brigham Drop "My People" Video, New Album "Marlowe 3" Out Now
The electrifying Hip-Hop tag team L'Orange and Solemn Brigham are back with a brand new visual for "My People," a standout cut from their album Marlowe 3, out now on Mello Music Group. The album reached #1 on Bandcamp and #2 on the UK iTunes Hip-Hop charts in addition to garnering critical support from Pitchfork, HipHopDX, Brooklyn Vegan, FLOOD and more. Watch the "My People" music video:
Experimental metalcore band Sleepsculptor share new single and video "Venerate"
Creating what can only be described as sonic chaos, experimental metalcore act Sleepsculptor have unleashed their new single "Venerate" out today. The track comes alongside the announcement of the band signing with Silent Pendulum Records to release their forthcoming album, Divine Recalibration, out April 28th, 2023. Clocking in at just under two minutes, "Venerate" is an onslaught of eccentric guitars, frenzied drums, and biting vocals that make for a wild ride. The video for the song perfectly encapsulates its energy, as the band's performance is strewn through uncomfortable close-ups and distorted images.
RICH BRIAN UNVEILS NEW SINGLE & MUSIC VIDEO "VIVID" FT. $NOT
Today, Indonesian rapper, singer, and producer Rich Brian unveils a new single and music video entitled "VIVID" featuring Florida rapper $NOT out now via 88rising/Warner Records.
Levina speaks of her mental health struggles in "Battleground"
Levina is an independent singer-songwriter who continues to enchant listeners with her contagious musicality and enthralling emotion. Born in Germany, the London-based artist continues to carve out her own realm of alternative pop inspired by the soul. Having been described as a "spellbinding sonic force" her mesmerising sound instantly catches your attention, while her profound lyrics connect with your heart.
Smokepurpp Asks Questions Later in "Shoot First" Video
Araya + CLIP on "Electro Devil"
"Electro Devil" is the first taste of this new era of Araya's artistry, which is always intentional in every way. It's a yummy, pulsing, booming mix of electronic, pop, and R&B that CLIP's confident but refined verse perfectly completes, amidst the lush soundscape that Araya's constructed with his melodic sensibility. The video was co-directed by Araya & NYC based videographer/photographer Fenn Paider (previously co-directing "Adore/Pretty Lies").
Rockshots Records – Finnish Rockers Leaflet Have Their Next Single To "Resonate" With You Off New Album "Something Beyond" Out Jan 2023
Finnish rockers LEAFLET will be releasing their sophomore album "Something Beyond" this coming January 2023 via Rockshots Records. The album follows their debut album "Outta Door" released through VR Label Finland in 2017.
NEW lyric video for HAND OF FATE ("No Plaything" out of "Messengers of Hope" album)
"Hand of Fate" was formed in December 2014. The formation of the group was almost fatal, since to the initial existence of three of the total 5 members, the other 2 were added almost automatically… as if they were driven by the circumstances of the moment. And since it seems that all the threads of developments were moved by the "hand of fate", the band's name also arose from this event!
Out Today: Subsonic Eye's 'Melt the Wax'
On Subsonic Eye's Melt the Wax, the Singaporean five-piece present a concise collection of their richly layered, quick-paced indie-pop. Over three songs which explore singer Nur Wahidah's upbringing, Melt the Wax boasts Subsonic Eye's penchant for snappy, invigorating pop-rock songs jangling with clarity and entrancing tone. The EP marks the group's first release in over a year, and serves as a brief resting point before a forthcoming full-length album.
Izzy Mahoubi Unveils New Music Video for "Hang Around"
Speaking on the music video Izzy shares, "My main hope with the Hang Around music video was that it would capture the heart behind the song. And I think we did just that. The video contains authentic scenes of my friends and I in the woods in an almost natural state. From finding a pumpkin near a tree stump, that my friend naturally put on her head, to discovering the video camera we were using as a prop actually worked and had film loaded, it was easy for us to sing a song about the summer and dance around in the leaves as if we belonged there."
Alternative artist Jane. announces EP & shares moving first single + video, "Sun In My Eyes"
Paraj Jain, the writer, producer and singer behind Jane., was raised between India and the U.S. to an Indian father and half-Black mother. The multiracial artist grew up bouncing between homes, unable to see himself reflected in media, and unsure where he fit in. Now, through the latest iteration of his musical project Jane., a play on his last name, the musician is ready to reintroduce himself as he fully embraces his own identity, unpacking his lived experiences and further establishes his musical vision. leading with honesty and spirituality, meeting himself exactly where he is.
Angelo De Augustine Shares New Double Single, "27" And "Hologram"
De Augustine's first new music since 2021's acclaimed collaborative LP with Sufjan Stevens, A Beginner's Mind, and his first solo work since 2020's dual tracks "Santa Barbara" and "Blue," the two new singles find the reclusive Southern California artist exploring Greek and Roman history, monsters and ghouls, evil, death, faith, love, destruction, and opposing deities. These originals – recorded, produced, and mixed by Angelo – hint at a larger sound to come and a profound artistic evolution years in the making.
Stream Captain Caravan & Kaiser's split album in full
Are you ready for a 43-minute up-and-comer fuzzfest? Then stream the sixth chapter of Ripple Music's "Turned To Stone" split series featuring the mighty riffs of Scandinavian heavy rock units Captain Caravan and Kaiser exclusively on The Obelisk.
Full Album Premiere & Review: Captain Caravan & Kaiser, Turned to Stone Ch. 6
Dazzling slow alt-pop ballad forces you to see yourself in a 'New Light'
Benjamin Muñoz Varas is the self-taught producer, singer and songwriter that goes under the moniker Varas. The promising 25-year-old has carved out his own expression in which each song has the melodies to pull you in on first listen and leave a mark on you. Combined with an aesthetic that syncs well with Gen-Z, he brings something fresh and exciting to the contemporary indie scene.
Imaginative House Producer Villows Releases 'Lucid' (FFO: Shallou, Kasbo, Yoste.)
Pagan Metal Giants HEIDEVOLK Return with New Album "WEDERKEER" + Premiere Music Video for First Single!
Five years since the release of their much-acclaimed album, 'VUUR VAN VERZET', February 24, 2023, will see Dutch folk metal collective HEIDEVOLK return with their seventh studio album on Napalm Records – continuing to keep the pagan flame burning!
JP SAXE UNVEILS NEW SINGLE "THE GOOD PARTS"
Regarding "The Good Parts", Saxe states, "This song is about trying to find the healthy recognition that there can be beautiful parts in a relationship that ends. You can heal without having to destroy it, and you can also heal without over-romanticizing it."
Chancha Via Circuito Releases New Album "La Estrella"
Argentinian artist Chancha Via Circuito (aka Pedro Canale) makes his return to Wonderwheel Recordings with his fifth full length: "La Estrella." Cutting his teeth early at Buenos Aires's legendary ZZK digital cumbia parties, the Chancha moniker became known worldwide as the originator of the cumbia-inspired electronic music that takes cues from environmental sounds and South American folkloric traditions. Pedro's musical progeny include names such as Nicola Cruz, El Búho, Dengue Dengue Dengue, King Coya and many more. Pre-save and download here: https://fanlink.to/la_estrella