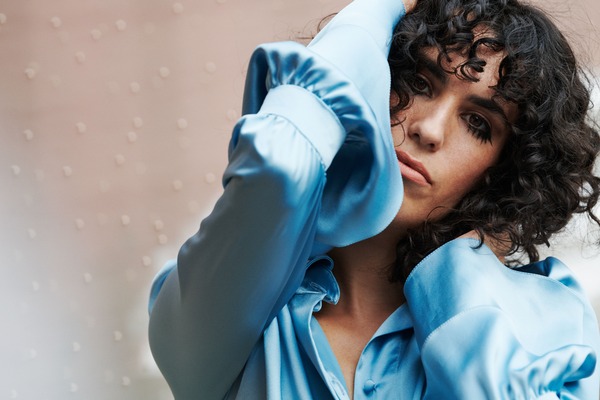 Allow Sonia Stein's latest release, "Electric Honeymoon", to transport you to a serene place of pop temptation. The beginning instrumentals invite the listener into just over 3 minutes of upbeat, melodic bliss as Sonia's vocals insist you be fully present, a lesson we can all carry outside of music. The London-based singer-songwriter advocates for us to "…surrender to a big feeling no matter how scary or fleeting it may seem", going deeper to explain "Electric Honeymoon is written in the voice of a benevolent spirit, a god/goddess like-being that's encouraging and inviting a shy person to give into a moment". The song being so groovy and sultry, some may argue it would be hard to not "sink your teeth into it".
Sonia has been crafting pop hooks since she was 15 years old, a sound she has recently brought to fruition working with producer Liam Howe, who is known to have worked with Lana Del Rey, Ellie Goulding, and FKA Twigs. The result showcases Sonia's classic background, Leonard Cohen & Joni Mitchell being at the core of her music, while also giving a nod to her more contemporary influences, such as Regina Spektor & Fiona Apple. The musical style Sonia has developed has proved true to herself and fans that she has connected with, earning her success in the form of touring with globally-acclaimed artist DIDO and releasing 2 EPs that were a perfect showcase of Sonia's songwriting and extensive vocal range.
In order to keep showcasing her talent with fans around the world during the pandemic, Sonia had to get even more creative. It was then when she launched a series titled Stein Away Sessions, where instead of performing at music venues as she had in the past, she took her bright yellow piano on to unique locations highlighting her musical abilities alongside the beauty of nature. Sonia followed up the success of the Stein Away Sessions with the release of her EP Lessons From Earth Part 1 while on tour with James Arthur.
More recently, Sonia released "Every Time Africa Plays", a single dedicated to her best friend who took her own life. Anyone can see that Sonia Stein loves getting intimate with her music, visuals, and performances and shows no signs of letting up anytime soon. Sonia has been working hard in the studio getting ready for the release of her new EP, Lessons From Earth Part 2, as well as another tour.