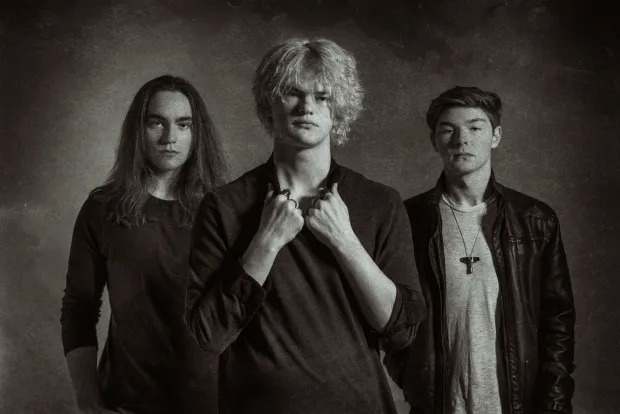 1. The band's new single "Embers" just dropped. What's the story behind the song?
"To me it's about moving on. Kind of how a wildfire is vastly difficult to get rid of, the many embers are the many things you're trying to get away from, it's super metaphoric. They fly around and light more ablaze making it harder to escape. Your world just becomes engulfed in this flame. The embers being what you're trying to move on from, and the flame being what its doing to you and the world around you while trying to do so. To really get specific it's kind of to say that running will only get you so far, it'll eventually catch up to you. I mean, wildfires can spread super fast. So your best option is to just sit and experience it, get to know it until it goes away on its own; no atrophies will get better if you run from them. It'll just end up negatively affecting you and your surroundings more than it needs to, with no personal progression…I see a lot of people doing that. The song touches on a lot in that realm, It can mean whatever it means to whoever may be listening, but that's what was in mind when I was conceptualizing it"
2. Did you write this a while ago? Or is this a relatively new piece?
This one was actually pretty new, there wasn't as much space as there usually is between the birth of the song and the actual release. Usually a track will have a notable amount of time to marinate between writing and release, but this time it was pretty much straight to mixing & mastering then release.
3. There's a pretty intense guitar solo in the song; something you don't hear much any more. But we're big fans of the solo. When did you know that "Embers" deserved the solo treatment?
I think it's just what the song called for. When this song came to be practically the whole thing had just entered my head at once, so there wasn't much thought into when and if there should be anything specific.
4. Your drummer, Nic, has a side gig on HBO's Euphoria. How did he land that gig?
"I'll let nic answer that one" "Well being based in LA has its pros and cons for sure, but it has provided many great work opportunities in TV and film which can be much more consistent than a lot of gigs in the music industry. Ever wonder where they get the drummer or skateboarder in a commercial? Same system. Specifically with Euphoria, one morning I received a casting notice for 'Utopia', requesting an audition and additional media the director (Sam Levinson) would review to pick out who he wanted to cast. The next thing I knew I was on the Warner Bros lot getting a covid test. The next two months were filled with 6am calltimes and 2am wraps, along with about a thousand Covid swabs. But the experience working on a production like that was incredible to see first hand, especially meeting the hundreds of people it takes day in and day out to make it all happen. As well as Zendaya and Tom Holland haha. I enjoy that type of high pressure environment, it's an entirely different job as a drummer compared to playing with a band or a recording session. The part of my job that's the same is to provide support and make everyone else's jobs easier. The first thing Sam asked me to play was "something kitschy." So of course I say yes sir no problem. But what does that sound like on the drum set? Well that's my job to figure out and we have about 20 seconds until cameras start rolling. So after doing that gig, everything else got a bit easier in comparison, and has prepared me for gigs I don't even know about yet. Plus it's a pretty popular show which is cool! Who knows maybe I'll be back for season 3, fingers crossed.
5. Does that make it harder for you to tour?
"Gigs are a little odd right now in general as we recover from the pandemic. Though the only issues we've really faced with Nic being out in LA is that we don't get to be together as much as
we'd like to. We're all best friends; so we all wish we could casually hangout a lot more often. That'd give us a lot more time to practice and play as well, we don't get to play as many smaller local gigs as most beginning bands, so in that realm our live experience is lacking. Though when we do perform we learn infinitely more than we would if we were playing washed out gigs every week, we're taking what we've been given and are making more out of it than I feel most groups know how to do. We will see what comes of that."
https://www.instagram.com/4no3signal2/
6. "Embers" sounds like a radical shift from your first single, "Jane." Is that by design? To keep your fans guessing?
"Good question, that's definitely something I'd do but this time around I didn't really intend for there to be such an emphatic difference between the two, they are naturally just what they are. I did however find it funny to release a song like this after a much heavier track but we're just releasing chapters of the larger story that takes place with album 2. When you finally listen to all the tracks on the LP together you won't hear that big of a difference actually.
7. The video for "Jane" is intense. Can we expect a video for "Embers"?
I think other than a visualizer there's nothing we can really do for it right now. My vision and ideas for a lot of my videos aren't too realistic for us to achieve at this point. Hopefully some partnership or big break can help us out so we can do them all one day, really big plans and ideas for shows and videos and such.