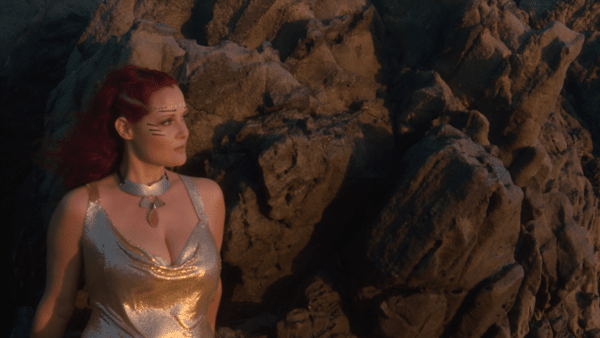 @skopemag news – tuesday – november 15, 2022 @ 10 am est
@skopemag HQ – http://smarturl.it/skope
GOMORRA (feat. guitarist of Destruction) Share Brand New Single "Rule of Fear"!
With their blend of insanely fast and groovy riffs full of thrash metal perfection, dynamics and energy, with their latest record "Divine Judgement" Gomorra have undoubtedly made a lasting impression on critics and fans alike. Dealer of Souls takes it even a step further and with eleven brand new tracks by the band around Damir Eskic, who is also part of German thrash metal legends Destruction, Gomorra showcases the absolute finest from the worlds of heavy, power and thrash metal!
London Based Electronic Pop Singer-Songwriter Sofi Vonn Released Her Latest Single "That's When I Knew"
London based New York born electronic pop singer-songwriter Sofi Vonn released her latest single "That's When I Knew" on Friday following a premiere with ReVamp Magazine.
Wesley Shares New LP | Read the Backseat Mafia, Psychedelic Baby, IndieTapes Features | 'Glows in the Dark' LP Out Now via Earth Libraries
Louisville, KY singer-songwriter Wesley (the alias of Jacob Weaver) has finally shared his brand new LP, Glows in the Dark, out now via Earth Libraries. Introduced with the garage-psych-leaning-on-folk numbers "Glows in the Dark," "Twins in the Wind," and "Not Sure That Was Me," the LP has a distinctly reflective, emotive, and sentimental quality, while also exhibiting Jacob's keen knack for larger-than-life instrumentation. Think: your favorite contemporary indie-rock crooner tuned things up a notch by incorporating a swirling, vintage-feel to their already smooth-as-butter sonic output.
EXO'S CHEN RELEASES NEW SOLO EP, 'LAST SCENE'
John Grant shares his take on "God's Gonna Cut You Down" (as heard on Netflix's Inside Man)
Popularized most famously by Johnny Cash for the Rick Rubin produced American Recordings series, John Grant has just released his cover of famous American folk song "God's Gonna Cut You Down" – out now on Bella Union – which appears as the theme song for the drama Inside Man which just debuted on Netflix in America. Since premiering, Inside Man has been top five trending on the platform! The decision to use the song and record a new version was made after Johnny Cash's recording was used as temporary music in the edit. At a recent press event for the show, director Paul McGuigan said that it was actually composer David Arnold's "brilliant" idea to use the song, as when looking at a cut of the episode he said of the temporary music, 'Well this is perfect, so why don't we do a version of that?'"
Midnight Sparrows, The New Solo Project From Métis, Cree, and Dene Musician Blair Bellerose Releases 'Born In The City' Album
Hot on the heels of the Native American Music Award nominated Rock & Roll City, Midnight Sparrows – the brainchild of Métis, Cree, and Dene musician Blair Bellerose – is releasing its much-anticipated follow-up, Born in the City.
ICYMI Bailey James, Finalist of The John Lennon Songwriting Contest, Releases "Better Angels"
"This song is dedicated to the world. We are all battling something. Everyone is dragging some type of pain that most people around them have no idea about. There is no pain or loss that this life can put on you that heaven can't heal. I challenge everyone to love more, fight less and help those that need it. We are stronger together than we are all alone. Sometimes it's just recognizing someone's existence through a smile or wave that can set them on a more positive course. May the world know better angels," Bailey James says of the new single.
PANIC! AT THE DISCO INVITES FANS TO JOIN THEM ON TOUR WITH A WORLDWIDE VIRTUAL PERFORMANCE, "EVERYBODY NEEDS A PLACE TO GO: AN EVENING WITH PANIC! AT THE DISCO"
Panic! At The Disco is giving fans around the world the chance to experience their Viva Las Vengeance tour through a virtual concert experience, airing exclusively via premium social live media platform Moment on December 7th. Filmed at the United Center in Chicago and featuring the perfect setlist for longtime and brand new fans alike, the performance will see the group playing songs off of their most recent album Viva Las Vengeance [Fueled by Ramen/DCD2 Records] along with hits spanning their iconic discography.
A nostalgic, coming-of-age reminiscence Realma shares special song
CROWN SOLACE Release New Single "Inside My Mind"
CROWN SOLACE have released their new symphonic metal track "Inside My Mind" on all streaming platforms.
The band comments, "'Inside My Mind' is the perfect follow up to Horizons. We continue to showcase the modern symphonic metal from before however we added in more a more melodic feel and a change in vocal approach, making the track feel more sophisticated but still just as fun!"
Reminder: KOPPS Has Fallen Out of Love With Love and Thinks You Should, Too
Produced and Co-Written by Daniel Armbruster of Joywave, KOPPS and Daniel continue their long-time collaboration to create ear-wormy hooks that question societal realities on "There's No Such Thing As Love," the third and final single from KOPPS' upcoming EP, Plant Bitch (out Nov.18). The song features gang vocals of children yelling the chorus and proclaiming "There's No Such Thing As Love," a tongue-in-cheek means of questioning our human propensity for romanticizing just about everything.
In The Rosemary Dreams emerges with noise rock and critical thinking in the musicvideo for "Teleincision"
While devices and peripherals don't always capture the real, art is the light that reveals the world. Low light over the rubble of objects as charming as they are obsolete, expressions loaded: the video for "Teleincision" has somber imagery, which suggests the aesthetics of indie-pop celebrities.
The sound of this single moves from noise rock to the striking beats and robotic riffs of industrial rock to pack a free dance. When the darkest shadows give way to the glare of the spotlight, revealing the joy of finding music that touches the soul.
"Awash" was one of the first songs produced from my upcoming album, and is definitely the most experimental. Combining UK Garage with lofi, I made an 88BPM lofi beat and warped it to 120BPM, which laid the foundation for the track. Inspired by UKG artists like salute, as well as by friends and collaborators Indigo Eyes and Tyde, I was excited to give this genre a spin – Houis
RICH THE KID RETURNS WITH NEW SINGLE AND VIDEO "MOTION" — ANNOUNCES SIGNING WITH RCA RECORDS
Born in Queens, New York, Rich found himself immersed in the street rap scene, particularly the escalating beef between Jay-Z and Nas. At just nine years old, Rich was taken by their slick wordplay. New York may have given him his penchant for lyrics, but Atlanta gave him his swag, as he was bound for the South at 11 and started listening to artists like T.I. and Outkast thanks to his uncle. Rich started creating his own music and promoted it through social media, but in order to double down on getting his songs played, he networked heavily and built relationships to get his music heard.
Goldpark Put Their Spin On Wham!'s "Last Christmas"
Following the success of their recent sophomore EP 'Goldpark 2!,' indie-rock trio Goldpark — the project of Nashville-based musicians Wes Hunter (vocals), Andrew Smith (guitar) and Kyle Neblett (drums) — are back today with their festive cover of "Last Christmas."
NEW MUSIC: ADANNA DURU DROPS NEW SINGLE & VIDEO FOR "POP!"
Dubai Rap Metal Band Alpha Kenny Buddy Unleashes Lucifer's Crystal Delusions
Alpha Kenny Buddy's newest release 'Lucifer's Crystal Delusions' is a callback to their humble beginnings. Revisiting "Liquid Crystal Delusion" off their first ep finds AKB transitioning from teenage angst to the angst of the fully formed mind. Serving a focused punch and decisive attitude, 'Lucifer's Crystal Delusions', the retelling of the original, highlights a newer, more fleshed-out aesthetic for the band. With Dubai's '105 Studio' as the new, 5th member, AKB steps onto the tonal bedrock upon which they continue to evolve the artistic mockery of what we all find sacred.
Aussie Songstress TAYIHA Announces New Single
Teen pop-r&b songstress, Tayiha chronicles the innocence of young love in her youthfully bliss new single "What I Needed" on November 28. The Aussie projects the romantic simplicity of black and white films in a modern-day song with commercial dynamism, interlacing intuitive lyrics and soulful melodies.
"I'm a bit of a movie addict," reveals Tayiha. "I took a lot of inspiration from different coming of age movies like The Notebook, Now and Then, and My Girl. I was also inspired by the relationships within my own life."
Mirrorball shares Zillow-themed music video for "Tinsel For A Tear"
Today, Mirrorball unveils the video for "Tinsel for a Tear," the anticipated new single from their upcoming EP produced by Chris Coady.
Southern Rock Songstress Steph Maguire Calls Every "Cowboy"
With "Cowboy", Maguire showcases the power it takes to leave a relationship- especially on the heels of rebranding as just herself after getting her start in her band Rebel's Fox. She conveys the concept of moving on from someone as a feat of strength, and the message of the song itself can be applied to any listener. With her strong vocals and an approachable take on Southern rock, "Cowboy" welcomes listeners into the great unknown as they walk away from the past.
Elizabeth P.W. Shares Her Second Indie Folk Album 'The Company You Keep'
The Company You Keep was written during the midst of the pandemic. As someone who suffers from Crohn's disease – a chronic gastrointestinal disease, Elizabeth P.W. had to live in extreme isolation for 2 years. "I had to find new ways of maintaining my relationship with friends and family. I noticed that in isolation and with all the chaos that was going on in the world, relationships changed quickly and sometimes severely. And in my isolation, ruminations ran wild. This was a blessing and a curse. To have the time to figure out your relationship to yourself and others is a gift we may never feel so strongly again, but it was not without pain, heartbreak and discord."
SiriusXMU fav: Cal in Red New single
Cal in Red have found success being added to notable playlists including New Music Friday (Spotify), Today's Indie Rock, (Spotify), All New Indie (Spotify) and New in Alternative (Apple Music), among others. The duo have further been added to rotation on SiriusXMU and NPR's KCRW. They are set to perform at this year's Treefort Music Festival. Thanks for your consideration,
NEW MUSIC: Cheque – Mahogany Jones (Single – Hip-Hop)
Hip-Hop Soul artist Mahogany Jones is a lyrical powerhouse. With a career spanning four full length albums and featured on over 30 compilations, mixtapes, and albums with a combined total of over 5 million streams, she is not slowing down. With her upcoming single release Cheque, Mahogany Jones continues to solidify her lyrical prowess amidst a unique creative backdrop. Previous releases such as Strong Friends/Weak Friends and You Got This show her lyrical depth and breath, as well as her desire for self empowerment and mental health. These songs have garnered attention and support from organizations such as The John Lennon Songwriting Contest and The Recording Academy.
SCI-FI SCIENTISTS New Official Video 'Bill Standing At The Gates Of The Lizard King'
Irish metal group Sci-Fi Scientists have released their latest official video taken from their forthcoming album Sars Attacks, out on November 22nd via Sliptrick Records.
ROSSY Reveals First Single From Her Forthcoming EP With Ethereal Trap Banger "KARMA" ft. Jazz Cartier on HARD Recs
She sold out two nights almost instantly during the on-sale at the Moroccan Lounge in L.A, recently played at HARD Summer Music Festival, has been named 'Artist To Watch in 2022' by Dancing Astronaut, and was tapped by Annie Nightingale to host a guest mix for the Sable Valley takeover on BBC Radio 1.
LIVING WRECKAGE Present "The End of the Line" Video
LIVING WRECKAGE – a new powerhouse of metal musicians comprised of vocalist Jeff Gard (Death Ray Vision), guitarists Jon Donais (Anthrax, Shadows Fall) and Matt LeBreton (Downpour), bassist Matt Bachand (Shadows Fall, Act of Defiance) and drummer Jon Morency (Let Us Prey) – have unleashed a new lyric video "The End of the Line," another strong track from the new group's recently released full-length self-titled album.
MALIKA – Bless Her Soul
Breaking through as the voice behind some of the most notable tracks of the past ten years, including 'Falling' with Snakehips and platinum selling 'Flowers' with Nathan Dawe & Jaykae, MALIKA has been leaving a lasting impression with her iconic vocals.
JESSICA WINTER ANNOUNCES NEW EP + RELEASES NEW SINGLE 'FUNK THIS UP'
Jessica Winter announces her new EP 'Limerence', out February 10th 2023 via Lucky Number on both digital and physical formats. Pre-order/Pre-save the EP using the link below. The EP announcement is accompanied by the release of new single, 'Funk This Up', the second track to be taken from 'Limerence' after the acclaimed "Choreograph".
Huffington Post Acclaimed: Cinematic Slow Burned Pop
Opāru confides, "Gold is the hope in us all for a better place, the internal drive of our heart. This EP takes the listener on a journey through the various stages of becoming clear on their journey to their path to greatness. Each song represents a different part of the journey. Gold is the final destination."
SOEN RELEASE SINGLE & VIDEO FOR "FORTUNE"
Today, the engaging, enchanting, cutting, yet beautiful Swedish metal supergroup Soen release the enchanting video for the single "Fortune". The track is taken from the forthcoming release ATLANTIS, out via Silver Lining Music this week on November 18, 2022.
Fastest rising rock band in South Africa raises the bar with Landslide
The fastest rising rock band in South Africa – Indie Dog has airplay every half-hour on radio stations in 11 countries, including the USA, South Africa, Australia, Portugal and Croatia.
"Landslide" is the third and final single to be released leading up to Indie Dog's upcoming album "Theory of Emotion".
SKOPE MAGAZINE – fakeyourdeath
Electronic Post-Hardcore with an explosive track that examines the complexity of human relationships and expressing yourself without holding back. 'truth' is the first offering from the beautifully relentless pair that authentically combine to musically explores the opposition between the raw, chaotic energy and the vulnerability and serenity of anger and blame.