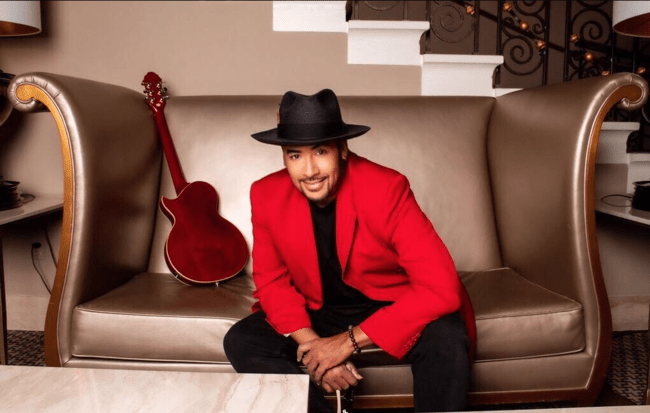 Musicians don't come more stellar, multi-faceted and gifted than Randy Hall, an ace guitarist, vocalist, composer, arranger and performer. The Chicago-native has been a highly coveted musician for several decades and a chart-topping R&B star in his own right and as a supporting player for an impressive, genre-defying resume of artists that began with The Staple Singers at age 15, The Dells, Ramsey Lewis, Roberta Flack, Diana Ross, Snoop Dogg, Dave Koz and – most definitively – the man who launched Hall as an international player with whom to be reckoned: the legendary Miles Davis.
Now in 2020, after decades away from recording his own music, Randy Hall has made an astounding return with two runaway hit singles on the U.K.'s Six Nine Records label. Hall recalls, "A year ago, a guy named Neil Pounds with the label Six Nine Records in London reached out to me on Facebook asking if I had any old songs lying around that I might like to put in the marketplace. I thought about it, went into my vault and sent him 'How Do You Want Your Love' which I co-wrote with Kevin Toney (founding keyboardist of the `70s soul-jazz band The Blackbyrds).
Neil got right back to me and said he loved the song and wanted to put it out. I said, 'Cool, let me put a new mix on it.' Neil said, 'No-no, mate. I want to put it out just like it is!' I was shocked but a week later, the song was burning up the soul charts in the U.K. I had no idea I had that many fans there that remembered me. It went on to #1 in Paris, Germany, Brazil – all over. I'm considered old school now but they really love the sound of my music today."
For a follow-up, Randy came back with another song from his archive entitled "A New Way of Love," a song that channels the arranging mastery of the iconic Barry White with a building block intro, female background vocalists and some sophisticated harmonic surprises in the bridge. It, too, flew to #1 on the international charts, prompting Randy to set his sights on the American market.
Reflecting back on that period, Randy shares, "A&R would not let me play guitar on my songs. I said, 'Prince and Jesse Johnson are doing it.' But Louil Silas (the late, great Black Music executive) really restrained a lot of what I wanted to do. I hated that they always wanted to put me out there and promote me as a 'love man.' I wanted to sing, play my guitar, rock out and have fun. Ray Parker even tried to intervene on my behalf as my Executive Producer but Jheryl Busby (then Vice President of Black Music at MCA) wasn't having it."
"Being an artist is really tough," Randy continues. "So much is based on relationships at the labels, radio, retail and your fans. To get to the top, it takes an executive powerful enough to champion you all the way…like Clive Davis did for Whitney Houston. There are so many things artists have to go through and I was just tired of it. I'm sure I could have gotten another record deal after MCA…but my father had died and my mother needed help. I had a child and wanted to be a father. It was a crazy period. All of that took me out of 'Artist Mode' – a 'self-ish' mode which demands that everything has to be about you, your career, the way you look, your image and your songs being smash hits. Once you have a child – and you really want to be the best parent you can be – that attitude and focus has to go because – now – everything is about them."
Randy was perfectly happy behind the scenes working as a member of the touring band of Ray Parker Jr. (who's schedule was always reasonable), collaborating with unsung producer/writer Raymond Jones for songs in Spike Lee's films "Clockers" and "Get On The Bus" as well as "Soul Men" (which starred Bernie Mac, Samuel L. Jackson and Isaac Hayes). He also collaborated with Nick Mundy on projects for soul-pop star Jefferey Osborne, mentoring singer/songwriter Nina Storey (including playing onstage with her at the infamous "Woodstock `94") and young gun blues guitar slinger Jonny Lang, scoring the dramatic television series "Dawson's Creek," working at Death Row Records with Kevyn Lewis (Ramsey Lewis' son) and contributing to recordings by artists ranging from TV star turned singer Jasmine Guy, R&B vocal group TROOP and west coast rap icons Snoop Dogg & Nate Dogg to legendary divas Roberta Flack and "The Boss" Diana Ross.
Most recently, Randy earned top dollar in salary AND tips as half of the Las Vegas strip attraction Cool Change in partnership with singer/songwriter Joe Esposito, playing all of the big rooms from Caesar's Palace and The Bellagio to The Venetian. "It's good as a musician if you have an everyday gig," Randy explains. "In Cool Change, Joe and I sang everything from old school Temptations, Four Tops and Delfonics to BLACKstreet's 'No Diggity.' I made the tracks even funkier than the originals, so when we kicked `em in the casinos' state of the art sound systems, we blew audiences' minds! At our peak, we worked 6 nights a week. We later cut back to 4 but also did corporate gigs and worked overseas. All of that work I did behind the scenes enabled my kids to grow up in a nice house, put them through college and gave us a sweet bank account."
"So, I didn't really miss being a so-called 'solo artist,'" Randy concludes. "But now that my kids are grown and successful, it's the perfect time for me to try this once again – relaxed and strictly on my own terms. I am pleasantly surprised and grateful for all that has transpired over the last year. I look forward to showing the world who I truly am as an artist with my upcoming album of all new material – composed and produced with the full 360-degreee perspective of who I am now."
A strategy to conquer America became even more of a necessity after another vault song he dusted off, "I Love What We Make Together," became a key component of a posthumous 2019 Miles Davis project, Rubberband, that also shot up the charts – this time on the jazz side. This is poignant because it was with Davis that Randy first sprang to international attention. First, Randy was a co-writer and player on the 1981 instrumental "Shout," the first song to reintroduce Davis after 6 years away with a splashy funky flair. Then Randy was the lyricist and vocalist of the album's mood-drenched title track, The Man with The Horn, a welcome back tribute to the legend that became a jazz and Quiet Storm radio classic. This was a huge honor because Miles almost never featured vocalists on his projects (the one previous exception being working with singer/songwriter Bob Dorough on the holiday novelty "Blue Xmas"). It was also quite an accomplishment because Hall was only 21 when that album was released by corporate giant Columbia Records.
The 2020 success of "I Love What We Make Together" (originally written with the late Al Jarreau as its intended singer), as well as additional Rubberband songs that feature Lalah Hathaway and Ledisi, all bring Randy back full circle to his roots.
Randy Hall was born in the musically rich city of Chicago, Illinois. His first instrument was piano but he switched to the popular rock and jazz-ready electric guitar, initially taking lessons from English guitarist Peter Budd and later African American jazz-rock fusion great Pete Cosey. Intensely passionate about his craft, Randy turned pro at 15 initially working with legends from gospel soul family The Staple Singers in local Chicago venues to the impeccable soul-jazz vocal quintet The Dells in the studio, among others. Randy also played with (and often led) progressive local bands such as Time, Space & Destiny (mentored by Thomas C. Washington, a.k.a. Tom Tom 84 of Earth, Wind & Fire renown), Data and AL7 with other up-and-coming musicians that included bassist Daryl Jones (later a member of Sting's first all-star band as a solo artist), Richard "Spaceman" Patterson, Robert Irving III and Vince Wilburn Jr. (nephew of Miles Davis and Executor of his estate –Randy's
friend since kindergarten).