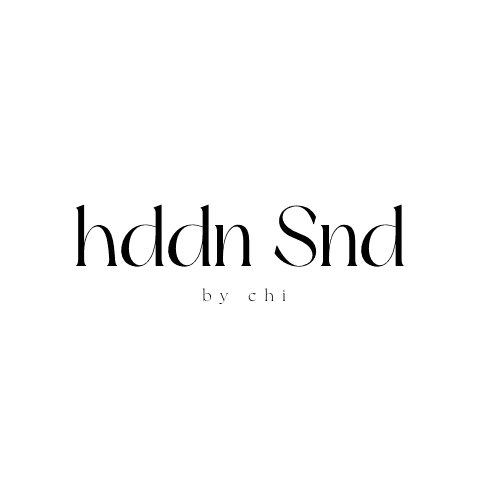 Just based on the title of this new album and the artist's name, I can almost bet I will be hearing something fresh & original. If I was a betting man, this is one bet I would definitely win because 'hddn Snd' by c h i is beyond ordinary and more along the lines of a genuine approach. With unconventional tempo changes, distinct vocal & instrumental parts and out-of-sync chord progressions, c h i is most certainly thinking outside the box with his latest release titled 'hddn Snd'.
c h i is marching to the beat of his own drum stylistically, musically & artistically on the new record and that is what makes this listening experience very refreshing. Out with the old, humdrum material and in with the new and exciting music for the ages. c h i is a singer/songwriter and producer with musical influences that range from Afrobeats and Pop to R&B and hip-hop. If you get bored listening to c h i's 'hddn Snd', then you might want to check your pulse because this album is bursting with life!
The record starts up with a warm 'n' welcoming number that one can fully embrace called "Mama's Hugs". This song offers original mixing at its finest along with an appealing sound and pop-friendly hook & beat. Come back for more of "Mama's Hugs" if you so choose. Next, we receive a catchy delivery by c h i that draws the audience in immediately on "Chosen". Track three will have you sayin' "Holla!" if you hear c h i because this artist is droppin' mad flavor in your ears. I hear you loud & clear, so "Holla!" back c h i! On the following song, c h i is one step "Closer" toward getting this smooth mix stuck in your head for a very long time. The bounce factor is in full effect on "Who Better" where you won't be able to fight off the sensation to suddenly move your head or body. Track six, "Summer Again" is heating up with one fun-filled jam that is sure to cool you off. c h i is Gunnin' for the Top of the charts with his next installment called "Tom Cruise". "Tom Cruise" is takin' off and flying high with c h i as your Captain steering this song into the satisfying "Danger Zone". Track eight, "Worst Ways" proves to be super slick with its flow as c h i is getting the best out of every single note here. c h i goes out with a bang on "Let Go" where he is about to set it off with this blazing, hot track and c h i is never letting go!
If you're sick of the same ol', stale scene especially when it comes to mainstream rap/hip-hop, then c h i's 'hddn Snd' is your ticket! With nine, unique cuts on this new record, c h i delivers something fresh & different on each track. It's time for 'hddn Snd' to show itself to the world and it's also time for c h i to deliver the goods to the listening public. Bring it c h i and don't hold back man!
https://www.instagram.com/Vvnnxy/
https://www.youtube.com/c/chi237/
https://open.spotify.com/artist/1JNijGmcPhbxHs8rq40CJT?si=aZqMG3e2S5CqjoN6imtjRA
By Jimmy Rae