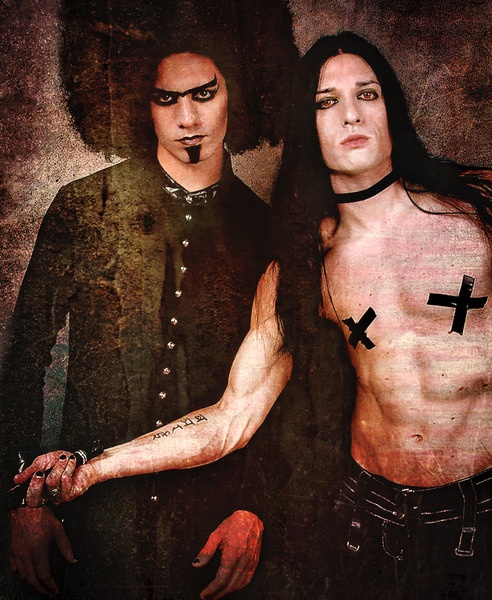 @skopemag news – sunday – november 6, 2022 @ 10 pm est
@skopemag HQ – http://smarturl.it/skope
LEGENDARIUM Release New Single "Caelador, Destroyer"
Traditional heavy metal band LEGENDARIUM have released their new song "Caelador, Destroyer" today on all streaming platforms. The track is from their album Death's Hand In Yours which will be released on December 2, 2022.
Frontman Laurence Kerbov comments "Caelador, Destroyer is really just a very straightforward, no-bullshit heavy metal song. It's a story I've been meaning to turn into a song for a long time, and I'm very pleased with the final result."
RICO BEATS AND SHANI BONI RELEASE NEW VIDEO FOR "WINNING" TODAY
Country Newcomer Makenzie Phipps' New Single "Drag" Premiered by People.com
Country music singer-songwriter Makenzie Phipps is excited to announce her latest single "Drag" is available now! With a combination of country and blues, Phipps' unique vocal ability and song delivery offers a modern beat while showcasing a relationship that may not be ideal, yet it's like a habit you just can't kick. Written by Cassidy Lynn Alexander, Dan Wilson, and Paul Bogart, and produced by Sal Oliveri (Chris Stapleton, Garth Brooks, Keith Urban), "Drag" was exclusively premiered by People.com and is available on all streaming platforms now.
Levi Riggs' New Single "Pour Some Whiskey On It" Is Available Now
Country music singer-songwriter, Levi Riggs is excited to announce the release of his latest single "Pour Some Whiskey On It"! This hard-driving, bass-infused anthem highlights difficult things in life that often can't be helped like losing a job or an unexpected breakup. When these troubles happen, sometimes you need a good whiskey and everything will be alright. "I'll toast to my regrets" pretty much sums up this tune with proof that life isn't always perfect, but you deal with the situation and keep moving forward. "Pour Some Whiskey On It" is available now on all streaming platforms.
The Mortal Prophets Share Two New Singles via StereoEmbers | 'Me and the Devil' LP Out 12/9, Produced by William Declan Lucey (Rubyhorse)
NYC experimental rock outfit The Mortal Prophets (helmed by John Beckmann) recently announced the forthcoming release of their debut LP, Me and the Devil, due December 9. On the record, Beckmann joined forces with Irish musician and producer William Declan Lucey (Rubyhorse, Leftbank), with whom he developed the record's atmospheric, noisy sound. Additionally, it features collaborations with Morphine's Dana Colley, vocalist Aoibheann Carey-Philpott, and more.
Canadian Progressive Metal Master THE WRING Drops 'Stiletto' Feat. Marco Minnemann , Single & Video
Big Piph Releases His New Single "Take Off"
"Takeoff was created from the mindset of already being in a good place in life, but amped about where you're going next. It's on some "the dream" can still be accomplished despite past hardships whether self or society inflicted."
Big Piph is a Stanford educated mechanical engineer who decided rapping was a better choice. Through his decade plus in music he has seen industry promises come and go and now proudly flows independent performing mostly with his 7 piece live band. He also is a Hip Hop Ambassador; having traveled to over 10 countries, including Ghana, Australia, and Myanmar, performing and doing music diplomacy.
Society 1 To Be Rejoined By Ex-Drummer Dagon Destroyer On "Exit Through Fear" 20th Anniversary Tour
Shock Rock veterans Society 1 have announced that their former drummer Dagon Destroyer will be rejoining the band for their upcoming "Exit Through Fear" 20th anniversary tour. A large portion of the dates will be on the "Rise Of The Machines" tour with Static-X, Fear Factory, Mushroomhead and DOPE. Additional shows are still being booked.
The band's most successful album, Exit Through Fear, which was originally released on Earache Records made an impression in 2003 due to the first music video of the album to feature lead vocalist LORD ZANE performing body suspension. Drummer Dagon was featured in the video and did a large portion of the subsequent touring.
RVBY MY DEAR To Release Self-Titled EP on Spirit House Records 11/18
A story of love, loss, and self-discovery told through five dream-pop-tinged tracks, RVBY MY DEAR's latest EP embodies the musical prowess Gabbi Coenen has spent her entire life nurturing. Today, we announce the new self-titled EP, out on Spirit House Records November 18th. This follows singles & music videos for "Over It" and "Lose My Mind."
AMERICAN JETSET Release Official Visualizer for "Tokyo Radio"
Baltimore, MD based Rock Band AMERICAN JETSET has released the visualizer for "Tokyo Radio," the newest single off of their new album, Cat's Got Your Tongue. Produced by TONY CORELLI, Cat's Got Your Tongue is available NOW via BIG CURVE MUSIC!
[Album Stream] Bobby From Rockaway & Hush – 7182313 (Deluxe Version) ft. MC Serch, Guilty Simpson, Ty Farris, Daru Jones, Kuniva (of D12) & more
The "7182313" Deluxe Version is a continuation of the "7182313" album that was released in June '22 by Queens artist Bobby J From Rockaway & Detroit artist/producer Hush. For fans of heavy lyricism, versatile production and heavy hitting guest verses, this Deluxe is sure to be a treat. It features 5 previously unreleased tracks featuring Ty Farris, Guilty Simpson, SDNY, Daru Jones, Valid, The Truth Staten, Lil Dee, Joey Bags, MC Serch, K. Stone of Dogmatic, Kuniva of D12, Hatch and DJ Ace. Check it out now on all streaming platforms.
"Canción De El Caribe" es el nuevo sencillo del cantante Jai Ramos
El cantante puertorriqueño Jai Ramos, lanza al mercado su nuevo corte musical que lleva por nombre "Canción De El Caribe".
Este sencillo de Jai Ramos es su primera participación como cantautor escribiendo sus versos junto a su amigo de infancia Jaime Rivera. Esta inspiración de los autores está basada en como visualizan el origen y evolución de nuestra Música Tropical haciendo reseña de las raíces que han influenciado su desarrollo en el transcurso de los años.
MEDIA RELEASE: WOMB SHARE FINAL SINGLE 'WHEN I SEE YOU'
Womb is made up of siblings Cello Forrester (vocals, guitar, strings), Haz Forrester (synth, guitar), and Georgette Brown (drums). Their music is a composite of the three and builds on the shoegaze and dream pop sounds they are inspired by.