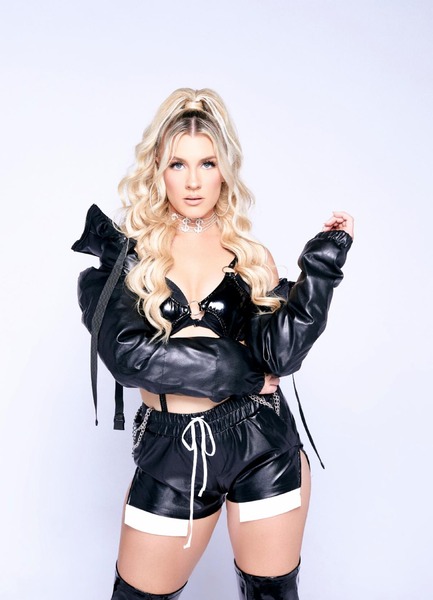 @skopemag news – friday – november 4, 2022 @ 6 pm est
@skopemag HQ – http://smarturl.it/skope
Mirrorball shares new single "Tinsel For A Tear," playing free show in LA on Saturday
Today, Mirrorball unveils "Tinsel for a Tear," the anticipated new single from their upcoming EP produced by Chris Coady. Mirrorball — vocalist Alexandra Johnstone (ex-White Dove) and multi-instrumentalist Scott Watson — debuted in 2019 with a pair of dreamy pop songs released via Dangerbird Records.
Cypher16 Premieres Video for New Track "Another High"
Cypher16 make their highly anticipated return with "Another High". The video showcases the band's first live show since the pandemic, at Rockfest in Finland, coupled with footage of them recording their second album in Sweden, Denmark and England. Cypher16 would like to thank everyone who has been involved in the process, which ended up stretching from 2018-2022.
HERON Announce Empires of Ash Album And Release First Single "With Dead Eyes"
Canadian sludge metal band HERON will release their upcoming album Empires of Ash via Sludgelord Records on Dec 2, 2022.
The first single "With Dead Eyes" is now available on all streaming platforms and can be heard here:
DROWNING POOL Unleash New Lyric Video For "Mind Right"
SARCATOR: Swedish Young Black/Thrash Group Streams "Perdition's Hand" Music Video and 'Alkahest' Album; LP out today via Black Lion Records
ZAI1K RELEASES INFECTIOUS NEW TRACK "DRIVE ME CRAZY"
"Drive Me Crazy" follows Zai1k's performance at ACL as well as the release of colorful, energetic track "Dump It Dummy" featuring Philly club-rap innovator 2rare. The anthemic track has over 11 million worldwide streams to date and soundtracking over 1.4 million videos on TikTok. Zai1k was recently featured on electronic DJ and producer Whethan's latest dance-pop single "Fall Out Girl."
Detroit's whiterosemoxie is a Man on a Mission in "Wayside" Video
SAM FISCHER RELEASES NEW SINGLE "CARRY IT WELL"
Focusing on mental health and the famous phrase "just because I carry it well, doesn't mean it isn't heavy" – the powerful sentiment of the song has resonated with listeners across the globe, with users flocking to TikTok to record their own versions prior to release. "Carry It Well" follows the release of Sam's recent singles "All My Loving" and "Hopeless Romantic."
Cherie Amour release powerful debut album Spiritual Ascension
Thomas Day Shares New Holiday Single, "Santa Claus Is Back in Town"
Growing up listening to Elvis Presley's Elvis' Christmas Album, covering "Santa Claus Is Back in Town" felt like a natural choice for Thomas to cover. "I just had to cover it because it's almost a part of me in a way," he says.
Malibu Babie Releases "Badonthebeat" Single & Announces Debut Mixtape 'Malibu Babie SZN Vol 1'
"I loved creating this song," shares Malibu Babie. "I'm known as the blonde 'beat barbie', so I recognize that, as a female producer in a primarily hip-hop space, I'm not the stereotypical producer people expect when they walk into the studio. I'm beyond grateful to get to contribute to a genre that has been the soundtrack to my life. This song was a 3am creation that allowed me a safe space to feel myself and give me confidence on days when I needed to remember my value and worth. For me personally, nothing has ever had the ability to boost my confidence like music!"
For Skope: Bhaskar & rrotik's new club-ready single "Coming Down" on Alok's label (out now)
Celebrated reggae artist Jah'Mila releases debut album
Backed by an all-star eight-piece band, Roots Girl is an ambitious and personal record that explores many facets of reggae while fusing the genre with dancehall, soul, and much more. Comprised of eight original tracks written over her first years living in Canada, the album explores how Jah'Mila's deep ties to the roots of Jamaican culture collide with Canadian culture, resulting in an album that examines the fusion of and differences between the two.
GRAVA: Danish sludge unit premieres new single "Alight", new album "Weight of a God" out this month
Sludge heaviness, hardcore intensity – bleak desperation. Short tracks, that just sound dense, blackened and ugly – which are written and delivered with a real soul – just one that has been emptied of colour and hope. Amidst the blunt brutality there are brief interjections, moments of paradoxical beauty. Soon extinguished.
9X GRAMMY Award-Winning Singer and Guitarist José Feliciano Releases New Full Length Album, Love & Christmas Today Through Anthem Records
Legendary singer, songwriter and guitarist, José Feliciano, today released his highly anticipated new album, Love & Christmas, to all streaming services through Anthem Records. The new collection of songs, Feliciano's first since 2020's critically acclaimed, Behind This Guitar, express the enduring themes of his music and life; passion, inclusiveness, community, family and the joy of the Christmas season. Love & Christmas also features the first new Christmas song written and performed by Feliciano in over 50 years, making it the first since the release of his beloved, bilingual holiday classic "Feliz Navidad." Titled "Viva La Navidad," the up-tempo, fun, and rockin' new track is the cornerstone of this new collection of songs, celebrating the joy of the holiday season.
Release Day Velvet Beach shares melancholic dream pop single "Home (Is It True?)"
Lead vocalist Matias Gutierrez was inspired to write the song after reading an article about the effects of the pandemic on the lives of independent artists in North America. He sympathized with the feelings of frustration and helplessness particularly through his own experiences during the pandemic and feeling like he wasn't in control of his own life.
AMORPHIS Reveals New Song "The Well" + Tour Edition Of Halo Now Available; European Co-Headlining Tour With Eluveitie To Commence Next Week
"'The Well' tells a story about an individual causing chaos and mayhem by breaking the principles of society. It is a timeless force phenomenon repeating itself in the history of time; a kind of natural force among the human kind," vocalist Tomi Joutsen states. "The song itself is drawing some influences from the early Scandinavian early black metal and classic AMORPHIS vibes. This one is on the heavier side of the material recorded during the Halo album sessions in 2021."
French rock band TIME ZERO presents a diverse musical panorama on the new album "New World"
The French quartet TIME ZERO was formed in 2011 with the ambition to focus on their own creations. On voice and guitar, Dominique, and Yannik, on drums, support the next generation, in this case their sons Raphaël and Yann, guitarist and bassist.
Grammy & IBMA Award-Winning Fiddler Jason Carter Gathers All-Star Lineup And Good-Time Tunes For New Album Lowdown Hoedown
As a 30+ year Del McCoury Band member and a founding member of the Travelin' McCourys, fiddle player Jason Carter has made a lot of friends and fans throughout his heavily-awarded career. But never before have all of his friends, from all of the years, joined Carter for his own solo album. That is, until now. Today, the man himself released Lowdown Hoedown, a thirteen-song collection featuring Carter's own, rich vocals and red-hot fiddling backed up by a stunning lineup of musicians whom he calls friends. Imagine that Carter is throwing the pickin' party of the century and we're all invited to join in. The guests? Well, there's Dierks Bentley, Aiofe O'Donovan, Vince Gill, Billy Strings, Sarah Jarosz, Jon Fishman, Marty Stuart, and that's barely scratching the surface.
Taleen Kali shares new single "Trash Talk"
Today Taleen Kali shares new single "Trash Talk," from their debut full-length album out March 3, 2023 on Dum Dum Records. The band will also play a homecoming LA show tonight at Non Plus Ultra, which also serves as the 1 year anniversary party for Dum Dum Records. Produced by Jeff Schroeder of The Smashing Pumpkins and Josiah Mazzaschi (Bizou, Light FM), the new album is loaded with sheets of fuzz and swirling guitars, with vocals that amass the range of femme punk to shoegaze siren.
for Skope: Kaskade goes hard dance – surprising single "Dance With Me" (out now on Arkade)
MILLS SHARES VIDEO FOR NEW SINGLE "HANDS ON ME"
CARRIE UNDERWOOD PREMIERES BRAND NEW MUSIC VIDEO FOR "HATE MY HEART"
Directed by Shaun Silva, who recently directed Underwood and Jason Aldean's music video for their multi-week #1 smash hit duet, "If I Didn't Love You," and filmed on location at Nashville's Wildhorse Saloon, "Hate My Heart" follows Underwood and a group of her girlfriends who are all approaching break-ups in different ways. Whether drowning themselves in rom-coms, diving into dating apps, taking a deep dive into online shopping, taking out their frustration and aggressions in the gym, or getting revenge, Underwood and her girl posse are united in a mission to move past their heartbreak to indulge in a wild and crazy girls' night out. In the video, Underwood rides a mechanical bull and crowd surfs as she and her friends see their own alter-egos in the all-female band onstage.
**NEW MUSIC ALERT: Sustainable Rocker CIGARBOX MAN Ushers Listeners Into New Territory With Bold Single "I'M NOT TERRIFIED
Singer, songwriter, producer, Luthier and DJ Cigarbox Man is becoming internationally renowned for the signature style of music that he has coined "Sustainable Rock," refreshing the scene with his powerful message of peace and advocacy for sustainability. Today the groundbreaking Chilean artist arrives with his new single "I'm Not Terrified," a thrilling piece that will prompt listeners to confront even their worst demons.
New video "Fraud" from Seth Adam
Seth Adam just dropped his new LP Fits and Starts and Stops October 7, premiering it via Tattoo, who stated, "Seth Adam has it going on! Fits and Starts and Stops is one of those albums that the more you listen to it, the more you relish it."
PLATINUM-CERTIFIED DEREZ DE'SHON RELEASES NEW ALBUM "BIGGER THAN ME" TODAY
Leezy Drops New Video for "Monsters Are Waiting"
Dream pop artist Leezy shares her "Monsters Are Waiting" (Official Music Video). Filled with stunning underwater and desert visuals, Leezy presents a visual of profound and honest lyrics like "Wide-eyed girl, smiling for the world, she don't know what's coming for her, tell me your secret." The track comes from her recently released debut album, Metanoia, out now on all streaming platforms.
BC Musician Ben Arsenault Releases New Single TURNING BACK
Astralux Thrills With Rock And Roll Anthem "Livewire"
Infectious rock and rollers, Astralux, are back with an exuberant new single, "Livewire." Showcasing the fresh sound for their forthcoming debut self-titled album, "Livewire" excites as a featured single on the record. Establishing a fierce beat from the get-go, "Livewire" captures fans' attention with continuous booming drums and dazzling, energy-inducing guitar riffs. Astralux knew they wanted the track to enliven their fans.
Gold Dust's new album, The Late Great Gold Dust, is out now on Centripetal Force Records
Up until this point, Western Massachusetts musician Stephen Pierce's solo vehicle Gold Dust has materialized slowly and maneuvered in a series of strange trickles. The songs first incubated in the quiet, internal spaces of solitary home recording sessions during the especially bleak winter of 2020, when Pierce began refracting his years spent playing in high-volume punk and shoegaze bands through the lens of acoustic songwriting. Stripping away the layers of noise only revealed the commonalities that could exist between full-blast hardcore and an unadorned statement of vulnerability.
For Skope: Purple Fly debuts talented newcomers GRY and MYKRIS with "For Me", powerful electro house vocal single (out now)
Wax Motif and 220 KID Unite on Vocal-Driven House Single "See In Color" on Insomniac Records – OUT NOW
Wax Motif has upcoming gigs at Escape Halloween, EDC Orlando, Holy Ship! Wrecked, as well as headlining gigs at Academy LA, The North Warehouse (Portland), and support for Malaa at Russel Industrial Center (Detroit). 220 Kid recently went viral on Tik Tok with his remix of Wellerman's "Sea Shanty" with over 617k uses on the sound and 348.8M streams.
Artist: Wax Motif & 220 Kid
Title: See In Color
Label: Insomniac Records
Genre: House
Release Date: Nov 4
Darius Rucker Reveals Forthcoming Album "Carolyn's Boy," Celebrates Milestones on "TODAY"
"At the end of the day, I'm really still just Carolyn's Boy," three-time GRAMMY Award winner Darius Rucker shares following this morning's interview with "TODAY" anchor Craig Melvin, during which he exclusively revealed the title of a new solo album planned for 2023 along with the meaningful cover image, a portrait of his late mother Carolyn.
Bleach Lab Releases Third EP 'If You Only Feel It Once' via Nettwerk 
If You Only Feel It Once overarching theme centralises around searching for the nostalgic feeling of home in other people and places. Frontperson Jenna Kyle explains; "The lyrics cover a lot of themes of finding a home, feeling safe, finding your way in life and feeling like you're running out of or wasting your time on the wrong things or people. It's an inner dialogue with yourself, and in my opinion 'it' is subjective and could mean a number of things depending on the listener. However, to me, 'it' is referring to 'home' i.e. if you only feel home once. It is quite a low mood track and there are quite obvious themes of depressive thoughts and some quite dark lyrics, however it's self reflective and is meant to be somewhat encouraging."
MARIAH THE SCIENTIST RELEASES NEW SINGLE AND ACCOMPANYING VIDEO FOR "BOUT MINE"
Wu-Tang Clan, Shaggy, Dirty Heads, Cypress Hill, And Many More @ 12th Annual Cali Roots
In true Cali Roots style, Good Vibez Presents have built out their impressive lineup with an eclectic blend of the best in live music from all four corners of the globe. Collie Buddz, Jesse Royal, Kes, Lila Iké, and Mykal Rose from the Caribbean; Gentleman, Alborosie, Dub Inc, and The Skints from Europe; Hawaii's Anuhea, Kolohe Kai, and Maoli; and New Zealand's L.A.B. and Katchafire round out an all-star lineup sure to light up California's Central Coast.
YUNG FAZO RELEASES me vs. me MIXTAPE AND SHARES VIDEO FOR "steal da swag"