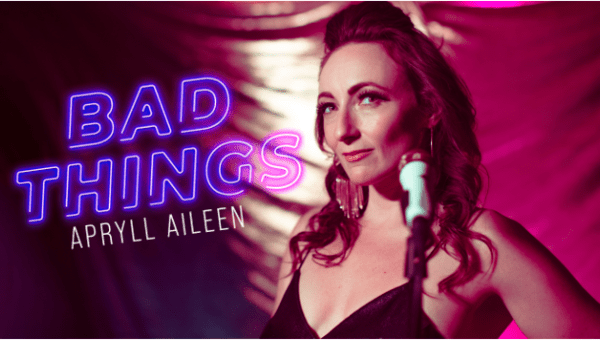 Canadian songwriter, Apryll Aileen's "Bad Things", the title track from her upcoming album, is an Alt-Pop R&B hit that teases sassiness with sensuality, striking a chord on the duality of our human nature.
The video was filmed at the Five & Dime in Saint John, New Brunswick by Matt Brown and directed and edited by Lauchlan Ough. Produced by Apryll Aileen and Jennifer Irving with creative direction from Amelia Bailey, the video highlights colourful dance scenes and the sultry experience of a night out.
Featuring Danielle Roberton, Jerry Burchill and Elephant Skeletons.
The chorus hook "I'm not bad but I do bad things" plays on the desire of living in the moment and having fun but not reading into things too seriously.
Paying homage to seductive pop Queens Madonna and Rihanna, this jam makes you want to sip tequila, dance and tease everyone in the club.
Written between Los Angeles and New York and recorded between Atlantic Canada and the United Kingdom – Aileen debuted the single in Manhattan at the MONDO.NYC conference on October 11th at the Map Room at the Bowery Electric.
Aileen had a successful summer tour, playing at the Horseshoe Tavern in Toronto and headlining the stage for the province of New Brunswick at the 2022 Canada Games in Niagara Falls. She is preparing for the full release of her album "Bad Things" early next year.
Aileen transcends genres, creating her own undefinable sound with influences coming from pop, electronic, folk and R&B. She doesn't imitate – she creates.
A hybrid of two polarities, she blends melodic songwriting and vocal tones from artists such as Miley Cyrus and Adele but with the storytelling edge of Stevie Nicks.
From performing in London, Hollywood, New York, Toronto and more, Aileen is no stranger to the music world. Her band in Los Angeles includes Toshi Yanagi and Jimmy Earl (players for Jimmy Kimmel Live!).