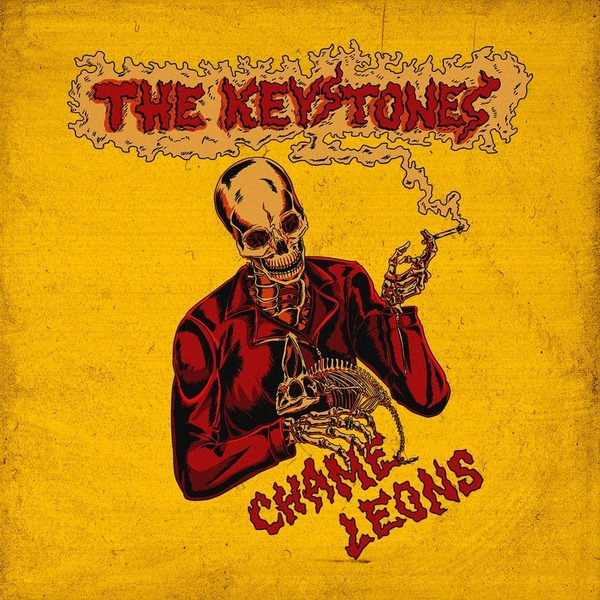 'Tis the season to get spooky, and Milwaukee's favorite rock group The Keystones are happily rising to the occasion with their new single "Chameleons," hitting streaming services just in time for Halloween. It's a rip-roaring rock track that feels indebted to modern rock acts like Arctic Monkeys, The Killers, and even The Black Keys — it's a classic track with enough horror movie lyricism that will undoubtedly own the airwaves this Halloween.
Born out of Waukesha, Wisconsin (same birthplace as the electric guitar), The Keystones are making their title of hometown heroes proud as they quietly take a skyrocket route to rockstar success; having signed to the distribution group Symphonic (known for their work with Robin Thicke, Paris Hilton, and more) only recently, the band has been setting their sights on more than the average career for a while. Now, with a tour underway and an EP due out early next year, The Keystones are cementing their place as indie greats with the stellar "Chameleons."
"Last night I went and changed my shape for friends." The opening line of "Chameleons" instantly grabs listeners as we're thrown into a poppy, catchy rock track that would fit in perfectly with the early 2010's indie rock wave — is this a song about werewolves? Not exactly, but the band is aware of the supernatural edge the track has as the opening verse ends with "Shapeshifter, vampire grifter, f-king undead." The sharp guitar and demanding vocals complement one another perfectly, and there's instant gratification with the single that allows listeners to feel like they're on the cutting edge of a new force in modern rock music.
The Keystones are extremely gifted at crafting catchy tracks and have been hard at work perfecting the art of a rock single for the last four years. After finally debuting a self-titled EP this past summer, the band seems to be ramping up towards a bright and beautiful future as they double down on their refined rock sound and give fans more of what they already know and love, but with a propulsive, radio-ready chorus full of "ooohs." There's a new layer of The Keystones within "Chameleons" that feels ready for the big leagues. The relatable lyrics about shifting your entire persona to match anyone around you is a powerful message for the song to have at its core, and it's one the millennial audience will undoubtedly gravitate towards.
While the band is only recently coming off of the hype of their debut EP, "Chameleons" is a perfect way to break ground on what comes next for The Keystones. There's a confidence and swagger to the band this time around that had yet to surface, both in lyrics and composition, and the ownership of the band's trajectory and overall direction feels pointed and intentional. "Chameleons" will be a major step for the band and fans will come back to it even when it isn't the latest single from The Keystones; it's a timeless track with great songwriting that you can't get out of your head, and it's got a little bit of Halloween in it — what's not to love?
Gwen Waggoner