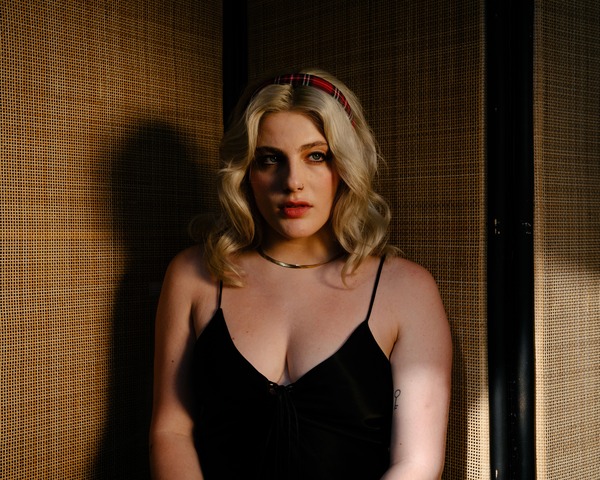 @skopemag news – friday – october 28, 2022 @ 12 pm est
@skopemag HQ – http://smarturl.it/skope
JOEY VALENCE & BRAE RELEASE NEW SINGLE 'TANAKA 2' FEAT. LOGIC
On their new single, Joey Valence & Brae continue their trend of bridging the gap between various genres as they once again defy convention by traversing the line between 90s hip-hop, rock, and everything in between. A truly unique act, they possess the rarest of qualities in being able to capture a moment in time that will enable them to become the new sound of a generation.
Fast-rising talent BAVÉ drops his eclectic new single "Show Me Love"
With clear references from the likes of Prince, 070 Shake, Hendrix and Dijon, "Show Me Love" surfaces as a potent and melodic track that transports listeners through 3 minutes of silky vocal heaven. Bavé effortlessly glides across the atmospheric instrumental, showcasing his high falsetto range that creates a sleek alternative side to the psychedelic soundscape.
Alt-Rocker DYLYN Releases Debut Album 'The Sixty90s' 
Music oscillates as time does with moods and motifs repeating at different junctures in time as they mold the future. With influences that range from Blondie to Black Sabbath, The Vancouver-based singer, songwriter, DYLYN (aka Gwendolyn Lewis), has created a unique style that pulls together raw, rock n' roll energy with brilliant pop hooks. Today, the alt-rock power force shares her lush, reflective debut full length LP, The Sixty90s, an homage to the grit of the 90s and the warmth of the 60s.
A soulful realm of R&B in Wellingta's new offering "No Goodbyes"
Wellingta is a rising R&B and dancehall singer/songwriter hailing from London. Originally from Berlin, Germany, her soulful cadences, tropical R&B leanings and multicultural perspective make her an exciting emerging artist, as she continues to thrive exponentially across her repertoire.
BABYTRON DROPS 'BIN REAPER 3: OLD TESTAMENT'
MYRNE TEAMS UP WITH SHALLOU FOR HYPNOTIC NEW SINGLE "FALLING BACK"
The song is about reconciling the desire to find real connection yet faltering along the way. That message is exquisitely distilled on the soaring chorus: "Stop now, we could get some rest," angelic vocals ring out over feathery synths and hypnotizing beats, "before we break down, wanted more for less." MYRNE's trademark multi-layer, intricate arrangements morph and meld into something soothing and substantial.
Altered Concept Debuts on Yamatai with his 'Menace' EP
FADER Label's ella jane shares her gorgeous 'Marginalia' EP
Marginalia is a put-on-repeatable instant pop classic, though with a bit of grit at times as an ode to ella's favorite indie rock icons (does she have examples??). She let the songs spill out of her as they pleased, and dives into embracing her queer identity on "Party Trick," the tingly feeling of wanting to be in love on "I Wanna," exploring the idea of home on "7," and plays with the concept of originality on "Warhol."
Bryan Martin Shares New Single "We Ride" + Video
THUNDER JACKSON FINDS 'GOD IN OKLAHOMA'
"God in Oklahoma" was born when the artist returned to his hometown of Oklahoma City after a period of living the big-city life of Los Angeles. "I learned a lot during my time in L.A.," Jackson says. "It's a great city, but there is nothing like experiencing the warmth and support of people who love and accept you no matter what. It has inspired me to make music that I feel more deeply connected to than I ever have before. I am so proud and lucky to be a guy from Oklahoma, and I hope this song reflects that."
Indie Pop Artist Lostboycrow Shares New Track; Album Out 12/9; On Tour With Echosmith 
For Indie Pop, it felt important to Chris Blair that he make Lostboycrow "feel more like a band," so he tapped producer Chris Chu, who performs with Pop Etc (formerly known as The Morning Benders), and who built his career touring with '00s indie-pop staples like Grizzly Bear, Death Cab For Cutie, Ra Ra Riot, and We Are Scientists, to record with. "Strangers in a Place We Used to Dream" follows recent singles from the record, "Indie Rock," "Libra Moon," Angelina," and "Chewed Up," which combine the pop-rock that Chris Blair grew up on mixed with the infectious alt-R&B-pop that his project, Lostboycrow, has become known for.
Polyphia 'Remember That You Will Die' Out Now!
The album features collaborations with $not, Chino Moreno (Deftones), Brasstracks, Steve Vai, + more. Produced by guitarists Tim Henson & Scott LePage, the album also features production from Rodney Jerkins (Michael Jackson, Destiny's Child, Lady Gaga), JUDGE (Migos & Marshmello, blackbear, Young Thug), the band's longtime collaborator Y2K (Doja Cat, Remi Wolf, Tove Lo), Johan Lenox (Kanye, FINNEAS), and more on select tracks.
WE ARE SCIENTISTS Hope For The Best, And Expect Nothing "Less From You"
Speaking of performing live, last week the band announced two upcoming U.S. shows: the first being a free rooftop show on December 3rd in Las Vegas at the launch of BrewDog's largest bar in the World and the second is on January 20th in Brooklyn, NYC at Brooklyn Made for the band's Lobes album release. These shows arrive right before the band heads to the UK and Europe on the Show Lobes Tour, with more US dates to be announced in the coming months.
RACHEL CHINOURIRI SHARES UPLIFTING NEW SINGLE "I'M NOT PERFECT (BUT I'M TRYING)"
MULTI-HYPENATE EXPERMENTAL MUSICIAN, BAYONNE, DROPS HYPNOTIC SINGLE "IS IT TIME" – SIGNS TO NETTWERK 
IGGY POP: "FRENZY" NEW SINGLE OUT NOW
Iggy Pop explodes back onto the scene with the aptly titled "Frenzy." The brand new single is out today via the recently announced partnership between Atlantic Records and Gold Tooth Records, the new label founded by GRAMMY Award-winning, multi-platinum "Frenzy" producer and guitarist, Andrew Watt.
CHAPPELL ROAN RELEASES "CASUAL" + ANNOUNCES 2023 HEADLINING TOUR
Every generation brings a new set of artists to change the landscape of pop music and next up is Chappell Roan. Hailing from a rural farm town in Missouri, the now LA-based singer / songwriter has been consistently and independently releasing buzzy singles and playing sold out shows in cities across the country. With songs like the Kate Bush-esqe "Pink Pony Club", synthpop anthem "Naked In Manhattan" and the "deliciously vindictive", "My Kink Is Karma" (co-written with Daniel Nigro & Justin Tranter) gaining noticeable traction in both digital and live music world, today's new single, "Casual", undeniably catapults Chappell into stardom – listen HERE.
SleazyWorld Go & G Herbo Heat Up The Streets On "Glitches"
"Glitches," is released as rap's Rookie Of The Year SleazyWorld Go continues a string of streets-first singles leading into his Where The Shooters Be mixtape out next Friday. Teasing the mixtape, Sleazy recently released "Creepers," where he asserts how embedded he and his crew are in Kansas City. He raps, "Creep through/We gon' jump out chase you down/Them youngins' get on feet too." His delivery is menacing yet unbothered, keeping levity on the track with bars about Christmas gifts and Jimmy Neutron.
TAUREN WELLS TEAMS UP WITH JIMMIE ALLEN AND ERICA CAMPBELL ON NEW VERSIONS OF "UP"
"Both of these collaborations mean so much to me," says Tauren Wells. "I was singing Mary Mary songs in church growing up, so now knowing Erica and being able to hear her voice on my song is surreal and a great honor. I met Jimmie in Nashville 10 years ago or so, back when we were both in our bands trying to figure out how to make it. Being on the other side of that journey now and seeing the country staple he's become is something I genuinely celebrate and I can't believe we get to work together all these years later."
Movie Club "Black Flamingo" Alt. Music Video out Halloween
Giggs Releases New Single/Video "Time" Today
408 Release Debut Album "Out Of It" Featuring Guest Appearances By Members Of Magnolia Park, Underoath, Sleeping With Sirens & More
Ásgeir Album OUT TODAY 'Time On My Hands' via One Little Independent Records
As one of Iceland's most successful exports, singer-songwriter Ásgeir has spent the time between his record-breaking debut (now celebrating its 10th anniversary) and today pushing the boundaries of his textured, thoughtful brand of folk-pop. He's now released his long anticipated fourth album 'Time On My Hands' via One Little Independent Records.
J Stalin, Koran Streets, and FULLY are "Black Jacobins" in the First Tales Of The Town Music Video
Tales Of The Town is a multimedia project that tells stories from Oakland's rich Black history, commenting on the historical causes of issues that affect the community today. In the first music video from the recently-released Tales Of The Town album, three East Bay natives–FULLY, J. Stalin, and Koran Streets–channel revolutionary spirit in "BLACK JACOBINS." Named after the book written by Trinidadian historian C.L.R. James about Toussaint L'Ouverture and the Haitian Revolution, "BLACK JACOBINS" uses the shimmering and haunting, yet undeniably funky aesthetic of Bay Area street music to salute radicals and pay tribute to the fallen.
INTRODUCING… Kingo Halla | "Water In The Rose" OUT NOW
The New York City-born singer, songwriter, producer, and multi-instrumentalist based out of Toronto Kingo Halla aka Henry Nozuka shares his debut single. The tender track is called "Water In The Rose," and it is the perfect introduction to this mysterious new artist. Throughout "Water In The Rose," Kingo Halla fuses jazz, soul, and psychedelia into alternative R&B atmospheres that pair perfectly with his silky smooth falsetto vocals.
Phoebe Go shares anticipated debut EP Player, out now
KEMBE X DROPS NEW SONG
Los Angeles by way of South Holland, IL rapper Kembe X has a new EP, FLATFOOTED, due in December, and here is the next song from it "More Than Ever." Produced by Joey Hamhock, the song is an introspective stream of consciousness and another offering to fans as he puts the final touches on his upcoming solo LP and label debut coming next year. Stay tuned for more music soon.
THE ICON BUJU BANTON IS BACK! RELEASES "SI MI CLEAN" FEATURING BUSY SIGNAL
"This song deals with trends, the way we carry ourselves, and always remembering a clean heart above all things," says Buju Banton. He further explains, "So 'Si Mi Clean' is not just about your outward appearance but also your inner appearance of cleanliness and a clean livity."
The Album Leaf Shares Video By Ebinum Brothers For "You Are (Feat. Saro)"; Shares New Single "Future Falling"
Addison Grace shares self-love song + video with his ghost bestie, "If Nobody Likes U" | On headline tour now
Lee Fields' debut LP for Daptone out today
Sentimental Fool is a deep, blues-tinged collection expertly showcasing the beauty, power, and raw humanity of Fields' voice. The album – which features backing from an all-star lineup of Daptone family members including guitarist Thomas Brenneck, bassist Benny Trokan, drummer Brian Wolfe, keyboardists Victor Axelrod and Jimmy Hill, saxophonists Neal Sugarman and Ian Hendrickson-Smith, and trumpeter Dave Guy, along with an array of additional guest musicians and backing vocalists – stands tall as a stunning return to Fields' R&B roots.
beachtown release new single "Homesmaker"
Macklemore Releases New Track 'FAITHFUL' Featuring NLE Choppa
'FAITHFUL' ft. NLE Choppa is the third track to be released this year as part of this new chapter of Macklemore's. An honest and raw insight into his own journey through relapse and recovery, this latest track offers a glimpse into the struggles and inner turmoil when dealing with addiction.
Da Cruz – Baladas da Luta
Jonah Kagen Announces EP & Shares New Single "graveyard shift"
On "graveyard shift," Jonah pairs his signature acoustic-driven sound with fervent lyrics that tug on heartstrings: "there's a sorrow in your soul that I recognize / I've been followed by the same ghost for all my life / darling I hate to see you cry like this / no matter how dark it gets / I'll take the graveyard shift." The single was co-written with Mags Duval (Nessa Barrett, Lyn Lapid, Eric Nam) and co-written/produced by Joe Janiak (Ellie Goulding, Tove Lo, Britney Spears).
Natalie Hamilton Releases New Single "Show You My Love"
Natalie Hamilton releases her new single "Show You My Love". The original song expresses the joys, anticipation, and also doubt of expressing love in a world where it is often shunned.
THE BACKSEAT LOVERS: WAITING TO SPILL OUT NOW!
Waiting to Spill is the follow-up to the group's acclaimed 2019 debut, When We Were Friends, which racked up over 200 million global streams and featured the top 20 Alternative hit "Kilby Girl." The Backseat Lovers will make their network television debut this Saturday, October 29th on CBS Mornings.
Jonah Kagen Announces EP & Shares New Single "graveyard shift"
On "graveyard shift," Jonah pairs his signature acoustic-driven sound with fervent lyrics that tug on heartstrings: "there's a sorrow in your soul that I recognize / I've been followed by the same ghost for all my life / darling I hate to see you cry like this / no matter how dark it gets / I'll take the graveyard shift." The single was co-written with Mags Duval (Nessa Barrett, Lyn Lapid, Eric Nam) and co-written/produced by Joe Janiak (Ellie Goulding, Tove Lo, Britney Spears).
Album Out Today // Mia Berg – "Sleepwalkers At Noon"
Today, talented singer-songwriter Mia Berg shares her debut album 'Sleepwalkers At Noon' with the world. The record is rich in emotive, relatable imagery told through her words and production that will make you feel all kinds of nostalgia. It's truly a record that can't be missed. The record is out via GEMS.