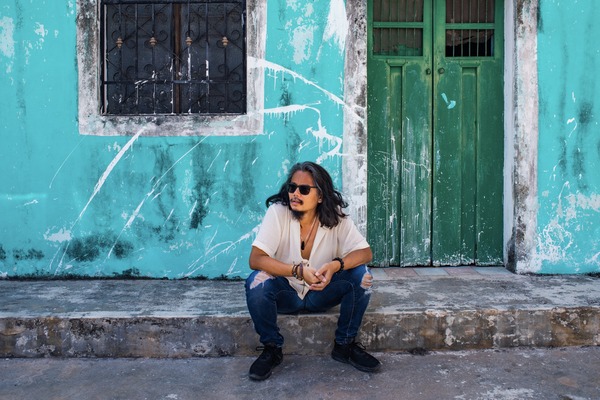 Where are we talking from today and are you excited for Halloween?
Hey there! I'm in Tulum in Mexico, in the Yucatan Peninsula. It's where I live part of the time. I'm between here and the UK. 
I don't celebrate Halloween, sorry to be a party-pooper there haha.
When did music become more than a hobby and what other bands/artists have inspired you?
Well, I guess music in a way has always been more than a hobby in that it's always been more of a vocation. You know, since a really young age. So even when I wasn't making any music for a while, it was always there in the back of my mind. But I see what you're asking, and I'd say I hadn't found the focus or way to take it to a professional level until just recently. Say a couple of years ago. Things just kind of came together then, artistically, as well in other ways like finding musicians and building a team.
In terms of bands and artists that inspire me, there really are so many! But the one artist who inspires me 360 degrees would have to be John Lennon. I always say this!
This song has a unique vibe, which combines old-school influences with a modern touch. What was the inspiration behind the lyrics?
I like that description! Well, there's quite a lot of the Lennon influence in this one. It was very deliberate actually. I wrote it in 2020 at the time that would have been his 80th birthday and there were a bunch of documentaries on tv to mark his 80th, which just really moved me and inspired the music.
But you're asking about the lyrics. So, the lyrics were inspired by all the explorations into consciousness, meditations etc etc that I do. And by my direct personal experience with that. The lyrics are really exploring a lot of deep but universal themes, packed together quite tightly. It was one of those songs that I didn't fully understand myself after I'd written it, until I unpacked it. Because in a way it's just a flow of consciousness, of everything that just needed to come out at the time. But I'd say the inspiration was born out of some deep enquiry. Something like that.
The acoustic guitar and the understated brushed drums are really amazing, and make the song sound super classy along with the piano. How did the idea of using these softer dynamics come about?
Ah thanks very much! Super classy, that's nice, I'll take that! Well, the acoustic guitars would be courtesy of Sasha Ostrovsky, and drums courtesy of Jordan Perlson, both musicians based in Nashville. I think the softer dynamics just evolved quite organically by following the original demo that I'd made. Jordan's drums lend largely to the overall tone of the song and is what drives it. Sasha's picking and lead acoustic guitar parts were just perfect for the song. And then I think the whole thing just came together with what each of the excellent musicians brought. I mean I knew what kind of overall tone I wanted for the song and the instrumentation I wanted, but there was a lot of room for the musicians to do their own thing, so it just evolved. And everyone just played something that fit the mood.
So, since I'm giving a shout out to the personnel, we have the excellent Grammy Award winning bass player and producer Mark Prentice on bass. He's also based in Nashville. The super talented Matt Bacon on electric guitar, based in India. His guitar lick forms the hook the for the song. There's the exquisite string arrangement by Jonas Petersen in L.A. Lovely backing vocals by Sunnie Williams, again based in Nashville. And then there's me on the piano, strummed acoustic and vocals.
If you could, just for fun, re-record this song as a duet with another artist, who would you pick and why?
That would be fun, haha! Ok, I'm going to say…… Jewel! Because I love her voice, I like her style, her songs, I like what she has to say. Yeah, I think we'd sound good doing harmonies on this, haha. You know, kind of like how Leonard Cohen and Jennifer Warnes sound on some of Cohen's recordings? Something like that, you know.
Is this song part of a larger project, such as an album or EP?
Absolutely! Yes it's part of an album called 'Ancient Ageless & True' which is coming out next year, 2023. There's some amazing musicians on there, again global, you know from all around the world. And some really nice songs and a couple instrumentals. So, I'll keep you posted. I'll be releasing some more singles first. The album's pretty much done now, it just needs mixing and mastering.
Do you have any plans to perform live or bring your music on tour?
Well, actually not at this very moment. But things are changing and evolving so quickly now, so who knows. If there's a demand for it, then yes! If I need to do something for tv or something like this, then there will be a need to get a band together. So let's see.
We live in a pretty unprecedented time for humanity, and it's hard to make sense of it all sometimes. Music can be a way to do that though. How does it work for you in terms of coping with reality through music? In other words, do you think music can help people make sense of life?
Yes, I do! Yeah definitely! I think music can put you in touch with who you are, you know like your core essence. When music moves you, it can put you back into your body so you experience who you are more fully, and are better positioned to make sense of life. A friend once told me that music is the only artform that has that kind of immediate effect on you. I would have to agree. 
And yes definitely unprecedented times. But there's a lot more to it than what meets the eye. I mean I think amongst all the chaos, something extraordinary is happening. Things are falling apart because old systems are not working anymore, and the truth is being revealed. You know, I'm not just talking about on the world stage, I'm talking about ourselves on an individual level as well. But I think we're going to ok, you know. And the music certainly helps to smooth that shit out!
Unlike the majority of artists in this genre, you have chosen to tune your instruments at 432Hz rather than the western standard of 440hz. Could you explain what makes this frequency so special?
Sure, put very simply it's the frequency that resonates and harmonises with the human body and how things naturally occur in the world. Like nature, I mean. There's a mathematical basis to all of this, to do with the Fibonacci sequence. So in practice, there's a greater coherence with the human body and just falls more comfortably on the body. I've checked this out by tuning recordings of well-known songs down to 432 and believe it to be true.
Was it challenging to find musicians that would be able or willing to embrace the 432Hz tuning for the sessions?
No not at all. They were all very open minded. I mean some didn't even ask and some were curious or had already some knowledge of the whole 432 thing, so no, there were no issues there at all. I mean, in practical terms it just meant tuning their guitar or whichever instrument down a fraction.
When you are not making music – what other things do you enjoy doing?
Well there's all the meditation and all that side of stuff. I love to travel and explore new parts of the world as well, and meet new people.
But on a day-to-day level, I mean I just like to do very ordinary things. I like to go out with friends, like to go have dinner, or watch something on tv. I love to cook. I love grocery shopping haha. You know, just ordinary boring stuff really.
What is coming up for Kwun and where can we follow, like, and stream you?
Well, my video for Supernatural is coming out! That comes out on Friday 28th October. As of speaking with you today, so far the video has received a nomination from the Hong Kong World Festival for Best Music Video. And has been selected as a quarter finalist in the New York International Film Awards also for Best Music Video. So, I'm really excited about these.
We have more singles and previews of album tracks coming out, there should be something this side of Christmas. And then of course the 'Ancient Ageless & True' album comes out next year.
I'll forward you a bunch of links!
It's been a pleasure, thanks so much for a very enjoyable interview.
Supernatural single: https://kwun.ffm.to/supernatural
Spotify profile: https://open.spotify.com/artist/31qw8VkSL1uJJ13xb7uGG2?si=A7-xrKmmTVKknnVj6HBpnA
Facebook: https://www.facebook.com/profile.php?id=100085883010152
Instagram: https://www.instagram.com/kwunmusic/
YouTube: https://www.youtube.com/c/KwunMusic
Website: https://kwunmusic.com