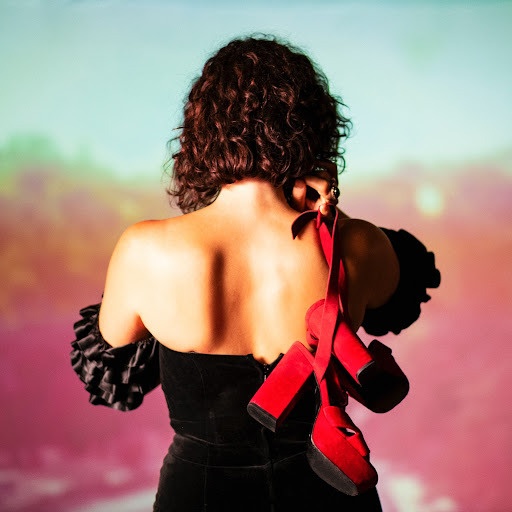 @skopemag news – friday – october 21, 2022 @ 10 am est
@skopemag HQ – http://smarturl.it/skope
ORBITAL — Join Forces With Sleaford Mods On: "Dirty Rat" || + New Album: 'Optical Delusion' Out 17 Feb
Legendary electronic music duo Orbital have collaborated with Sleaford Mods on their fabulous, furious joint single "Dirty Rat".
Orbital & Sleaford Mods "Dirty Rat", premiered last night on BBC Radio 6Music by Steve Lamacq, is the first track to be lifted from Orbital's new album Optical Delusion, set for release on February 17, 2023 and available to pre-order now.
Fate's Got a Driver Drops Lyric Video for "The Rose of May"
Post-hardcore band Fate's Got A Driver digs deep into the lyrics of their latest single, "The Rose of May," with their latest video. The song explores the evolution of how they view themselves in today's world. "'The Rose of May' is based on the Greek tragedy of Narcissus," says bass player Adam Evans. "It's about the deterioration of self-image in the Information Age." Lead singer, Randolph Schulz, solidifies this in the song as he belts out, "Feel so far away, there in my reflection, I am the rose of May." Watch the video on the band's YouTube channel.
BONES: Toilet Ov Hell Premieres Title Track To Vomit Album From Chicago Death Metal Trio With Current/Ex-Members Of Usurper, High Spirits, Contrition; Record Out Next Week On Disorder Recordings
As Chicago's "sons of sleaze" BONES prepare to release their gnarled fourth album, Vomit, through Disorder Recordings next week, today, Toilet Ov Hell is hosting an exclusive premiere of its gruesome title track.
DWLLRS RELEASE NEW SINGLE "DIVIDENDS"
As Joey and Bren confess, "There's a whole concept that we are imperfect as people, but I still have the capability to love and cherish someone," "Dividends" is a tribute to that love and the growth, or dividends, that only come from facing our internal flaws as well as the inculpable hardships we all face as humans. Sonically, the record transcends the lyrics themselves with moments of stripped back raw acoustics and vocals that are then followed by delicately detailed production that personifies the growth/resolve that comes as a byproduct of tackling life's lessons.
HIT-BOY TAPS CURREN$Y FOR NEW "TONY FONTANA III" MUSIC VIDEO
CARRION VAEL: Decibel Premieres New Video For "Kentucky Fried Strangulation"
As they gear up to hit the road, Melodic death metal band CARRION VAEL is kicking off their US tour with a a new video for "Kentucky Fried Strangulation", premiered via Decibel Magazine.
Video Premiere: Carrion Vael Kill it with "Kentucky Fried Strangulation"
BLACK SPACE RIDERS Stream Entirety of 'We Have Been Here Before'
The band comments "We have put our whole new album on The Obelisk as a stream for free listening. This gives friends, fans and espacially new listeners the chance to get acquainted with the album before investing their hard earned money in buying the vinyl or CD version. We hope many listeners will do just that, because what could be better than listening to a vinyl album or CD on the stereo at home, holding the cover in your hand and looking at it, reading the lyrics? We are very happy and satisfied with the new album and hope we can take many listeners with us on this journey."
Review & Full Album Premiere: Black Space Riders, We Have Been Here Before
Bad Colours Release Second Single "You Don't Know" Off Upcoming Album "Always With U"
Bad Colours is back with his sophomore album, "Always With U," out on Bastard Jazz Recordings in November 2022. The London-born, Maryland-raised, Brooklyn-based DJ, songwriter, producer, and multi-instrumentalist – aka Ibe Soliman – continues to build on the well-deserved acclaim from his 2021 debut LP, "PINK," as well as a slew of standalone singles and collaborations with the likes of Shabazz Palaces, Jarv Dee, and Stas THEE Boss.
CHRIS BROWN DROPS THE VISUAL FOR "UNDER THE INFLUENCE"
Smino Releases New Single "Matinee"
SPIN — House & HipHop Producer Bad Colours' "You Don't Know" download included
Bad Colours is back with his sophomore album, "Always With U," out on Bastard Jazz Recordings in November 2022. The London-born, Maryland-raised, Brooklyn-based DJ, songwriter, producer, and multi-instrumentalist – aka Ibe Soliman – continues to build on the well-deserved acclaim from his 2021 debut LP, "PINK," as well as a slew of standalone singles and collaborations with the likes of Shabazz Palaces, Jarv Dee, and Stas THEE Boss.
Call of Duty: Modern Warfare II collaboration with Latin Music Superstars Banda MS
Throughout the years, Call of Duty has partnered with a lot of incredible musicians to launch video games. From Eminem and Metallica to Jack White and Trent Reznor, Call of Duty has brought some of the greatest acts that the US has to offer.
This year with the launch of Call of Duty: Modern Warfare II, Activision has brought its music to a global scale with the announcement of a partnership with Latin American Superstars Banda MS. International superstars of Banda/Corrido music, Banda MS will be premiering a new single "141" which will be featured extensively in Modern Warfare II. The single and its accompanying video will be premiered Thursday, October 20 and will be showcased live in concert in Miami on launch day, Friday, October 28.
BLACK CROSS HOTEL: Decibel Magazine Premieres The Thing-Inspired New Single From Punk/Industrial/Horror Metal Unit Featuring Members Of Stabbing Westward, The Atlas Moth, Minsk, And More
BLACK CROSS HOTEL, the punk/industrial/horror metal unit featuring members of Stabbing Westward, The Atlas Moth, Minsk, and more, today unveils their latest single, "Windows." Now playing courtesy of Decibel Magazine, the track comes by way of the band's debut full-length, Hex, set for release November 11th.
Iam Nothe Captures a "Grand Design," Out Today
Released today, the video for Iam Nothe's "The Grand Design" captures the legacy of enduring love and commitment. The Greek artist compiles a personal and intimate portrait beneath his emotive rock sound.
"My parents got married in 1976 in Athens. 46 years later, the 8mm film with their wedding party finally gets a score. Kiki and Michel as they were, drawing their "Grand Design.""
ALICIA KEYS ANNOUNCES NEW ALBUM SANTA BABY
15-time GRAMMY® Award-winning artist and globally-celebrated music superstar Alicia Keys announces Santa Baby, her first-ever holiday album which will be released on November 4 exclusively on Apple Music in spatial audio.
The 11-track album will feature Keys' soulful, raw, fresh reimagining of seven beloved holiday classics as well as four original songs written by Keys. The album was recorded this summer while Alicia was on her sold-out European tour. The album's first single "December Back 2 June" will be released October 28.
The modern rock trio, Female President, premiere "Elegy To My Father" music video
An energized modern rock trio inspired by the early roots of rock n roll; Female President uses heartfelt grit and simplistic riffs to create a sound all their own. A family of musicians whose individual styles build dynamics and groove to a fever pitch.
The trio has just release the music video of "Elegy To My Father". The track is part of the band's new album "Our Year To Grieve", released in september on all streaming platforms.
MAL Launch Full Album Stream for "Malbum"
Hailing from Minneapolis, MAL is a 4-piece band that blends noise rock, metal, and prog to produce a wholly unique sound. Formed in late 2019, the power trio plus sax used the time during the pandemic to hone their sound and finish material for their debut, Malbum. Mixing traces of Sleepy Time Gorilla Museum, Bruford era King Crimson, Kenny G's holiday albums, Cardiacs, and intensely painful friendship, the band created "an angular pop album that hopefully, no one will like."
LOSER announce EP 'Stadium Dreams on a Bedroom Budget', release first single 'Heaven Can Wait'
Continuing a stellar rise that has seen the band support Bugs, British India, PUP and Violent Soho across the country, LOSER are back with high-energy new single 'Heaven Can Wait' and innovative details for new EP 'Stadium Dreams On A Bedroom Budget'.
Truly disruptive, LOSER flips the traditional EP release model on its head. They are set to release this EP as a long-form trickle series of songs across the remainder of this year and into the next with the first single 'Heaven Can Wait' out October 21st.
ALICE JAYNE
London based dark pop singer/songwriter Alice Jayne leads her vision from having overcome so much trauma and life experience that her songwriting and powerful heartfelt vocals say "Through pain and turmoil we are constantly bouncing back"
She is here to show people that freedom is your birthright and that "there is always light within the dark"
She is the 2022 one to watch.
THE RUDEBOYZ RELEASE "OJALÁ" WITH MALUMA & ADAM LEVINE
D STURDY SHARES NEW SINGLE "WALK EM LIKE A DOG" FT. ROCKY
Today, fast-rising Philadelphia rapper and artist D Sturdy of The Philly Goats shares his lively new single "Walk Em Like A Dog" featuring fellow Philly rapper Rocky, out now via Stack or Starve Records. The collaborative new single reimagines the viral 2020 song "Act Up" by DayDay and finds both MCs delivering swift bars as they emulate the track's kinetic and upbeat club production. Arriving alongside the single is a cinematic visual that brings to life the energetic track and depicts D Sturdy and Rocky stylishly tag-teaming a bank heist while they represent their hometown.
Colombian extreme metal act AIRE COMO PLOMO stream new video "Erase The One"
SSGKOBE KEEPS HIS HEAD ABOVE THE "WAVE" IN NEW SINGLE
Produced by ZayTekken and Two, "WAVE" is the follow up effort to Kobe's previously released single "Luv U back", "ESCAPE YOUR LOVE" featuring Trippie Redd and his 'RELAPSED' EP. Fans can follow SSGKobe on socials to stay updated on new releases coming from the teen phenom. Don't forget to check him out on the 'Barely Legal' Tour alongside VA's teen titian yvngxchris making stops tonight in Virginia Beach at Elevation27.
JEREMIH PROCLAIMS "CHANGES" WITH NEW SINGLE + VIDEO VIA DEF JAM
Aluna & MK drop official video for 'Kiss It Better'
BLUE VIOLET – Release New EP Today: 'Love, Hate & Forgiveness' – Listen Now
The EP directly follows their 2022 debut album and features two acoustic reworkings of 'Late Night Calls' classics, plus two brand new offerings including the new single "Favourite Jeans" and "Love, Hate and Forgiveness".
Global Superstar Meghan Trainor Releases Fourth Full-Length Album, 'Takin' It Back,' Via Epic Records
About the album, Meghan said, "I tried to do the doo wop feel I had at the beginning of my career, but the 2022 version of it. This is from the new Meghan who is a wife and mom with a baby. This is from me right now. I decided to give the people what they want, but with my spices added to it. I wanted to make my Title 2.0."
Nile Rodgers-Approved Pop Artist Willow Kayne Shares "Mr. Universe" ft. General Levy Music Video
In just 18 months, London based vocalist and visual artist Willow Kayne has enjoyed a prodigious ascent to the pinnacle of pop music's more daring corners. Her postmodern approach to songwriting was rewarded in 2021 with Willow receiving the Ivor Novello Rising Star award, setting her on a path to achieve greatness early in her career. Her riotously received debut EP "Playground Antics" was the catalyst for an explosion of rave reviews, while with live shows and online previews, she has shared a glimpse of the soundtrack to her ever-expanding sonic world. With recent singles "Final Notice" and 'White City', Willow shared more propulsive and surreal facets of her arsenal, while "Rat Race" allowed Willow to delve deep into introspection in her own unique way. After releasing the track and performing it at a sold-out show at London's XOYO last month, today Willow Kayne unveils the feel-good visuals for "Mr. Universe" ft. General Levy.