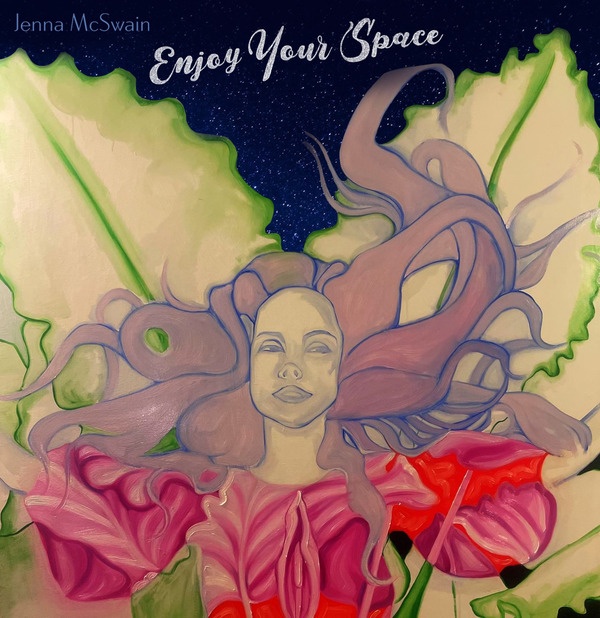 Jenna McSwain is dubbed "the hippest Disney princess" by her fan base, but she would rather be depicted as a fairy godmother guiding listeners to indulge in some joyous tunes. Jenna McSwain combines her southern roots and jazz background with heavy elements of folk and soul and what you get is a magnificent sound. Jenna's latest release is titled 'Enjoy Your Space' and this new EP will blow you away with its uplifting material. Prepare to be inspired by Jenna McSwain and always remember to 'Enjoy Your Space'.
Jenna McSwain has a way of capturing your imagination and attention right away by way of her polished voice and creative spirit. The audience will be enthralled with Jenna's sweet-sounding vocals and musical abilities on 'Enjoy Your Space'. Each song on this new EP has its own, distinct quality as Jenna McSwain gives a masterful performance and sings her way into your hearts.
The first song that hits my ears is called "Spin (Circles)" and showcases Jenna McSwain as a premier vocalist and musician with a superb arrangement in place. Jenna displays a pitch-perfect tone on "Spin (Circles)" and the listener receives a sound that is both inviting and catchy. Next, I hear a pleasant vibe and pleasing melody on the title track "Enjoy Your Space". I would refer to this song as a fun-filled production that will lift your spirits and brighten your day. "Enjoy Your Space" is the perfect title for this composition because the listener will enjoy every note and lyric within the open space. Musical sparks are flying on the following number, "The Spark", where the air is buzzing with pure joy & excitement. Jenna McSwain is genuine to the core and displays musical precision on "The Spark" that will light up your ears. Enjoy some good, old-fashioned heart & soul on "The Spark" and celebrate this joyous occasion. Jenna McSwain goes out with a light 'n' airy finish on "Float" that is delicate to the touch. With everflowing emotion and an overabundance of heartfelt notes, "Float" glides through your space with ease.
'Enjoy Your Space' is co-produced by Jenna McSwain and two-time Grammy nominee Jamison Ross. The record features Isaac Eady of Tedeschi Trucks Band on drums, social media influencer Joshua Starkman on guitar and Berkley the Artist on background vocals to name a few. In collaboration with Worklight Pictures, Jenna will also release a full visual album of five music videos – one for each song on the EP. Be sure to SKOPE out the official music video for "Enjoy Your Space" right here: https://youtu.be/VzZGjJpx7tU. Jenna McSwain truly nailed it ALL levels here with this new release, so go out and "Enjoy Your Space" and embrace it!
https://www.facebook.com/musicianjennamcswain
https://www.instagram.com/jennamcswainsta
https://www.youtube.com/jennamcswain
By Jimmy Rae