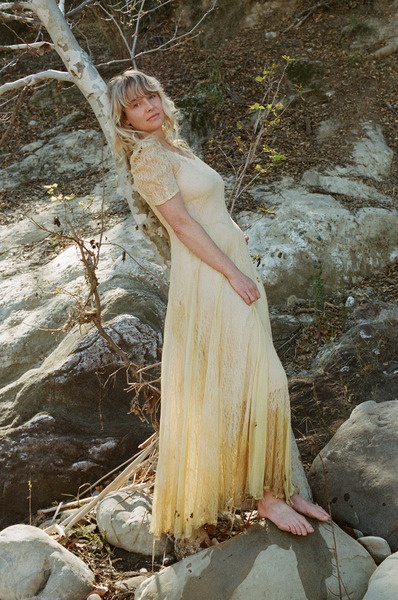 @skopemag news – thursday – october 20, 2022 @ 4 pm est
@skopemag HQ – http://smarturl.it/skope
Sweden's Alice Boman Shares Serene "Soon" From New Album Out Tomorrow (PIAS)
Sweden's Alice Boman today released the sparkling, serene "Soon," a final preview of her second album The Space Between, out tomorrow, October 21st via [PIAS]. Its dreamy video, filmed by Tom Millbourn Malmros on a trip to Los Angeles, matches the track's tranquil atmosphere. Boman explains: "This is one of the first songs that I wrote for this album and it's also my favorite one. It's about not keeping things inside, because eventually you will explode. I think we all need some kind of output or someone to talk to — somewhere to channel our thoughts or feelings. I remember clearly where and when it came to me and I still love that first voice memo of it.
Top New Artist // SOMOH (New Out Now)
Get acquainted with exciting newcomer SOMOH (Pronounced Soe-Mow") who today releases your latest new indie-alternative obsession, "Anything." Much like her upcoming tracks on her debut EP "A Plan To Get Home" out next year, this track is a profoundly emotional, well-crafted song that explores her relatable feelings of love, friendship, family, and hardship. "Anything" is available everywhere online via Tiny Library Records.
Michael Rudolph Cummings: "Cellar Times" video now available
US folk rock artist MICHAEL RUDOLPH CUMMINGS presents a fourth excerpt taken from his new solo album "You Know How I Get", to be released this Friday 21st October on Ripple Music. Watch "Cellar Times" exclusively via Shindig! Magazine.
Says Michael Rudolph Cummings about this new track: "Cellar Times came from its namesake, the cellar. Sometimes things should stay in there, sometimes they need to see the light of day. I still have a hard time figuring out which ones are which…" The video was directed and produced by longtime collaborators 51DEEP, consisting of Chris Johnson & John Keefer.
WIND ROSE Releases Brand New Lyric Video for "The Breed of Durin", Out Today!
Dream-pop group Tallies share "Special" (ft Michael Peter Olsen) / EU dates with RIDE
The Toronto-based band, Tallies are today sharing a new version of their recent single, "Special" featuring Michael Peter Olsen on cello. It's a new version of the track that was released initially as part of their second album, Patina which is out now via Kanine Records (US), Hand Drawn Dracula (Canada) and Bella Union (UK/EU). The recent album release found support at Stereogum, Paste, Clash, Under the Radar, Exclaim, CBC Radio, Brooklyn Vegan and more. The band is set to hit the road this fall in the UK and Europe ticking off a string of shows including a stop at Rolling Stone Beach with Black Country New Road, RIDE and Teenage Fanclub.
Jace Allen Shares Official Video For Title Track "Taking Sides" Out Now
Deströyer 666 Shares New Single, "Andraste"
Black thrash outlaws DESTRÖYER 666 will be releasing its sixth studio album, 'Never Surrender,' on December 2 via Season of Mist! The band is now sharing a vicious new single, "Andraste," which can be heard at THIS LOCATION.
IMHA TARIKAT release new lyric video from forthcoming album
IMHA TARIKAT let it rip with their new lyric video clip 'Streams of Power – Canavar', which is also the second single taken from the harsh forthcoming album "Hearts Unchained – At War with a Passionless World". The new full-length from the German black metal outfit around mastermind Kerem Yilmaz aka Ruhsuz Cellât has been slated for release on December 2.
LOVELY MACHINE Release Official Music Video for "Heroin"! FFO: Papa Roach, Bring Me The Horizon, Linkin Park
carpetgarden Releases "da da song" Single/Video – 'WTF is even going on?' EP Out 11/18
Of the song, carpetgarden says: "This song is a really gay love song for my partner :) I reference a lot of the little moments of my life that became more important once I had someone to share them with. My favorite part of the song is when it goes super distorted and almost overwhelmingly loud, just because falling in love can be overwhelming."
IAN ABEL BAND Reveals Tantalizing New, Official Music Video for Multilayered, New Rock Single, "Eyes On You"!
Theory Of A Deadman Releases New Single "Dinosaur"
"'Dinosaur' takes us back to our roots with this riff-driven rocker," shares Connolly. "To me, it feels like it could fit on any of our albums, but I will say if you like the old Theory Of A Deadman, you'll love the new Theory Of A Deadman."
Tender alt hip hop visuals from Ess_West
Jace Allen shares official video for track "Taking Sides" benefiting New Story
MONALEO DROPS "BODY BAG" + JOINS FLO MILLI ON TOUR
This is a big week for Houston-born rising star Monaleo as it's the kickoff to Flo Milli's Girls Just Wanna Have Fun tour and today she shares her brand new single "Body Bag". Serving as a message to any perceived competition, the video takes place at "Monaleo's Meat Market" where she sends a merciless warning and forecasts her staying power as she raps "it's a marathon, not a race."
BABYMETAL RELEASE FIRST SINGLE FROM FORTHCOMING CONCEPT ALBUM
Japanese metal band BABYMETAL have released the first single, "Divine Attack – Shingeki -"from their forthcoming concept album THE OTHER ONE, out March 23rd, 2023. The song which arrives with an official visualizer is now available on their official YouTube channel.
GOMORRA Share Brand New Video for "Stand United" (feat. Laura Guldemond of BURNING WITCHES)!
BODYSNATCHER: MetalSucks Debuts "Value Through Suffering" Video; US Tour Supporting Hatebreed To Commence Next Week!
Florida deathcore outfit BODYSNATCHER today unleashes their video for "Value Through Suffering." Now playing at MetalSucks, the crushing hymn comes by way of the band's Bleed-Abide full-length, released earlier this year via MNRK Heavy.
NATHAN ARCHIE RELEASES STUNNING DEBUT OFFERING, 'HURT ME ENOUGH' // WATCH HERE
MEGADETH RELEASES A NEW CHAPTER FROM THEIR EPIC SHORT FILM FEATURING THE TRACK "LIFE IN HELL"
The rapid-fire onslaught of MEGADETH's "Life in Hell" is one of the heavy-hitting thrash songs on the best-selling album The Sick, The Dying…And The Dead! This quintessential MEGADETH track showcases the band's tight musical precision and songwriting prowess – co-written by Dave Mustaine and drummer Dirk Verbeuren, and enhanced with Kiko Loureiro's stylistic six-string flourishes, "Life in Hell" features seamless tempo and time signature shifts as MEGADETH continues to set the bar for modern and classic metal alike.
LOLO ZOUAÏ SHARES NEW VIDEO + PLAYGIRL ALBUM OUT NOW
Roslyn Witter Spreads Love on "Chasing Fireflies"
Witter's truth lies in a naturally intuitive voice and a phrasing that zigs when you expect it to zag and a lyrical prowess that expresses natural emotions and opinions. "Chasing Fireflies" elicits joy and encourages introspection. Inspired by a hike with her husband, it's about spreading love and enjoying the little things in life with your partner.
Saint John Rockers SONIC DETOUR Thunders Through The Earth In "Uncivilized"
Big Moochie Grape Reveals His Credo in "Get Money Catch Bodies" Video
OUT NOW: Tony Mantor's "Why Not Me" for Autism Awareness
Watch: Protoje "The Charm"
80s Glam Act STARCRAZY To Release New EP 'Another Day, Another Squalor…'
BLACK MATH HORSEMAN: Self-Titled EP Now Streaming In Its Entirety; Stunning Four-Track Comeback Offering To See Release This Friday Via Profound Lore
In 2009, BLACK MATH HORSEMAN released their debut album, Wyllt. The band's music was unlike almost everything that existed at the time. It was hypnotic, heavy, sonic alchemy that seemed to emanate from another time, another place. The members — vocalist/bassist Sera Timms, guitarists Ian Barry and Bryan Tulao, and drummer Sasha Popovic — had somehow tapped into heavy music's collective subconscious. A European tour, along with appearances at Roadburn and Primavera Sound, solidified BLACK MATH HORSEMAN's reputation as a mesmerizing live band. Then, just a few years later, they were gone.
Skope: Lissie "Night Moves" Morgan Page Throwback Mix
On September 16, Midwestern tour de force Lissie released her Americana-tinged indie folk album Carving Canyons via Lionboy Records, receiving acclaim spanning Forbes, MTV, No Depression, FLOOD, Under The Radar, Americana Highways, and more. Today, she shares the electrifying "Night Moves" (Morgan Page Throwback Mix).
You Me At Six Release Announce New Album 'Truth Decay' Out January 27
Dalton Cyr Offers a Passionate, Melancholic Take on Breakups with New Video "Happy"
Singer-songwriter Dalton Cyr has released a music video for his latest single, "Happy," a powerful track highlighting the remorseful feeling of moving on. Cyr brings to light the difficulties of finding peace after a lost relationship, especially when the one you love seems to be doing just fine without you. "Happy" is full of raw emotions and sensibility within a broken heart.