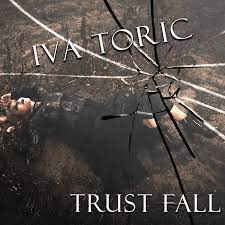 When it comes to making an ambitious songcraft sound relatively streamlined and accessible to any listener, you could say that up-and-coming recording artist Iva Toric has a leg up on most of her competition. Her latest single, "Trust Fall," doesn't pull punches when it comes to aesthetical hybridity. Rather than leaning on a hook for all of the harmonic action here, Toric is getting knee-deep in melodicism from the jump, and exerting a lot of energy getting to the climax of this song without ever sounding winded or disconnected with the adrenaline of the instrumentation.
The swing is hard – exceptionally hard if you're not anticipating the punch of this well-mastered mix – but it's entirely necessary to drive home the enthusiasm this girl is putting into every one of these verses. She's got a lot of charisma that is impossible to soften or water down in any capacity in "Trust Fall," and whether we're watching the lyric video in which she stars or just listening to the track on its own, there's no walking away from this piece without having some respect for what (and how) its grunge-influenced creator has been developing lately.  
There's a lot of ambition behind this groove, but I think that if there wasn't quite as much oomph in the percussion, we wouldn't be getting as much drive out of Toric, either. She seems motivated by the pressurized place her vocal has in the mix, as though she's more productive when the tension is coming down on her in an arrangement as opposed to leading the pack at the front of the stage – perfectly alright in my opinion, so long as her melodic wit doesn't change at all in her future recordings.
https://open.spotify.com/track/7yLx6v3Tg4yzaVMTBqm0b0?autoplay=true
Rookie releases aren't what tends to set the pace for the entire first half of a career in this medium as much as more versed works like this one can be, but it's more than a little clear to me that Iva Toric isn't breaking off more than she can chew for this performance of "Trust Fall" at all. Instead, she's letting lofty dreams lend their vision to the structure of this track, utilizing a thoughtful mixing style and showing us that experimentation is not going to be off the table for her future at all.
https://www.instagram.com/ivatoric/
"Trust Fall" is a fun song and one that I think just about anyone who loves hard swing and a sexy lead vocal should pick up this October, but it's also one of the best rock listens I've had the pleasure of reviewing in the past month. There's a lot of promise in Iva Toric, and as long as she steers clear of indulgences that her peers are addicted to in the studio and pursues an experimental path with the skills she's working with at the moment, I think she's going to see a lot of success in the years to come. This is, after all, a seller's market for the qualified hard rock musician in 2022, and Toric has all the qualifications a discriminating listener like me is looking for right now. 
Gwen Waggoner