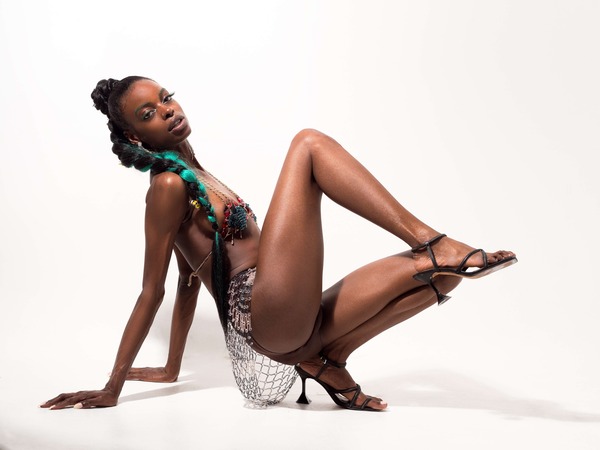 @skopemag news – wednesday – october 19, 2022 @ 12 pm est
@skopemag HQ – http://smarturl.it/skope
Youth in a Roman Field Shares New Single "Albatross" | Read More in Glide, MXDWN, Luna Collective, BPM & Folk N Rock
Introducing your new favorite surrealist folk outfit: Youth in a Roman Field. The project was spearheaded by multi-instrumentalist, artist, writer, and activist Claire Wellin, known for being a full-time member of the Brooklyn-based indie rock powerhouse San Fermin and her time touring with Delta Rae and Once The Musical. Youth In a Roman Field showcases Wellin's knack for writing inventive, dynamic melodies and string arrangements that tell a story. In her latest offering, we find a woman sifting through family trauma and anger, struggling for intimacy in a digitized age, frustrated with the state of American life on a wider scale too. Musically, Youth In a Roman Field feels like if Anais Mitchell collaborated with Andrew Bird. Insightful, razor-sharp, and wildly inventive, the project channels heartbreak and rage through a hopeful lens. It feels disarmingly genuine.
mxdwn PREMIERE: Youth In A Roman Field Releases Empowering New Single "Albatross" From Upcoming New Album Get Caught Trying for Nov 2022 Release
Glen Hansard releases single for Ukranian Action | Collaborates with Marketa Irglova, and with Ukranian refugees, on new song "Take Heart"
Rossi López presenta su nuevo tema "Soy Rumbera"
La cantante panameña Rossi López acaba de lanzar al mercado su mas reciente sencillo que lleva por nombre "Soy Rumbera", con una introducción a ritmo de los tambores que despiertan los pies de los bailadores.
"Soy Rumbera" es una composición de la productora y locutora radial Irma Verónica Mejía, mejor conocida como DJ Irmita quien en la actualidad reside en Reino Unido y es una incansable difusora de la música latina.
EMERYLD RELEASES "SCANDAL" FROM HER UPCOMING EP ON NEON GOLD RECORDS
Today, Emeryld reveals the second track "Scandal", plus the music video, from her upcoming EP, which will be released on Neon Gold Records. She is the newest signing on the record label that brought you Charli XCX, HAIM, MARINA, Christine and the Queens, Matt Maeson etc.
SOHODOLLS release video for divorce anthem 'Letter To My Ex (Thank You, Goodbye)'
NYC's Breanna Barbara shares new single 'Weaning' | New album 'Nothin' But Time' out 11th November via Fuzz Club – a raw and immersive trip through the sounds of psychedelic rock and blues
NYC's Breanna Barbara shares new single 'Weaning', following recent cuts 'Diamond Light' and 'Landslide', the track is the third to be lifted from the incoming album Nothin' But Time out 11th November on Fuzz Club. Barbara's second full-length is a raw and immersive trip through the sounds of psychedelic rock and blues, anchored by her powerful vocals and unforgettable songwriting.
YellowStraps drops slick new single 'notice'
Dwen Announce Debut EP 'Leoht Farn' Released 27th January 2023
London-based experimental lofi-folk-R&B trio Dwen are pleased to announce that they will release their debut EP, Leoht Farn, on 27th January 2023.
To celebrate the news, the band have released a trippy visualizer for lead single 'A Ghost In The Weed Garden' which is released on 19th October 2022, and sees raw, laid-bare vocals with nothing to hide behind, tape-warped guitars, and detuned plucked piano meander over a stripped-back, deep, fuggy rhythm section, weaving between the intimate warm atmospherics of the verses and an enraptured, hooky chorus.
UK R&B Artist Charli Fletcher Shares New Single "Pow Wow"
Charli Fletcher is a singer and songwriter from London, UK, who explores different topics in her music. This ranges from body empowerment, protecting the planet, staying strong during trials and tribulations, love, sensuality and bossing up. Her stance on body empowerment can be heard on her brand-new single, "Pow Wow".
A song that represents feeling comfortable and confident in your own body, it stands out on first listen. Infused with a hypnotic hook, mesmerising vocals and feelgood lyrics, it's hard not to be completely captivated and drawn in when listening. The track is taken from Charli's newly released debut EP, Dreaming Reality, and is accompanied by an equally impressive body-empowering music video directed by Charli and Anton Califano.
Glen Hansard Shares Emotional Song "Take Heart" Feat. Marketa Irglova + Ukrainian Refugees
While out on the road this February, Glen Hansard saw a post online of Patti Smith performing in Brooklyn and was moved when she said: "People, take heart. Things will get better, and if they don't – we'll make them better! … We call for the transformation of waste: our government is full of it; politics is full of it. Transformation of waste, it's the oldest preoccupation of man. People, tonight we're coming out gold."
Old Fire Shares New Single "Window Without A World" ft. Julia Holter, From Collaborative Album 'Voids' Out 11/4 (Western Vinyl)
Old Fire–the recording project of Abilene, TX-based composer and producer John Mark Lapham–today shared "Window Without A World" ft. Julia Holter, the third and final advance single from his sophomore album, Voids. A largely collaborative album due out November 4th, 2022 (Western Vinyl), Voids features vocalists Holter, Bill Callahan, Adam Torres, and Emily Cross, as well as a myriad of musicians. The icy, glistening, and ambient "Window Without A World" ft. Julia Holter is the album's most unconventional collaboration, yet also exemplifies Lapham's way of building songs out of pieces of others across Voids.
Ghanaian Wondergirl Moliy Drops Highly-Anticipated Full Project Honey Doom
Rising sensation, Ghanaian-American songstress Moliy, today released her highly-anticipated full EP Honey Doom, October 19th. The eight-track project is the follow-up to her mini-EP "Mahogany St," and the first full release since 2020's Wondergirl skyrocketed the artist to virality, via her hit track "Sad Girlz Luv Money", featuring Amaarae and Kali Uchis, which has amassed nearly 250 million streams to date. Honey Doom features some of Moliy's most vulnerable, raw storytelling to date, and tracks her personal development as a young woman unpacking love and relationships; alongside her own experimental journey with her sound, which remains otherworldly, airy and optimistic, while expanding to include more of her influences globally.
Plasma Canvas Return With "Blistered World" Single/Video On SideOneDummy
Coloradan punks Plasma Canvas today return with their new single "Blistered World" and announce the upcoming album DUSK (due February 2023 via SideOneDummy). The track reintroduces the group in scorching fashion from the get-go with singer/guitarist Adrienne Rae Ash's vocals raging high over a wall of crunching power chords and snare. It's the unrelenting visceral energy that has won the band a legion of devoted fans since their self-titled debut arrived in 2016.
Old Fire shares new single ft. Julia Holter – "Window Without A World" | New collaborative album "Voids" (ft. Bill Callahan, Adam Torres, Emily Cross + more) out 4th Nov via Western Vinyl
Breanna Barbara shares new single:"Weaning" – New album, Nothin' But Time, is out November 11th on Fuzz Club Records
NYC's Breanna Barbara is today releasing her latest single and video, 'Weaning'. Following recent cuts 'Diamond Light' and 'Landslide', the single is the third to be lifted from the incoming 'Nothin' But Time' LP out November 11th on Fuzz Club. Barbara's second full-length is a raw and immersive trip through the sounds of psychedelic rock and blues, anchored by her powerful vocals and unforgettable songwriting. Out today, 'Weaning' is the album's soaring and cathartic closing track, a spine-tingling number ruminating on the need to wean ourselves off certain relationships and past versions of ourselves.
New York Indie-Pop Newcomers Me + Nobody Share Visuals For Infectious New Single 'SoHo'
Out Today: Knifeplay's 'Animal Drowning'
Knifeplay's sophomore full-length, and first ever studio album Animal Drowning is a sprawling landscape of shoegaze and lofty slowcore. The album finds the band in a blend of folk instruments, walls of distortion, orchestral strings and delicate vocals, all carefully organized by Philadelphia engineer/producer Jeff Zeigler, known for his work with Nothing, Kurt Vile, and more.
RÖYKSOPP SHARE "FEEL IT" FROM 'PROFOUND MYSTERIES III'
"Profound Mysteries is – among many things – an esoteric tribute to some of the genres and time periods that has forged Röyksopp." the band states. "'Feel It' is (specifically) a nod to the danceable, eclectic blend of musical styles, which originated on the Ibiza club scene in the mid 80s and early 90s, commonly referred to as Balearic beats. The track itself is a house-influenced Italo-dub, blending genres in a 'if it works, it works' aesthetic. An approach that's always been very dear to us."
KELELA DEBUTS NEW SINGLE "HAPPY ENDING" & ACCOMPANYING MUSIC VIDEO
Following a re-emergence in September, Kelela returns with the club-ready new single, "Happy Ending." Produced by LSDXOXO with additional production from Bambii, the song draws inspiration from the rapture of a club crush and the release after a sexy buildup of tension. The single is accompanied by an Alima Lee and Kelela co-directed video that snapshots black rave culture in New York City.
Multi-instrumentalist/producer Kainalu shares title track + lyric video from forthcoming 'Ginseng Hourglass' LP
Irish Breakout Hip-Hop/ R&B Artist Matt Ó Releases Debut EP 'MESSER'
Heist or Hit synth-pop revellers Tungz announce debut album
Psych-pop quartet Tungz have returned with their next single, buttery 70s-inspired track '80,000', releasing via Heist or Hit alongside a premiering video. Alongside the new single, the 4-piece have announced a debut album 'A Good Dream' for release 17th February 2023, also on Heist or Hit.
Dan & The Gummy Hunters release "Team Work", new album has ten songs of pure nostalgic 90's Punk Rock
Dan & The Gummy hunters is a Punk rock project heavily influenced by the California early 90's. The band released their first album "Memory lane" in December 2021. In their brief journey the band participated in two lives for international festivals. The Pirate Signal fest from Chile and Bandemic 3 from Australia. Both streamed word wide. In addition to having their songs played on FM/Web radios in Brazil, the United Kingdom, Germany and the United States.
Memphis punks HEELS to release sophomore album, Pop Songs for a Dying Planet, on October 22 via Altercation Records
Memphis, Tennessee duo HEELS, comprised of singer/guitarist Brennan Whalen and singer/drummer Josh McLane, have been a fan favorite punk outfit since the summer of 2015. Known for their on-stage banter as much as their raucous live performances, HEELS drift between blistering working-class rave-ups, fist-pumping scream-alongs, and even introspective guitar-driven indie songcraft, often catching audiences off-guard.
M. Byrd drops new single "Flood" & signs with Nettwerk Music Group
Germany based indie rock artist M. Byrdhas signed to Nettwerk Music Group, and recently he celebrated the news with his new single "Flood" with an accompanying music video. M. Byrd writes songs for these moments in life where you feel like you're the main character in your own movie.
KALAN.FRFR SHARES "LIGHT BREEZE" VIDEO
Today, LA native and Roc Nation rapper Kalan.FrFr shares the visual to "Light Breeze" directed by BenMarc. The video depicts the perfect day on the West Coast – showing Palm trees from an aerial view, flexing in velour tracksuits, and driving luxury cars. The track gives off a vibe in a city where summertime never ends. Prior to this, Kalan previewed a live version of "Light Breeze" with an impressive UPROXX Sessions performance. This is the focus single from his 222 album which gained praise from Rap Radar, The Source, XXL, HotNewHipHop, and more, Kalan has stayed busy all summer having been named BET's Amplified Artist of September, performing Made in America, and hosting his fourth annual TwoFr Day community giveback where he donated $20,000 to the Compton Unified School District.
Lastlings Return With New Single 'Get What You Want' via RÜFÜS DU SOL's Rose Avenue Records
The first new release since the duo's critically acclaimed album First Contact, Amy and Josh return with the dark-pop sounds that have drawn audiences from around the world to their emotive soundscapes. Produced by Lastlings with some help from UK dance heavyweight Alex Metric (Dua Lipa, Diplo, Foals), the track showcases their use of delicate piano chords, ethereal vocals, and soft synths, with a danceable and robust bassline. 'Get What You Want' shows the duo maturing in their sound, living in the sweet spot between live and electronic as they've always done so effortlessly. Lyrically, the track shows how they've both grown as individuals, experiencing love and heartbreak in the past year and bringing to life those emotions and memories of the past year in the track.