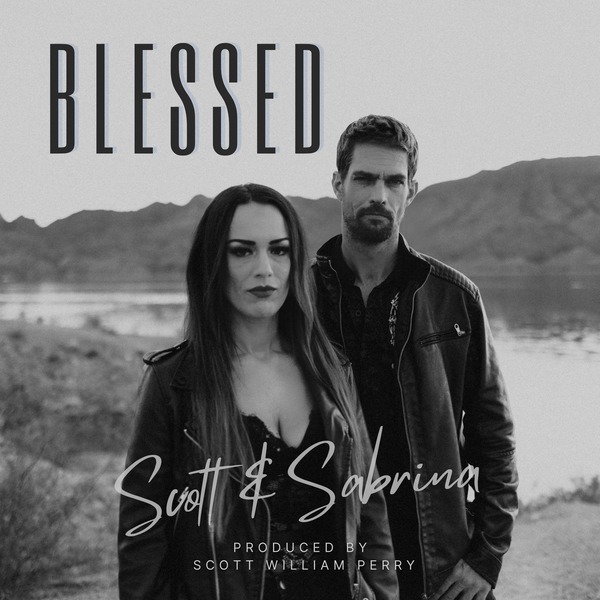 Prepare to be Blessed by a dynamic duo with a whole lot of heart and some immense talent. Scott and Sabrina's songs are filled with powerful insights, incredible passion, and a dash of southern soul. Although just beginning their musical journey, the couple seems poised for stardom with a clear purpose in mind. Originally based out of Southern Oregon, Scott and Sabrina are a modern-country duo with elements of rock and pop sprinkled throughout their music, creating a unique sound as brilliant as they are. Their newest release Blessed is a 6-song EP packed with exceptional flair and authentic understanding. Grateful for what they have and excited for where they are going, Scott and Sabrina offer a contemporary spin to a classic style with a message beholden to each other and the world around them.
Of all the tracks, "Runaway" really brings the heat. Incredible harmonization's and a steady rock beat give this song an energized kick, but the true allure of this track comes from the dueling vocals, which change with each verse. With a message of escape, it is not one of fear but of a new beginning. Finding a new life, in a new part of this big and beautiful world, is a concept all too familiar to Scott and Sabrina who recently relocated to Lake Havasu City, Arizona just before the release of Blessed. With equal parts of both Scott and Sabrina, "Runaway" shows the incredible talent that each possesses, while complementing the other's form and flow in a way only lovers can.
For a bit more of a touching piece, one that will tug at those heartstrings just right, check out the closing track "Home". An ode to his lover, Scott eloquently plays with the term "home is where the heart is" by expressing that his love is where he finds his greatest comfort. Produced in a traditional country-western style, with a subtle twang to his voice and an easiness in the acoustic melody, "Home" offers a fresh take to a classic design. With a little taste of their Southern Oregon roots, "Home" is a soft ballad worthy of a slow dance, a soothing experience to round out this EP.
The title track "Blessed" really offers the best of both worlds though, with an intimate, piano-driven verse carried by Sabrina's angelic vocals, followed by a bustling chorus flooded with hard hitting drums and explosive electric guitars. A song about acknowledging all the good in one's life, even the lessons learned during hardships, "Blessed" details a failed relationship and how it changed the artist's perception of love. Although sometimes difficult to let go of, these relationships craft our understanding of what love is and what we expected love to be. Instead of holding onto the animosity for a wicked lover, Sabrina sees her lost romance as a guide for the future, as she sings "I'm blessed that I met you when I did, because now I know what love really is". The track escalates in both tone and intensity as it progresses, symbolic of the empowering message that becomes more pronounced as time passes.
Blessed is hopefully just a glimpse of what Scott and Sabrina have to offer. With the opportunity to expand on their sound as well as their audience, the possibility for these two seems boundless. Only time will tell if they choose to venture further with their art, but for the moment, I'm sure their audience will be more than elated over this one. Blessed will be available on Apple Music, October 21st.
Reviewed by: Dylan Borsos