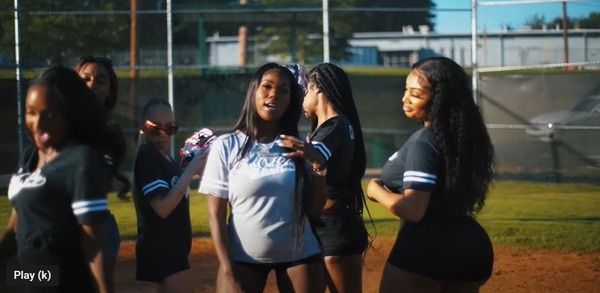 @skopemag news – monday – october 17, 2022 @ 5 pm est
@skopemag HQ – http://smarturl.it/skope
Bahrain Metal Band RYTH Release Debut Single
The album was mixed by Hani Taqi at Studio 77 Bahrain and mastered by legendary mastering engineer Alan Douches. The album cover was designed by Lucas Ruggieri!
"This album means everything to us because it represents years of hard work and overcoming the challenges of being an extreme metal band in the Middle East."
'White Portrait' the debut single is out now on all streaming platforms. The lyric video for the single is on the band's YouTube page. The single was released on Sunday, the 16th of October.
Vera Jonas shares visually striking music video
Airstrike: Polish Heavy Metallers to unleash debut album "Power in Your Hand" in November
Polish heavy metal act Airstrike is poised to unleash its debut album on November 18th 2022! Titled "Power in Your Hand", the new release features 11 tracks of classic heavy thrash tunes that tackle subjects on society, war, politics and pseudo-psychological concepts.
The band recently dropped their first single accompanied by a music video for the track "Prey". Check it out here:
New Zealand folk-pop artist Bryony Matthews shares new single 'Thinking Of You'
Continuing the same warm and sparkling folk-pop direction she has cultivated for herself, 'Thinking Of You' makes for a wonderfully rich and captivating listen. With her sweet and lofty voice layered amongst a sweeping electronic production, she has looked to broaden her sound and aesthetic with this kaleidoscopic new gem.
TANZOS returns with new indie-anthem 'Good Intentions
EDGE OF HAZE Announce New Album The Convoy Of Ruin
Finnish Progressive metal band EDGE OF HAZE are pleased to announce that they will release their new album The Convoy of Ruin on November 1st, 2022. The album tells a story about humanity's journey towards destruction by violence, exploitation and global warming and will be released exclusively on Bandcamp.
XG's HINATA releases vocal performance video covering Korean R&B singer, SOLE!
James Yorkston, Nina Persson and The Second Hand Orchestra team up for 'The Great White Sea Eagle'
The record didn't start life as a follow up; in early 2021, Yorkston began visiting his studio in Cellardyke, Fife and for the first time, starting writing songs on the piano as opposed to his usual guitar as he gazed upon the sea outside his window.
BLACK LAVA Unleashes Music Video for New Song, "Northern Dawn"
FAZERDAZE — Releases Powerful New EP: 'Break!' || + Listen To New Track: "Thick of the Honey"
New Zealand singer/producer/multi-instrumentalist Amelia Murray, the artist behind FAZERDAZE has released her first project in over five years – the powerful and cathartic EP 'Break!' – out now via section1.
Rhino Celebrates Hip Hop History Month With Puff Daddy, Busta Rhymes, E-40, & Mase Classic Albums On Limited Edition Vinyl On November 4
Rhino will celebrate National Hip Hop History Month in November with limited-edition, color-vinyl versions of classic albums by four of the genre's most successful and influential artists. National Hip Hop History Month was created last year when Congress passed Resolution 331, a bill praising hip-hop as an original American creation and recognizing its lasting contributions to art and culture around the world.
Pearla Shares New Single "The Place With No Weather" Off Debut LP 'Oh Glistening Onion, The Nighttime Is Coming,' Out 2/10/23 (Spacebomb)
"The Place With No Weather" follows previous singles "Effort," "Ming the Clam," and "About Hunger, About Love," which have earned praise from Consequence (Top Songs of the Week), Brooklyn Vegan, Under the Radar, Monster Children, Northern Transmissions, and Atwood Magazine ("Pearla's songs have a way of instantly grabbing at the heart, melancholic and delicate but with rushes of emotion"), among others.
Dark Folk Duo NYTT LAND Reveals Western-Inspired Version of "Song of U-Gra" & Official Music Video
Wesley Shares "Not Sure That Was Me" Single + Video via Under the Radar | 'Glows in the Dark' LP Out 11/11 via Earth Libraries
Louisville, KY singer-songwriter Wesley (the alias of Jacob Weaver) recently announced a brand new LP entitled Glows in the Dark (due November 11 via Earth Libraries).
SANTAFERIA ANNOUNCES NEW SINGLE "YO JURÉ CUIDARTE"
After the release of "Que Te Vaya Bien" featuring Zumbale Primo last month, Santaferia returns with a brand-new song dedicated to love and the people who are always there by our side. "'Yo Juré Cuidarte' (Spanish for I swore to look after you) is a song that deals with the protection of that which is most appreciated in an adverse world. We like to think that this song can be interpreted in many ways, just like love may also mean different things to people ", says the lead vocalist of the band, El Pollo.
Brooklyn's Katy Rea releases "Happiness" RIYL: Marissa Nadler, Wednesday, Richard Swift
"When I was writing 'Happiness' I was looking for a kind home within myself. I was one of these people who gave tender guidance to friends but couldn't follow my own advice. I had the idea that living as a songwriter was inherently chaotic, a constant battle with sadness, and mysterious rendezvous. I realized this mindset was built on fear and false heroes; you can only read so much Rimbaud before thinking maybe there's a healthier way. I realized finding self respect had to do with taking actions that really reflected my values. I began to reroute, to organize, and finally made a plan to record. Getting the songs out of my room was the thing that saved me. Making The Urge that Saves You gave me personal agency and a peace that I had never known. It taught me that my fear of not being good enough really didn't matter; I'd survive it through doing, through making, through collaborating and slowly the fear would quiet to almost nothing. When I listen to 'Happiness' I can hear her digging out of an old and cruel system of belief. 'If you could know war may be coming from the inside, if you could know love may be hollowed out before her, before him.' This song is about taking responsibility. And In a way it was a kind of premonition, the message came before I knew what I needed to be happy but now it is very clear." -Katy Rea
SEA OF SNAKES Release "End Of The Sun" Video
Tearing Up Shares "Monarch" Video via EARMILK | 'Billy Is Dead' EP Out Now via All DSPs, More New Music Coming Soon
Brava Kilo & Annie Sumi Release "Chattels" Today About Racial Identity To Heal Ancestral Trauma
The experimental track combines spoken word over playful beats, melodies, and rhythms, juxtaposing the weight of the lyrical content, which lists items from the collection of Kilo and Sumi's lost family heirlooms which were auctioned.
AVANDRA Releases Video For "In Memoriam"
Prog metal band AVANDRA have released a video for their track "In Memoriam". The song is from their upcoming album Prodigal which will be released November 18th, 2022,via Layered Reality Productions and contains footage from their recent performance at Progpower Europe 2022.
The band comments ""This song deals with the concepts of loss, trauma, dealing with guilt and the searching of mnemonic representations of past loved ones whose face one is eager to recall."
hurt season Shares "worship" Single via EARMILK | New Single Out Now via All DSPs, More New Music Coming Soon
Previously known as HRT SZN, hurt season has returned with a new era kicked off with recent singles "darkstar" and "datreesh." In anticipation of a forthcoming project, today, he shares his newest single, "worship."
CAROLINE POLACHEK SHARES NEW SINGLE + VIDEO "SUNSET"
After quietly previewing her new song at shows and festivals around the world over the past year, today Caroline Polachek steps boldly back into the spotlight with the release of the Sega Bodega & Caroline produced track "Sunset" and the sun-soaked accompanying visual. Diversifying her sonic palette even further, Polachek's voice elegantly dances in and around Balearic beats, hand claps and fast, warm guitar strums; an unwavering ode to fearless love and youthful rebellion. Directed by Matt Copson & Caroline Polachek and shot on location in Barcelona, the official video showcases the incomparably stylish Polachek pacing through New Wave inspired scenes of beach and city life crescendoing into sunset. The track premiered earlier today on BBC 6 Music with Mary Anne Hobbs – listen & watch here. Caroline will tour the UK and Europe in February 2023 including her biggest London headline show to date at the O2 Academy Brixton on Valentine's day.
SAM SMITH ANNOUNCES NEW ALBUM, GLORIA, SET FOR JANUARY 27, 2023 RELEASE ON CAPITOL RECORDS
Multi-Platinum, GRAMMY®, BRIT, Golden Globe and Oscar winning artist/songwriter Sam Smith will release Gloria, their fourth studio album, on January 27, 2023 via Capitol Records. Made with longtime collaborators Jimmy Napes, Stargate and Max Martin stablemate ILYA, Gloria is not only a creative revelation but something of a personal revolution for the celebrated artist. Lyrically, the subjects dive deep and wide, into contemporary narratives around sex, lies, passion, self-expression and imperfection.
Alternative metal/post-hardcore project, Balmain, release new single "Reach the Unreachable
Born in Sydney, Australia and raised in Canada, alternative metal/post-hardcore/post-grunge project Balmain has announced the release of their new single, "Reach The Unreachable". The track is now available on all streaming platforms. With a post hardcore and modern metal, heavy and with good melodies, the song can be heard in the following link:
Keiara – "Out The Park"