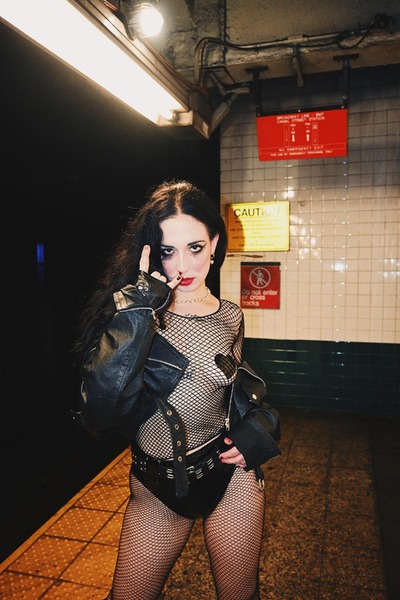 @skopemag news – thursday – october 13, 2022 @ 8 pm est
@skopemag HQ – http://smarturl.it/skope
Portland Rapper sadeyes Flexes In New Single "dropout"
Portland creative sadeyes has had a busy year- after the release of his debut album and two EP's to follow, the prolific artist still has more music on the horizon. Today, he shares a suave new single titled "dropout" that finds him venturing from lo-fi into cloud-rap with a menacing track featuring a loop of twinkly keys infused into a trap beat. Stroking his own ego with boastful rhymes, he lyrically flexes on his haters and anyone else who's doubted him, creating the perfect song to vibe to during your next blunt rotation.
HOAXED SHARE "THE KNOWING" MUSIC VIDEO
Hayden returns with new single via Arts & Crafts (ffo The National, Feist)
Hayden, the long-heralded king of downcast Canadian indie-folk, is today sharing his new single "East Coast" – out via Arts & Crafts. The legendary singer-songwriter's first new music since 2015's Hey Love, "East Coast" is a forlorn ballad of spare, cyclical piano mixed with Hayden's strained tenor reaching for the Atlantic horizon, grasping for something that was once there. Written, produced, and mixed by Hayden, the emotion of the song immediately rises to the surface, as he sings in his familiar gravely register: Oh I need you now/ Like I needed you then/ Like I'll need you till the end/ But I can't recall/ This feeling at all.
White Lies Release New Single "Breakdown Days" From Upcoming Bonus Edition of Recent Album, 'As I Try Not To Fall Apart'
White Lies have today shared a new track, "Breakdown Days". Previously unreleased, it features on the forthcoming bonus edition of their current album, As I Try Not To Fall Apart, which will be released digitally on [PIAS] on October 21. The album was originally released in February of this year.
Sizzy Rocket is sharing her "Bubblegum"
ARLISTON – Release "Hold My Wine" Video || Taken from 'Even In The Shade' EP (out 4 Nov)
Theo Tams Unveils 'Trilogy IV' EP
Theo Tams has released Trilogy IV, the latest EP in his series of energetic and boundary pushing new collections of pop and rnb laced jams. Trilogy IV includes "Hit and Run," which blends a hard pop edge with disco influences to reflect on the aftermath of a previous relationship.
Indie/art rockers, Late Sea, share new anti-war protest single + video, "Cover Up" out now
MEDIA ALERT: HAMMERHEDD Premiere "Tunnel" Music Video via Metal Injection
Speaking with Injection about the influence on their latest single, the Ismert brothers share: "We wrote this song about a year ago while listening to The Police nonstop. There's Stewart Copeland-influenced drums, a few Andy Summers-type chord shapes, and a Sting-style bass riff in the midsection. Aside from that, we (as usual) took heavy influence from Tool, Meshuggah, Mastodon, etc. – the gods of the newer generation of metal, as well as the classics; Rush, Zeppelin, Floyd, etc. We like to think we put these influences together in a way that sounds new, fresh, and uniquely HAMMERHEDD."
Rising R&B phenomenon Alex Vaughn release debut project The Hurtbook
Echosmith Releases Music Video For Single "Gelato"
Equal parts playful and pensive, the track glides along at a sweetly unhurried tempo and reaches a wild crescendo at the bridge, featuring a fantastically warped guitar solo and fuzzed-out vocal sample of Echosmith musing over their favorite gelato flavors.
Vicki Lovelee Blends Theatrical, Orchestral Sounds in New Alt-Pop Single "Guilty"
OCT 13TH rising pop artist VIBI shares glittery single "Nights Like This"
From that session, she ended up writing "Nights Like This" in about 30 minutes and sent a bounce to her drummer, Daniel Nicoletti. When he sent back the groove with more drums and bass, they knew they had something special. It's crazy to think that this song almost didn't happen – sometimes good things come from canceled plans!
Inspired by indigenous culture Makunaybah drops new lyric video of "Break The Chains"
In order to purge the demons, bringing to light all the revolt that surround us, exposing the naked truth, the band Makunaybah appears. Founded in November 2021, in Curitiba/Brazil, the band brings an aggressive sound that flows from Groove/Thrash, with hints of modern Metal, influenced by the culture and history of our people, the Brazilian roots.
"Easy" – Burn The Louvre (NEW Single!)
Burn The Louvre just released their 9th single from their debut LP Silhouettes. The duo has been releasing this LP one song per month since January. This 9th single is a dark, moody track called "Easy" which was inspired by the demise of lead singer/guitarist Jordan Speare's on-again/off-again relationship with his college sweetheart.
Gemma Laurence Shares Short Film for "Watchdog" via Wonderland | Named "Tour de Force" by Cool Hunting
poolblood shares new single + video w/ Shamir
Out Now: FIXT ENGLISH (Solo Project of Jeff Sahyoun from letlive.) Shares Debut Single, "Lost It"
MATOMA RETURNS WITH NEW SINGLE "THE POWER"
Norwegian cross-genre record producer and DJ Matoma, known for global hits like "All Night" with British pop band The Vamps, "I Don't Dance" with Spanish singing icon Enrique Iglesias, and his RIAA Platinum-certified breakout hit, Matoma & The Notorious B.I.G's "Old Thing Back (feat. Ja Rule)," is releasing his new high energy single. "The Power" represents a return to Matoma's club-inspired roots and is available now on all DSPs and streaming services out now.
Aphasia Release Powerful New Single "Afterlife"
Gaidaa Shines on Upbeat New Single "Figures"
Co-produced by West Coast hitmaker Hollywood Cole (Queen Naija, Latto, Lil Wayne) alongside Overture collaborator and Antwerp-based producer/composer/pianist Lorenzo Kobina, "Figures" marks Gaidaa's first release of 2022 and features her immaculately smooth, soulful vocals that stretch from laidback verses into a falsetto-driven infectious hook illuminating the scope of her scorching signature style.
Anthony D'Amato Reflects on Justice and Accountability With "Kinda Strange"
"I wrote this after the police killing of an unarmed Black man during a traffic stop," D'Amato says. "The fact that that information doesn't really narrow things down is precisely the point. America is a country that seems to have fully resigned itself to watching the same preventable tragedies happen over and over again. Even though the names and the locations might be different, nothing really seems to change, and I think it's worth all of us looking in the mirror and asking why that is. 'Don't you think it's kinda strange how nothing seems to change around here?"
Brit Award Winning Artist TOM WALKER Shares Viral "The Best Is Yet To Come" Single
Since its upload last Thursday, the video of the full song has had over 3 million views, 20,000 tags & 26,000 shares. Last week Tom posted the pre-save & it now has over 4,500 pre-saves on Spotify & Apple Music.
LOCRIAN Release Video For "Mortichnia" At Invisible Oranges
Experimental band LOCRIAN have teamed up with Invisible Oranges to stream a haunting video for their song "Mortichnia" at Invisible Oranges. The song is from their album New Catastrophism which came out via Profound Lore in August.
Track Submission from Belgian Act Mauger
New Music // Mike Derrick – "Keighley Heights"
RISING FLORIDA RAPPER GMK DROPS NEW SINGLE "FREE KSOO"

Ominous piano and the ethereal chanting of a children's choir set the stage for GMK, JayDaYoungan, and Backstreet TK to go hard on a series of verses about longtime friend and collaborator Florida rapper Ksoo. Ksoo is currently incarcerated and awaiting trial on two separate charges of first-degree murder. His lyrics and social media presence are being unjustly used against him in both cases. Family and friends of the recently deceased, featured artist JayDaYoungan, appear in the Free Ksoo music video.