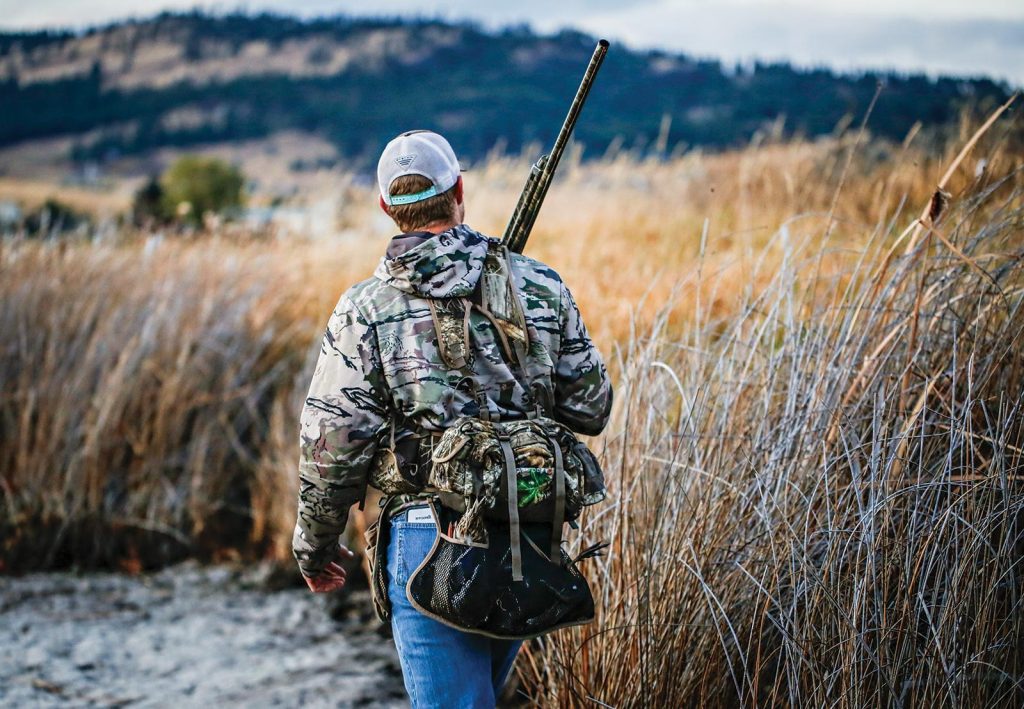 Picking a gift for the hunter in your life can be overwhelming, especially if you're an outsider. A typical set of hunting gear may number a hundred items, so how do you know what item they need the most? And how to choose the best hunting gear? 
You're lucky to land on this page because we're going to ease your agony of choosing by providing you with comprehensive tips and the best gift ideas. So read on to learn how to shop for hunting supplies and what items are of the highest value.
Tips for Choosing Gifts for Hunters
To buy something your hunter will actually use, you need to become observant and attentive and maybe ask a couple of cautious questions to gain more information about his or her current needs. Here's what you should do.
Check the equipment and clothing your hunter already owns.

In some cases, buying a better version of something already in possession rather than something they don't have makes more sense. It's simply more reliable because you never know if it's their conscious decision not to own a particular gear or a hiccup you may eliminate.
So, have a close look at their gear. You may find something broken, worn out, or outdated. For example, binoculars may miss features that dramatically improve the experience, such as fog-proofing, while hunting boots may have defects that weaken their performance.
Listen to the stories.

Hunting is always an adventure, and every adventure is an emotional event. No wonder hunters want to relive memories and share their emotions in the form of stories. Your task is to be open and listen closely.
If your hunter tells you how hard their feet sweat in their new boots, they may appreciate a pair of wool socks known for their excellent moisture-wicking quality. If they blame their noisy equipment for scaring off their prey, you may consider buying a jacket-and-pant combo made with a "quiet" fabric. Just don't shut your hunter, and your guesswork will be over.
Learn more about the hunting style of your hunter.

If you want to buy an item your hunter has never owned, you need information about their hunting method and the prey they target. Does your hunter hunt with a bow or firearm? Are they spot-and-stalk or hunt from a treestand/blind? Waterfowl or big game? 
So, for example, a treestand archery deer hunter will appreciate a gear hanger or a scent killer, while the best gifts for a duck hunter are decoys and duck calls.
Consider the location and the hunting season.

If you've decided to go with hunting apparel or footwear, you need to collect information on the terrains your hunter prefers and the season. For example, a late-season treestand deer hunter needs winter hunting boots with >400 grams of insulation to keep them warm for several hours of standing in one place. A spring turkey hunter needs lightweight hunting camo with prevailing green and brown colors, a mask, and thin gloves for maximum concealability because birds have perfect sight.

Prioritize comfort and performance.

In simple terms, shop for gear that will actually boost performance and keep your hunter comfortable, dry, and warm. Don't fall for things that simply look good. Do your research – read customer reviews and watch a couple of videos to see how gear performs in the field.
Now, let's move on to the best hunting gifts for men and women alike.
Best Gift Ideas for Hunters
Binoculars
Binoculars are a perfect gift for a hunter who has everything. The optics industry never stops developing, and every year the companies come up with new models that boast upgraded features. One of the major stumbling blocks for the industry is how to achieve a wider field of view with higher magnification. As it's known, the higher the magnification, the narrower is FOV, and a narrower FOV means it's harder to locate an animal and hold the binoculars still for longer periods.
Unlike bird watchers and hikers, hunters often require the best of the two worlds – powerful magnification for game identification and a wide field of view for more comfortable observation.
Also, pay attention to light transmission – this parameter is very important because most hunters hunt in low-light conditions, typically at dawn, when wildlife is the most active. All other factors held equal, binoculars with a higher number after X, x42mm and x50mm, transmit more light than x32mm binoculars because the former have wider objective lenses.
Consider additional features such as water- and fog-proofing. Ergonomics should not be missed out as well. Look at the Swarovski NL Pure, renowned for its revolutionary ergonomic shape for relaxed viewing. We understand that Swarovski premium binos may be way above your budget, so consider also 10×42 hunting binoculars from Vortex, Zeiss, Bushnell, and Leupold. Don't forget to get a bino harness.
Hunting Backpack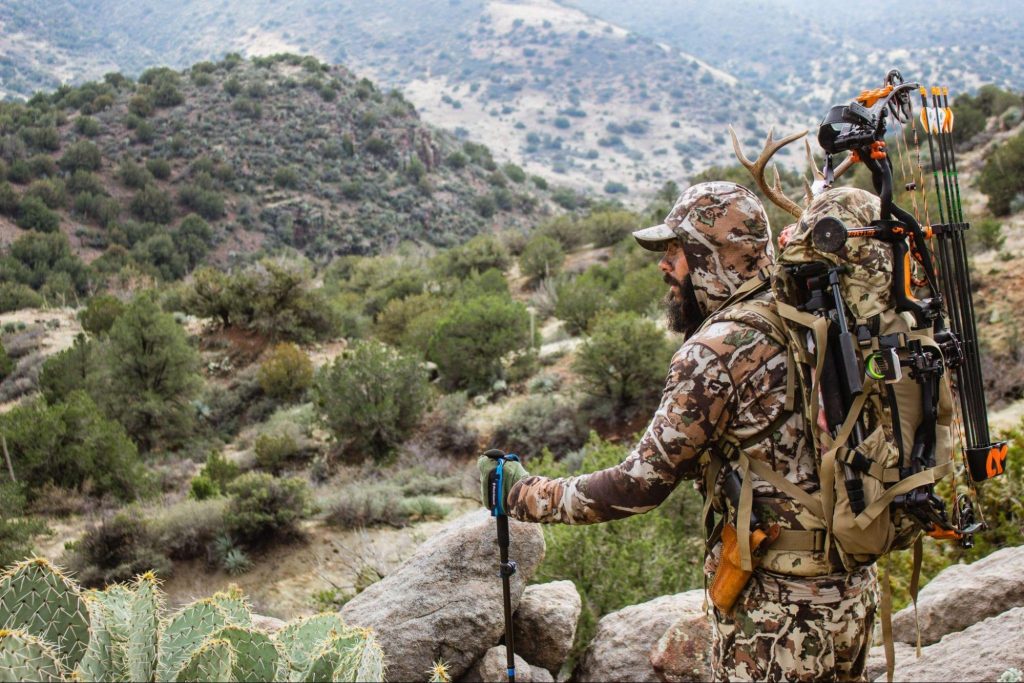 It's not camo patterns that make a hunting backpack but rather a high capacity and convenient attachment systems. At this point, you might have made sure that hunting may require dozens of items, and most of them must be at a hunter's disposal in the field.
Let's take spot-and-stalk and mountain hunting. These are the most demanding styles since hunters need to roam open or rocky terrains for quite some time before they stumble across their prey. Exercising these methods without a proper backpack system would be very exhausting.
So, if a hunting backpack is the best gift for your hunter in your thinking, look for those with plenty of capacity, easily accessible compartments, and functional attachment systems. Let's take the Mountain Top 2200 backpack from King's Camo. It's probably one of the best gifts for deer hunters since it has 2200 cubic inches of storage space, a stowaway canvas pack shelf for carrying antlers or deer quarters, and a drop-out bow and rifle attachment system.
Waterproof Boots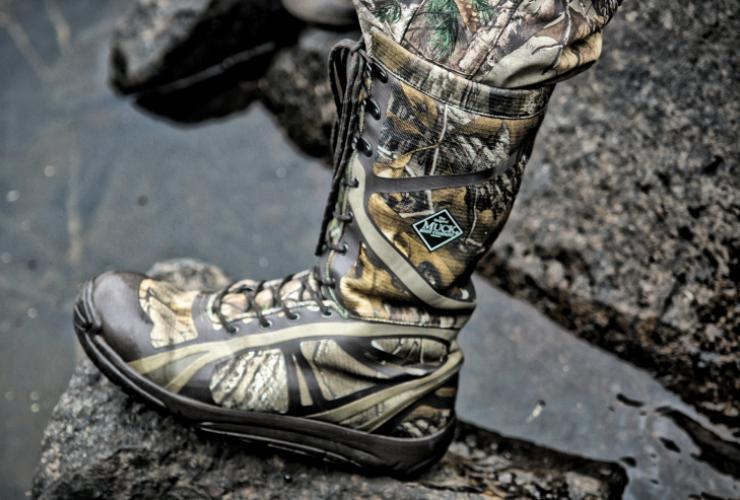 Fresh waterproof boots may be the best hunter's gift since damp conditions accompany every hunter from time to time. Unlike stiff rubber boots that don't wrap snugly around the feet, today's waterproof performance footwear provides superior protection AND comfort. Let's take Muck Boot footwear, for instance. The boots feature a bootie made from neoprene, a material used for building diving suits, and rubber overlays for protection. Besides traditional tall boots, the company also makes waterproof sneakers.
Completely waterproof hunting boots or sneakers are very specialized, so they probably won't be used much, unless your hunter harvests waterfowl – in this case, these are must-haves. Nevertheless, they will make a great addition to the hunting footwear collection.
Rangefinder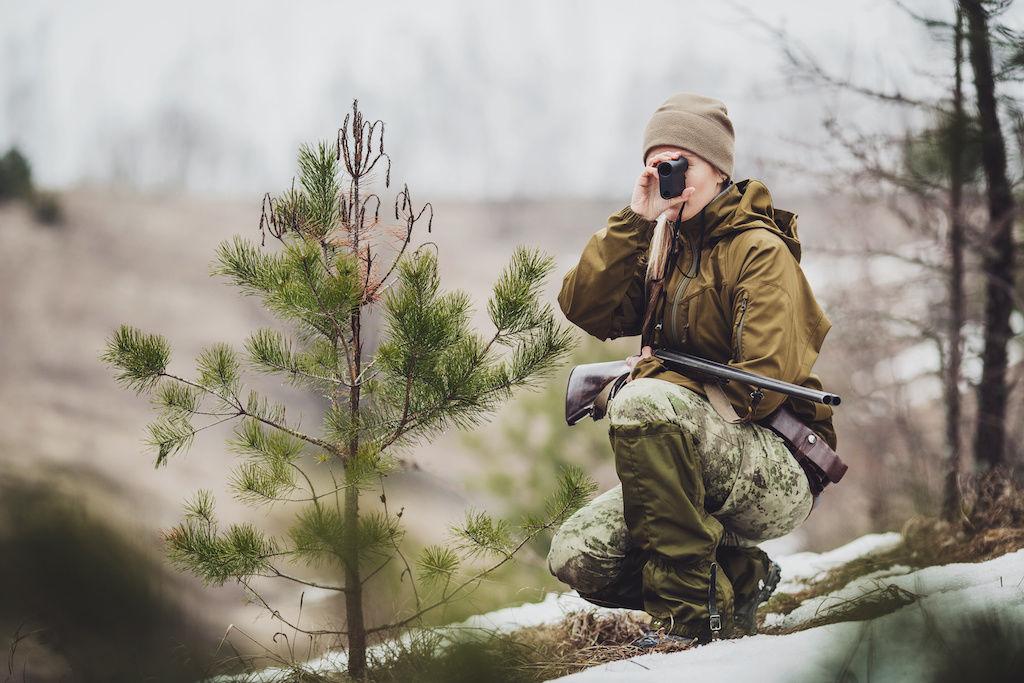 If the hunter in your life isn't skilled enough to consistently hit the target, an angle compensating rangefinder will be a great gift. Rangefinders are simple devices that measure the range to the target, while the angle-compensating feature accounts for elevations and calculates the true horizontal distance – the one the gravity will act over.
A hunting rangefinder is a must-have for mountain and treestand hunters. The best rangefinders have both rifle and bow modes. The premium ones often come with a ballistics app.
Game Call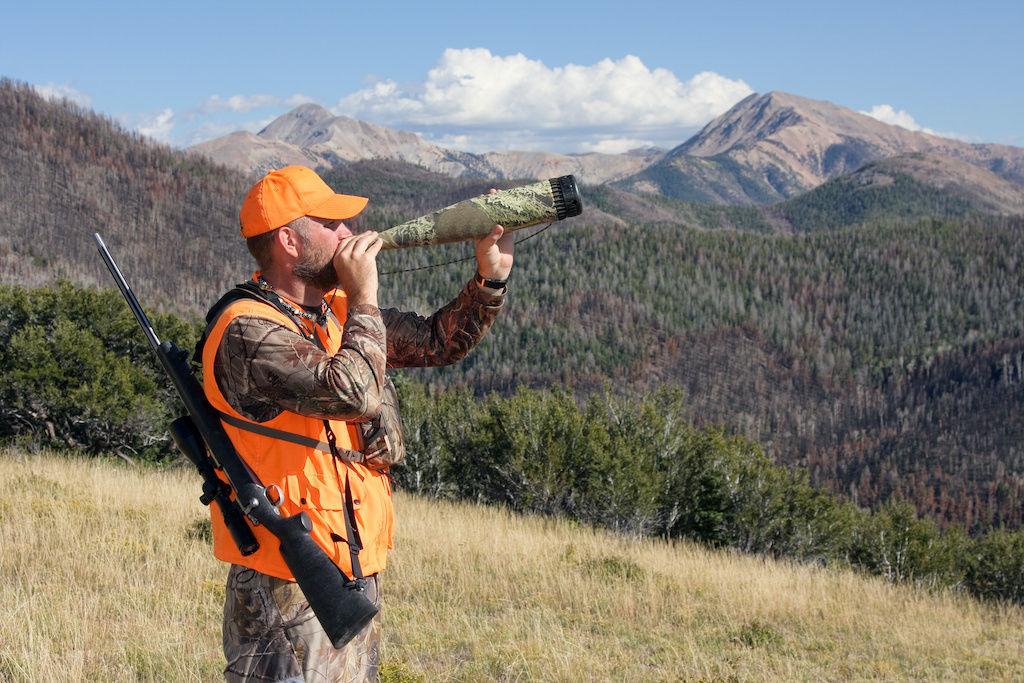 Game calls are essential hunting tools that allow mimicking animals' sounds to lure them to the killing distance. For bird hunters, calling is a core of hunting tactics since game birds are gregarious and instinctively join other communities once they feel it's safe there. Deer calls are central instruments in ambush and treestand deer hunting. Predator hunters often use calls that produce sounds of wounded prey.
Basically, all game calls fall under one of the two categories – electronic and non-electronic (friction, mouth, and hand-held). Non-electronic calls can be hard to operate, but they allow for producing unique sounds and generally are fun to use. The benefits of an e-call are that it can be distanced from a hunter, requires zero skills to operate, and allows for quick switching between sounds. Predator hunters often have both.