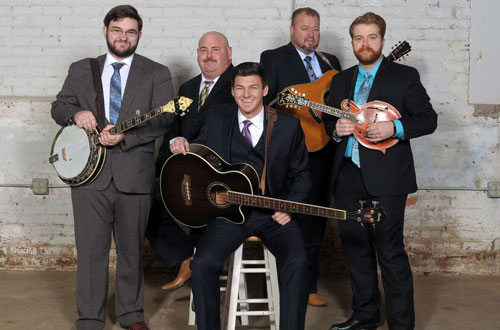 King James Boys are a prodigiously talented gospel quintet that originally began life limited to their own church family. They had no intention of traveling to sing and play the music they loved. However, the King James Boys, led by the tandem of lead vocalist/guitarist Randy Spencer along with bassist and backing singer Cole Spencer, soon understood they had been called to this task for a particular reason and made the decision to begin performing in other venues as well.
URL: https://www.thekingjamesboys.com/
We're lucky for it. Their latest album release Walk on Faith features eight songs that make no pretense about their faith or belief. These are dyed in the wool, 100% gospel songs, with no attempt to water down the subject matter or message for a secular audience. Having said that, however, you will be hard-pressed to find heavy-handed sermonizing dragging these eight songs down into evangelical broadsides. These are songs, first and foremost, and the King James Boys never forget that.
The title song is a bit more deliberate musically than many bluegrass listeners may be used to. The typical wont of bluegrass songs is to be brisk numbers, light on their feet, but the King James Boys temper their approach with this song. The verses are led by a single vocalist, but the winning harmonies we hear during the song's chorus are among the finest parts of the song.
"The Devil's Not Afraid of a Dust Covered Bible" does urge listeners to pick up their Bibles every day, but it doesn't cast them into eternal damnation if they aren't. It's another gem that follows much of the same template we expect, but the individual and collective performances are so strong that it redeems any wearisome sense of familiarity. "I'm So Glad I Have a God I Can Call Upon" has a slow, meandering blues structure, but it is deeply felt and the spartan arrangement highlights the band's multi-part vocal harmonies for listeners. It's really a peak part of the album's presentation.
https://open.spotify.com/artist/3PdQ90nNOjxy7irFjCd2Af?autoplay=true 
Their talents as a vocal group are further highlighted by the song "He Broke the Chains". It's a song furthering their penchant for seamless and spot-on harmonies without retreading over familiar ground. It is that different spin listeners hear with this song that catches the ear and it's impressive how, over the course of eight relatively brief songs, the King James Boys are able to vary their approach so much.
The penultimate cut "The Lord Has Sure Been Good to Me" swings the spotlight onto one of the album's abiding emotions, even in its darker moments – gratitude. The King James Boys convey that theme with a light touch, conversational, and listeners are able to relate without straining to make a connection with the material. These are songs that can be appreciated by open-minded secular listeners. The King James Boys certainly wouldn't discourage any sort of spiritual awakening, small though it may be, listeners experience hearing these songs. It isn't their mission, however. The King James Boys' Walk on Faith is a statement about who they are as human beings and wonderful musical entertainment. 
Gwen Waggoner