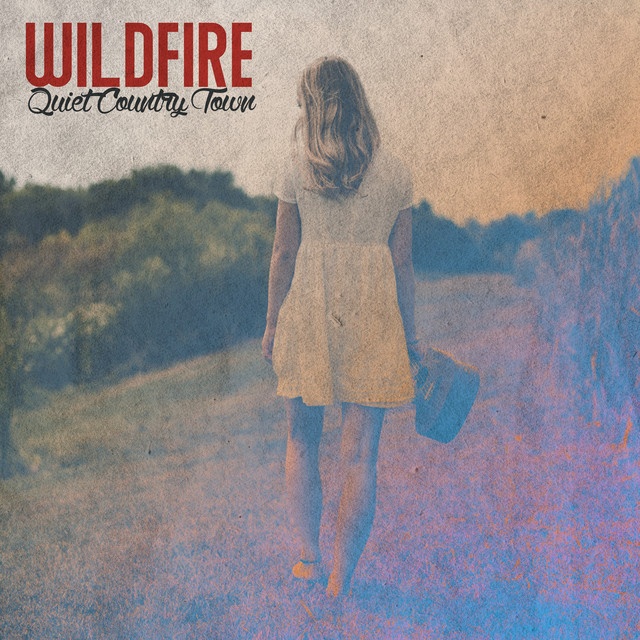 Wildfire is one of the models of sustained consistency modern bluegrass fans can point to in the genre and a big reason for that, among many, is they've discovered a balance that works for them. They work in a varying number of originals but their ability to re-envision the work of other songwriters as convincing bluegrass. Their latest release Quiet Country Town follows the same template with the typical outstanding results. Listeners are in good hands here. Much of the album's merit derives from the longstanding band's selection of covers. It shows the same understanding of what makes great bluegrass that you'll hear in their original songs as well. 
"Ride the Train" dives deep into the group Alabama's back catalog for a lyrical dazzler. It's scarcely more possible to imagine a song brimming more with imagery steeped in Americana and vocalist Robert Hale gives the song gravitas and a sense of wonder over life's improbable turns. Hale's "Quiet Country Town" deserves billing as the album's title song and illustrates how his narrative abilities dovetail into his abundant songwriting skills. The vocal melody is a winning part of the song that helps convey the drama in Hale's lyrics.
"What Would Your Memories Do" is a Vern Gosdin classic that Wildfire doesn't attempt to displace in the listeners' imaginations; indeed, there are moments during this song when it sounds like an outright tribute to Gosdin. The grasp that Wildfire has on the retro country sound is total and should find a wide audience given the proper exposure. Another pinnacle for the album arrives with the band's cover of the Johnny Rodriguez classic "How Could I Love Her So Much". It's a testament to the band's skill and long experience they can handle such a brisk pace without sacrificing ever a dollop of attentiveness along the way.
Another high point is Don Gibson's "Oh Lonesome Me". It's a veritable who's-who of country music who've taken a whack at this genre standard since Gibson's smash original several decades ago. It still retains the power to scoop up a listener and carry them away with its clean, simple energy and the purity of its sentiment. The heartbroken slapstick black comedy of "She's Crazy for Leaving" is a reminder of Rodney Crowell's songwriting prowess even if he isn't the first person who recorded the track.
Wildfire plays it straight and allows listeners to draw whatever they like from the song. It's a signature part of everything they do, the way they treat material from songwriters has no distinction from how they treat their original songs, and it's one of the key reasons they have such an unified sound. There's a clear identity in everything the band records and releases – Quiet Country Town is the latest example. 
It's why they've lasted a little over two decades in a notoriously fickle business and show no signs of fading away. This sort of bedrock aesthetic guiding a band's decisions can hold them together through lean times, sure, but it's ultimately one of the things about a band that calls to listeners, captures their attention, and keeps them coming back for more. 
Gwen Waggoner