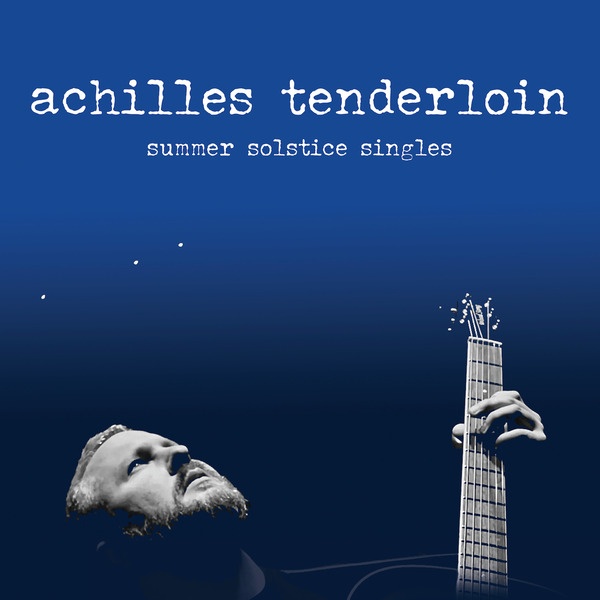 What hits me right away is the name of this musical act because Achilles Tenderloin certainly stands out and is unique to the bone. Whether you're craving a Tenderloin sandwich now OR wondering who this Achilles character is, you will certainly be intrigued and inquisitive from the start. Achilles Tenderloin has released a new single titled "Little Girl Blue" that fits the mold of originality and will definitely get people buzzing!
Achilles Tenderloin is a one man band by the name of Joe Augustin and he is a songwriter & guitarist from Richmond, Indiana. Achilles Tenderloin mixes together elements of indie-folk and acoustic blues and the result is phenomenal! "Little Girl Blue" is an exhilarating, new song that will excite listeners everywhere!
Joe has been performing his original songs and poetry for live audiences for over 25 years. He is a full-time performer, visual artist, and concert organizer, operating under the name ALMS: Augustin Live Music Solutions. Joe has also been booking and hosting original live music concert series, festivals, and open mics for 25 years. Plus, Joe Augustin also manages music events for Starr-Gennett Foundation and co-founded charity concert company SONA: Society of Neutral Angels with Kevin Milner, in 2013. A busy man to say the least and quite productive over the years, it's safe to say that Achilles Tenderloin is a multi-dimensional artist that puts the valuable time in. Hard work does pay off and in this case, "Little Girl Blue" is the prize being offered to the listening audience.
Achilles Tenderloin delivers a gripping performance on "Little Girl Blue" with solid instrumentation to boot. "Little Girl Blue" is melodic to the core as the overall sound will instantly draw you in. Achilles Tenderloin is telling a story on "Little Girl Blue" that is well-versed and audibly compelling. Achilles Tenderloin provides well-written material and plenty of enriching substance on "Little Girl Blue".
"Little Girl Blue" is off of the EP titled 'Summer Solstice Singles' and I can't wait hear more now because "Little Girl Blue" is an excellent start. Be sure to check out Achilles Tenderloin and his wildly entertaining sound on "Little Girl Blue". You will be impressed by the effort put forth by Achilles Tenderloin on "Little Girl Blue" as the music will hook you in and not let go!
http://achillestenderloin.com/
https://achillestenderloin.bandcamp.com/
https://www.facebook.com/achillestenderloin
https://www.instagram.com/achillestenderloin/
By Jimmy Rae