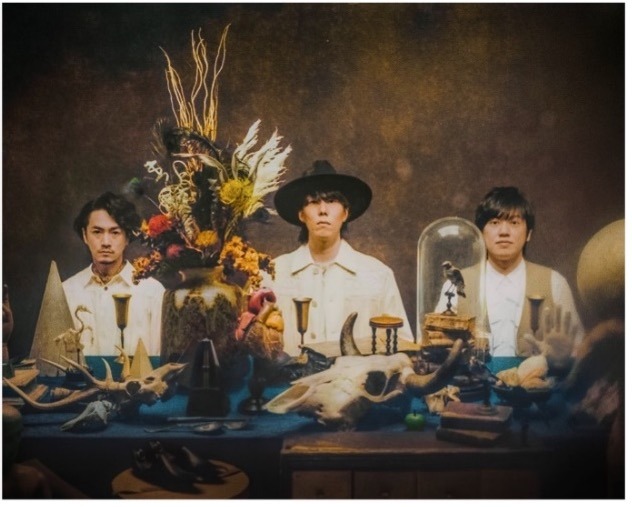 @skopemag news – tuesday – october 4, 2022 @ 11 am est
@skopemag HQ – http://smarturl.it/skope
Michael Rudolph Cummings: new video "This Is How I Get"!
US folk and alt-country artist MICHAEL RUDOLPH CUMMINGS presents a heartfelt third single taken from his new solo album "You Know How I Get", to be released on October 21st as the third chapter of Ripple Music's "Blood And Strings" acoustic series.
Says Michael Rudolph Cummings about this new track: "I have always felt songs were little gifts from instruments. The songs are in them already, it just takes time to hear them. This one came from an old 6-string banjo I picked up from a pile of broken instruments in a junk shop somewhere along the way. I think the song came out before I even got to be counter to pay for it. This is as close to the feeling of roaming night after night, town after town as I can get".
Sola Drops Debut Album on Grand Theft Audio
Sola have had a hell of a last 18 months and they top it off with a very confident debut album. As Dave Columbo Jenkins said in the UKF interview he did recently with them: "With a reputation for covering the entire D&B spectrum from mainstream dancefloor cuts to rugged, uncompromising underground bangers, the album showcases Sola's broadest sonic stance but does so with an accomplished consistency that guides you through their wide-armed ride."
GRAMMY Award-winner BILLY STRINGS announces new album 'Me/and/Dad' | Out Nov 18th via Rounder
Reflecting on the project, Strings shares, "As long as I can remember, I wanted to make a record with my dad. I've been burning up and down the highways the last 12 years, and as time slips away, you start thinking, 'I need to make time.' It's been a bucket list thing for me, something I've been afraid I wouldn't find the time to do. And that scared me; not doing this record scared me."
Noise rockers Asbestos Worker release "The Seperation" full length album
Minnesota Noise rock band Asbestos Worker release their latest full length album "The Seperation" which recently premiered via Ghost Cult Magazine. The premiere can be found here:
Indie Rock meets Rap // Tommy Newport & Jazz Cartier "Jackpot"
Tommy Newport is known for his irresistible falsetto-steeped indie anthems, garnering a substantial buzz with his 2018 debut, Just To Be Ironic, while he was still a teenager. Following the paramount success of 2019's Tommy Gun EP and 2021's Ultra Mango EP and Liquid EP, Newport continues to develop his euphonious sound.
Shirley Hurt (ffo Dana Gavanski, Cate Le Bon) shares single / Announces debut album out Dec 2 via Telephone Explosion
Shirley Hurt, the project of Toronto-based musician, Sophie Katz is today announcing details of her self-titled album which marks her debut on Telephone Explosion Records. Out on December 2, news of the record arrives today alongside the first single, "Problem Child" – for many, this is probably the first glimpse into Katz's all-encompassing Shirley Hurt universe.
THE EFFIGY Releases New Haunting Single "The Game"
"The Game" builds further on THE EFFIGY's powerful releases by enhancing the intensity of the instruments, experimenting with vocal layering, and producing, once again, stunning melodies that you're sure to be singing to yourself for weeks to come.
ED SHEERAN ANNOUNCES 2023 NORTH AMERICAN STADIUM TOUR
Multiple GRAMMY® Award-winning, global superstar Ed Sheeran has announced details for the North American leg of his "+ – = ÷ x Tour" (pronounced "The Mathematics Tour"), hitting stadiums across the continent for the first time since his history-making "Divide Tour" in 2018, which officially became the most-attended and highest-grossing tour of all time by its completion. Dates begin on May 6th at AT&T Stadium in Arlington, TX, before wrapping up on September 23rd at SoFi Stadium in Inglewood, CA (see attached itinerary). Main support on a majority of the dates comes from multi-platinum artist Khalid (May 6th-September 2nd) with rapper/singer-songwriter Russ rounding out the tour (September 9th-23rd); Dylan, Cat Burns, Maisie Peters, and Rosa Linn alternate as first of three. Sheeran recently wrapped the UK/European leg of the "+ – = ÷ x Tour," performing in front of over 3 million people in 6 months and highlighted by a five-night stand at London's Wembley Stadium.
LASTBREATH: Sardinian hardcore stalwarts to release "Vendetta" debut album in October
Her Shadow Release Single "Devil Inside"
Her Shadow offers dreamy pop music with moonlight melodies, heavenly hooks and Lynchian twists. The ethereal soundscapes come to life in a dream noir universe oozing with catchy choruses, Morricone motifs and vintage sounds interweave with state-of-the-art production.
Sorry release new single "Closer"
North London's Sorry have today shared "Closer" – the final preview of their highly anticipated second album Anywhere But Here, out this Friday on Domino.
Sorry say, "The lyrics in 'Closer' came quickly in one gulp, it felt as if I was talking through quite a few people that had hurt me and me hurting people too. It's about the person that we are made into sometimes by experiences or desire, and the shame that comes with that. It also is about addiction and the circular spiral of its pattern, rotating and returning. We wanted it to sound like a song from a NYC band in the noughties and the sound developed from there."
Out Now: French pop/rock trio OAKMAN release new EP 'SCP" via Rude Records
"We've learned a lot from this EP and little by little we're defining ourselves," says lead singer, Marine, on the EP. "But this is just the beginning of everything we have in mind. This EP has given us additional keys to better understand how to express what we feel and how to transmit it. We are very proud of this experience that it gave us, of the adventure lived and of this beautiful friendship with Aurélien Mariat which results from it. Without him, nothing would be the same. It has welded us together more than ever. Thank you for your continuous support, you give us the strength to continue."
SPACEY JANE announce UK / EU headline tour dates | Watch live video for 'Lots of Nothing'
Spacey Jane is announcing tour dates through the UK and Europe in 2023 today, taking in some of the biggest venues they will have played to date. The band is also sharing a live video of their recent single 'Lots of Nothing', from their acclaimed new album, Here Comes Everybody, filmed at their biggest headline show at Melbourne's Reunion Park in March 2022. The band will release their full Reunion Park concert film this Friday, October 7th at 10am CEST/9am BST.
MAIA BAROUH invites you into her delicious soundworld with new album "AIDA", out 21st October
Written, arranged, and produced by Maïa over the past few years, she has built a distinctive soundworld around her two main instruments, flute and voice. The resulting album is raw, spacious, and thought-provoking whilst also being playful, quirky, and sometimes disconcerting, for example when she explores anti-Asian racism and feminism.
NEW MUSIC: Electronic Producer Sleepy Tom Releases 'This Thing Called Life' (FFO: Jungle, Purple Disco Machine and The Weekend)
Alternative Rock band SHAPE OF WATER drop new "Don't Leave Me in the Dark" music video & single
British alternative art rock band Shape of Water have just revealed a new music video and single "Don't Leave Me in the Dark". This is the second drop from their upcoming LP album Amor Fati which is scheduled to be released on October 28, 2022 via Eclipse Records. The video was directed by Luca De Falco.
Rockshots Records – NeroArgento New Single "The Nameless One" ft. Infernalizer Off Sixth Studio Album Out October 2022
Award-winning Italian producer, multi-instrumentalist, arranger, and re-mixer, NeroArgento will be releasing his sixth studio album "Land of Silence" via Rockshots Records on October 7th, 2022. In lead up to its release later this week, NeroArgento is sharing the single "The Nameless One" featuring Infernalizer.
JERMAINE DUPRI FEATURED IN R&B DUO DVSN NEW VIDEO "WHAT'S UP" FT. JAGGED EDGE
R&B duo, dvsn, composed of singer Daniel Daley and GRAMMY Award-winning producer Nineteen85, release their newest single, "What's Up" ft. Jagged Edge, produced by Songwriters Hall of Fame member and producer, Jermaine Dupri.
Fused By Defiance Set To Release New Single "Villain" + Official Lyric Video on October 14, 2022; Announce Tour Dates in Support!
Los Angeles metal band Fused By Defiance is slated to release their next single "Villain" to all major platforms along with the official lyric video on October 14, 2022. In anticipation of the release the band has announced tour dates this fall in support of W.O.R. (dates below).
AFTERMATH Warns There is "No Time to Waste" with New Single and Video
"'No Time to Waste' –words that everyone should live by in their daily lives. But the song is not about that. Rather it's about all of us together having no time to waste as a free species. Everyone you talk to today says something isn't right in the world and most can't point out what it is that makes them feel that way. Their gut tells them something isn't right. This song is about what we feel isn't right with the world today and we urge people to wake up before it's too late. It isn't about being woke,but being awake. The song is at its core about unity and coming together to defeat our mutual enemy. Every great story has a hero and a villain. We the people are the hero in this song." says Kyriakos "Charlie" Tsiolis.
Jay Fizzle Hosts a Paper Route Party in New "Won't Cost Sh*t" Video
Released last month, DonaFizzo finds Jay fitting his flow into unexpected pockets on each stellar instrumental–including beats from heavy-hitters like Bandplay, Ayoza, and Sosa 808–with mutant-like machismo. With a style inspired by his own Master Splinter, Young Dolph, Fizzle's desire to ascend from the gutter can be felt in every track. From the arcade villain-esque "Nike Check," to the Mission: Impossible-esque bounce of "50 Freaky B*tches" ft. 21 Lil Harold, to the furiously flex-heavy "Nothing Into Something," DonaFizzo hits harder than a bo-staff from start to finish.
UK Afro-R&B prodigy Atueyii unveils official video for latest single 'As I Pray'
North London Afro-R&B talent Atueyii has dropped the official video for his new single 'As I Pray', out 29th September.
Shot by Lutch Media, the official video for 'As I Pray' offers a candid insight into Atueyii's world and perfectly captures the intimate emotions of the track. It follows the release of a live video performance of 'As I Pray', in collaboration with Audio Network.
[Skope Magazine] "A True Ode To The Artists' Mastery"- Wonderland Magazine Premieres Pop Artist Keelie Walker Who Releases New Single 'SHYBOY'
The track is inspired by the girls who prefer the quiet and thoughtful SHYBOYs over the popular guys. It also draws inspiration from Keelie's adolescence, being introverted and only being able to find comfort with other shy people. As time passed, she embraced her introverted characteristics and encouraged others to own their shyness as a strength.
True Body Share Single "Signal" via Atwood
"Signal" was demoed out in early 2016, buried in a hard drive until its unveiling during a full US tour (the bands first) supporting GosT. True Body has worked their way through the space in-between the release of their LP "Heavenly Rhythms for the Uninitiated" (2020) and the present, collaborating with Perturbator and recording 3 songs for a split with noise-trap outfit Digital Hell. This work culminates in the energetic charge that has made it possible for the song to exist.
NEWS: Damian Lazarus Announces Day Zero Lineup -Jamie Jones, Major Lazer, Bedouin, Carlita, Major League DJZ + more
Day Zero's inception celebrated new beginnings with the end of the Mayan calendar in 2012, its origin yielding one of the world's most transformative and acclaimed parties. Bringing together the natural, mythic and euphoric, Day Zero will return to the mystical jungles of Tulum on January 9th.
Smith, Lyle and Moore Epic Single "Vampire"
A few weeks before Halloween, Smith and Lyle met in Los Angeles. It was a time where things were up in the air and all things were possible in all realms of life. Lyle, an accomplished songwriter (and now the frontman of synth-wave band The Midnight), had recently written Werewolf. Smith recorded and produced Werewolf for Lyle's solo project.
All-star project FEELINGLESS to release "Metal Against Animal Cruelty"; First Single feat. Björn Strid of SOILWORK Out Now!
December 2nd will see the release of Metal Against Animal Cruelty, the first offering by all-star project Feelingless. Brought to life by Hugo Markaida, member of Spanish melodic death metal band Rise to Fall, Feelingless is a project to support animal rights and to give a voice to the voiceless. Featuring top notch guest appearances by the likes of Björn Strid (Soilwork), Jon Howard (Threat Signal), Christian Älvestam (Solution .45, Miseration) and Ettore Rigotti & Claudio(Disarmonia Mundi) – just to name a few – Metal Against Animal Cruelty offers eleven tracks and will be coming out via powerhouse label Noble Demon. All proceeds raised from this release will be donated to local animal shelters in Spain, and in addition, the label will donate to an international animal welfare organization.
Portuguese Metal Band NAMELESS THEORY Present "Illumination" Official Music Video
"Illumination" is a track taken from the band's album "Into The Void", due for re-release on October 21st via Wormholedeath worldwide.
"Illumination is one of our oldest songs also present in our 2015 EP Ghosts. It's a melodic and fun song to play live that basically talks about letting go of the people that drag you down and that think they know better than you.
The video contains clips of the "Into the Void" original release party and its preparations."
EL CANTANTE ALAIN DANIEL LA PEGA CON SU NUEVO TEMA "CORONADA EN ONLYFANS", UNA FUSION DE SALSA URBANA
El reconocido cantante Cubano Alain Daniel lanza un nuevo sencillo y video musical titulado "Coronada En OnlyFans", un tema fusion de Salsa y música Urbana, donde Alain habla de una chica que esta pegada en OnlyFans y los celos que la rodean por su éxito. El tema es divertido y con un hook pegajoso que dice "Todo El Mundo La Vacila, Todo El Mundo Le Dispara".
GROUND: Metal Injection Premieres "Tastemaker" Single From New Jersey Grind/Death Crew
As New Jersey-based false grind godfathers GROUND prepare to expose their fifth LP, Habitual Self-Abuse, through Hibernation Release at the end of October, Metal Injection is currently hosting a premiere of the album's latest single, "Tastemaker."
OUT NOW: Samantha Gibb Empowers Listeners With Her Candid New Pop Single "Sorry, Not Sorry"
Samantha Gibb is delighted to announce her impressive new pop single "Sorry, Not Sorry" that is OUT NOW! We are excitedly looking for features, interviews, or any opportunity you may be willing to suggest!
Reeny Smith Shares Playful New Track "Amber Lights"
"Amber Lights" was prompted by a YouTube video about a minor car fender bender at a traffic stop. "The accident occurred while the amber light was on and for some odd reason, I was inspired and this song was written within the next hour," Reeny elaborates. Old school soul and a modern RnB melody come together to form the unexpectedly playful track.
ICYMI Bailey James Champions Breaking Away From Toxic Relationships in Latest Single
ARMORED DAWN Returns with Triumphant New Single & Music Video, "S.O.S."! Upcoming Album, 'Brand New Way,' Artwork Revealed! FFO: QUEENSRŸCHE, GOJIRA, DREAM THEATRE
Brazilian Progressive Metal band ARMORED DAWN has blazed back onto the scene with their single and music video, "S.O.S.". Written by Carolina Angeli and the group's former drummer, Rodrigo Oliveira*, "S.O.S." portrays the feelings of a person suffering with depression, who isolation with their pain, believing that no one will ever understand their feelings or what is happening to her.
Paul Shapera Releases His New Multi-Genre Concept Album 'Jill's Psychedelic Sunday'
It explores different sides of psychedelic music, a sprawling, vague genre he's been in love with since he first started being blown away by music. Each track features a spoken snippet. They were the first to be written of the album and are meant to be ideas that seem like they could be expanded into intriguing larger stories but which are meant to remain as they are, each being a small spoken bit somewhere in each of the album's tracks. In most cases the story snippet was written with no idea of what the eventual music around it would be.
Montreal-Based Juvenile Jury Anxiously Gaze Inward on Grungy, '90s-infused New Single "Third Eye"
The best '90s music was about looking inward, for better or for worse, with a somewhat critical eye, and Montreal-based alt-rock band Juvenile Jury capture that anxious, itchy introspection in their new yet very vintage-sounding single "Third Eye" from their new EP Proven Guilty.
Saturday, 10/22 : gigi Supports Noah Cyrus at Paradise Rock Club [SOLD OUT]
Brooklyn based singer-songwriter gigi will support Noah Cyrus in Boston on Saturday, October 22.
Following her 2021 breakout single "Sometimes (Backwood)" which has accumulated over 60 million streams, gigi continues to wear her heart on her sleeve with her latest releases "The Man," "When She Smiles," and "Glue."
IAMCHINO PONE A TODOS A BAILAR CON EL ESTRENO DE SU NUEVO TEMA Y VIDEOCLIP "PALITO RICO"
El destacado productor y artista multipremiado IAMCHINO, celebra el lanzamiento de su nuevo sencillo y videoclip "PALITO RICO", una fusión de hip-hop con dembow internacional que une un pegajoso ritmo con una lírica que de seguro cautivará en la pista de baile una y otra vez.
Slim Sly Slender Reveals His 6th Album 'Pay to Play'
New Single Submission from Doc Rhombus
DILER- Fall in love
The track, which is located between Slaphouse and Dance, is not only mega-catchy, unique and stylistically state of the art, but also belongs in the first league in terms of production. It exudes pure energy, settles in your ear canal and makes you wanna dance.
JAMIE LENMAN Announces Details of Fifth Album 'The Atheist' Released 25th November 2022 via Big Scary Monsters
Recorded at The Chapel studios in Chichester over January and February 2022, forthcoming new album The Atheist was engineered, produced and mixed by Mark Roberts (Delta Sleep, Black Peaks, The Physics House Band) with additional engineering by Kieran Heighes, and mastered by Tom Langrish (65DOS, Fontaines D.C., Chubby & The Gang, IDLES).
Maggie – Circles
Another release entirely made by Maggie herself, as a talented writer and producer, the track is about feeling captivated by someone – in the best possible way. The release follows her debut single 'Paralyzed' which saw support from Wonderland, Notion, House of Solo and much local support from Norwegian press and radio, dubbing her as one of the most exciting Norwegian exports at the moment.
Music Submission: Age of Discovery
Age of Discovery was born in 2022 but has been an ongoing project since 2020. We are only a 3 piece band but we sure do pack a punch when playing live and aim to put on the best rock show we can no matter the venue size. We have the loud drums! We have the loud singers! We have the loud guitars! Now we need YOU in the loud crowd.
Music Submission: Raphael Joyce
As Raphael Joyce, the singer of the Austrian reggae band "Moby Stick" shows another face of his wide-ranging artistic skills. Raphael Schwarzacher takes the name Joyce for this project in order to give his Irish origins on his mother's side a place in his musical work. Joyce feels at home in the genres of acoustic/ indie/ folk/ world and sets dreamy, timeless impressions to music in his new songs, which are reassembled on vinyl like a collage from the artist's most varied times and life phases. Influenced by Nick Drake, the Beatles, Cat Stevens and many more, Joyce explores themes of wanderlust, friendship, cherishing the here and now, and surviving in crises. The project started with a study visit to London in 2018/19, during which there was the opportunity to use the tileyard Studio for recordings. In addition to the singing, every instrument was played by the artist himself (double bass, guitar, mandolin, sitar, mellotron) – with the exception of the drums, which were recorded by Thomas Mantl, a long-time companion.
The end-of-summer R&B jam from Toronto riser Rayl is out today
'Summertime' captures that summer romance perfectly in the way that very few songs can, and the song hits even harder, now that autumn is here. The stripped-back R&B offering is a joy to listen to, and I hope you enjoy it as much as we do.
DEPECHE MODE ANNOUNCE FIRST LIVE SHOWS IN FIVE YEARS
Rock & Roll Hall of Fame Class of 2020 inductees Depeche Mode announced today at a special event in Berlin that they will be releasing a new album and embarking on a world tour in 2023. The Memento Mori Tour will support the band's forthcoming 15th studio album, Memento Mori, due out in Spring 2023.
In a break from tradition, Dave Gahan and Martin Gore revealed today that the Live Nation-presented tour will begin with a special, limited series of North American arena dates starting March 23rd, before the band heads to Europe for their summer stadium tour. These limited North American dates will feature stops at New York's Madison Square Garden, Chicago's United Center, Los Angeles' Kia Forum and Toronto's Scotiabank Arena, among others. The band will then begin their European stadium tour on May 16th, with noted stops including the Stade de France in Paris, Berlin's Olympic Stadium, Milan's San Siro Stadium, and London's Twickenham Stadium.
Belgian Rockers BLACK MIRRORS Premiere Grunge-Inspired New Single "Lost In Desert" & Music Video!
Are we killing our own planet? No, BLACK MIRRORS don't believe that we as humans have the power to destroy mother earth. However, as the album cover below portrays, it's clear who will end up burning – all living creatures, us. 'Tomorrow Will Be Without Us' is a clear statement impacting every single one of us living on our planet.
ICYMI Tony Luke Jr. Releases a Poignant Music Video for his Single "One More Night" in memory of his son Tony Luke III
Celebrity entrepreneur Tony Luke Jr. is an individual of many talents, but underneath is a man with a huge heart and a drive to create hope and support for individuals with silent battles such as addiction, mental health, and trauma. In 2017, Tony Luke Jr. lost his son Tony Luke III to addiction. In America, suicide is the leading cause of death, which affects all ages, genders, and demographics. After losing his son to a grueling battle with addiction, music and songwriting kept him going. Through the years, Tony put his songwriting career on hold while raising his children.
DECLAN WELSH & THE DECADENT WEST release 'Mercy' | first reveal from second LP arriving in 2023 | out today (Oct 4th)
Scottish indie specialists Declan Welsh & The Decadent West have shared blistering new effort 'Mercy' (out October 4th), the first thrilling reveal from the group's forthcoming second album set to arrive next year.
[Video Submission] Snowgoons ft. Juxx Diamondz – Brooklyn Raw
The Snowgoons teamed up with Brownsville's own Juxx Diamondz for their new 1st Of Da Month Single.
"Brooklyn Raw" is everything you want to hear from a Brooklyn street track. Banger flawless.
Tom Waits Releases 'Alice' + 'Blood Money' Re-Issues This Friday
This Friday Tom Waits will release 20th anniversary limited edition vinyl re-issues of his 2002 albums 'Alice' and 'Blood Money'. New live renditions of five tracks per record will also be made available digitally in a digital deluxe version. Pre-order the vinyl and pre-save the digital deluxe versions below.
Swiss death/thrash/indus-metal crossover band Lethal Technology streamed entire debut album 'Mechanical Era'
As announced a few weeks ago, about 10 years after a first EP released under the monker of Seventh Wave, Swiss death/thrash/indus-metal crossover four-piece Lethal Technology ijust gave birth to its debut full-length effort called 'Mechanical Era' and available right now on CD & Digital through Bandcamp.
PLACEBO release limited-edition vinyl and entirely new paint colour with artist Stuart Semple
Placebo have teamed up with British artist Stuart Semple to develop a unique colour and a very special limited edition packaged double A-Side 7" vinyl record. The 7" features their new cover of Tears for Fears' anthemic 'Shout,' as well as their version of Kate Bush's iconic 'Running Up That Hill', a rare opportunity to get this on vinyl again.
RADWIMPS Announce Soundtrack For Makoto Shinkai Film "Suzume"
As the news of RADWIMPS involvement scoring the upcoming Makoto Shinkai film "Suzume" (set to hit theaters in Japan on Nov. 11) is still garnering attention, the band has announced the release of the original soundtrack "Suzume" also scheduled for Nov. 11, 2022.