An Exclusive Interview with an Independent Hip-hop Artist, Jungle Girl Ykayyy
We all should be on the lookout for new upcoming independent hip-hop/rap/spoke word musical artist JUNGLE GIRL YKAYYY. JGYK has her own sound called 'Jungle Sound' which is her own creation of "southern styled baby mama drill music with an even louder twang to it" in her own words. A very eccentric yet outlandish artist with her choice of word play and topics of discussion within her music will catch you off guard leaving you excited & floored to hear more from her. Jungle Girl Ykayyy is currently getting prepared for her first EP 'IN THE NAME OF SWERVE N SWAY' to be presented on ALL platforms on 10/14/2022. 
JGYK plans on dropping at least 2 EPs before Christmas of 2022. Fans have already pre-saved & previewed the artist's IN THE NAME OF SWERVE N SWAY. JGYK states "nobody ain't heard shit like this right here THIS SHIT RAW". VERY confident yet humble and ready to hustle for more to show others what the Jungle Girl's journey has been like & is heading towards IN THE NAME OF SWERVE N SWAY
"Nobody has a sound like mine, it's outlandish…just like me" says JGYK in an interview. This on the rise upcoming artist is outspoken & very straightforward when it comes to her music.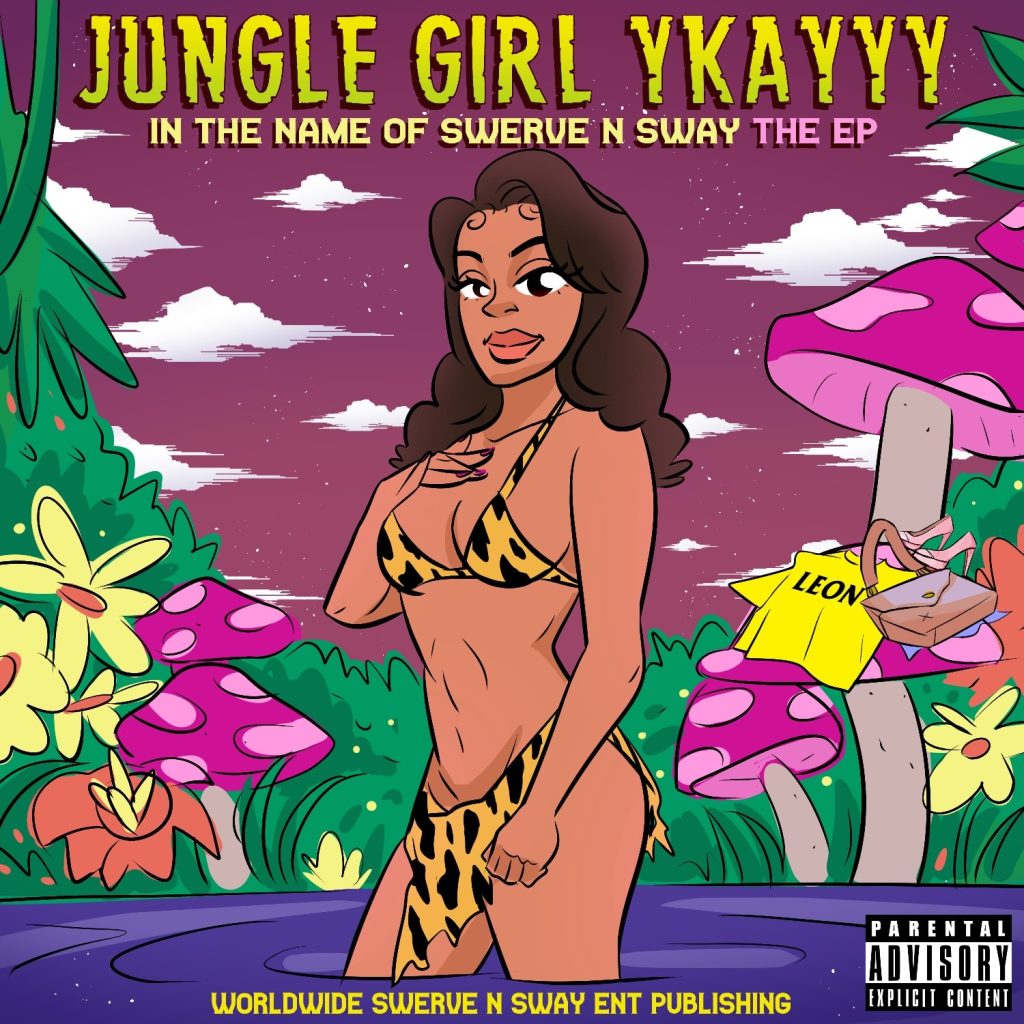 What's your biggest pet peeve?

Tuh, even though I love being solo…my biggest pet peeve is when I'm working and the people who around me ain't working, EVERYBODY gotta be working …you can't just sit around me while I'm working and soak up sauce…that shit dead. That's why 95% of the time I'm solo. Can't blame nobody but ya damn self when you're solo and you mind ya business.

When speaking about your ex why do you refer to him as your "baby mama"?

Cause that's my baby mama what you mean? It's levels to this shit and I don't ALWAYS call him my baby mama he just be pissing me off per usual however I don't make music just about my baby mama I be talking about my bad ass kids, the way my parents raised me and how I went against the grain and turned out instead, the potential baby mamas that thought they could play me when I stay 20 steps ahead. I talk about being broke at and being on the rise. But with my craft there's always a damn twist, BELIEVE IT!

What makes you different?

I'm just myself , ain't no faking shit, I ain't a killer or pretending to be one and only my kids start the drill in me that's why the music be so damn hard. When it's about the kids ESPECIALLY MINES, ain't no letting up dawg. How I feel in the booth is what you get and I don't have just one genre I'm focusing on, I tap in ALL genres.
Instagram @JungleGirlYkayyy
Facebook JUNGLE GIRL YKAYYY
PRE-ORDER HERE —>> Https://untd.io/m/Junglegirlykayyy