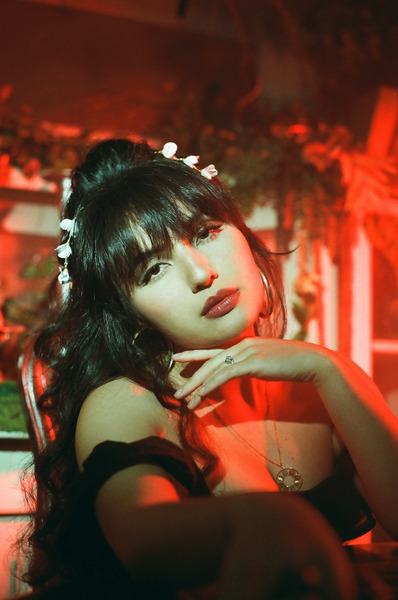 @skopemag news – thursday – september 22, 2022 @ 5 pm est
@skopemag HQ – http://smarturl.it/skope
Alternative duo Sadurday go all out '90s on new single "Mary"
Set for release on October 21st, Nothing 2 Celebrate marks a new start for Pennsylvania-based duo, Sadurday. The three song EP joins together vocalist/guitarist Annie Jean Linn and multi-instrumentalist Nick Comanici for their first release together under the pseudonym, which oozes with a '90s alt-rock inspired flair. Today, the band shares first single "Mary" which builds on reverberated guitars and powerful vocal delivery supplemented by more sullen moments to create an enticing listen. The video for the song was created by and stars Linn, depicting a perfect balance of haunting and beautiful moments as she portrays the character of Mary.
DIANNA LOPEZ IS BLISSFULLY FREE IN NEW RELEASE "NERVES"
One thing is for certain, you can't place Dianna Lopez in a box. Today, the shapeshifting, Brooklyn-based, Afro-indigenous, rising indie musician unveils her new single titled "Nerves." The airy genre-bending track explores the nerve-racking courage it takes to rebel against someone and/or society's expectations of you and the freedom that comes with finally doing so. The release arrives alongside a sultry visual that showcases a blissfully free and unrehearsed Lopez on a horse ranch in Upstate, New York, putting her innermost euphoric self on full display.
Scout Gillett Shares New Single/Video "444 marcy ave," Debut LP 'no roof no floor' out 10/28 (Captured Tracks)
Country Duo BoomTown Saints' Cinematic Video, "All Trucks Go To Heaven," Premieres Today on Taste of Country
BoomTown Saints, country music's rising duo signed to 8 Track Entertainment, is celebrating the release of their inaugural music video, "All Trucks Go To Heaven," which premieres exclusively today on Taste of Country and debuts tomorrow, Friday, September 23, on CMT.com. Directed by Julian Mendoza, the stunning video was filmed outside of Nashville at Beech Grove Historic Venue. "All Trucks Go To Heaven" shipped to country radio in late August via Play MPE and has nearly 100,000 streams across all platforms to date.
LIGHTS DEBUTS "OKAY OKAY" MUSIC VIDEO
DIETH – Featuring David Ellefson, Guilherme Miranda and Michał Łysejko – Signs Worldwide Contract with Napalm Records
Introducing Brooklyn's h.pruz and their debut EP, again, there – Out November 4th on Oof Records, listen to "old car" now.
REASON RELEASES NEW TRACK AND VIDEO "SIGN LANGUAGE (FEATURING ICECOLDBISHOP)"
Rockshots Records – EVERFROST Shares New Single "Gotta Catch 'Em All" ft. Mikael Salo (Thy Row)
Finnish symphonic power metal band Everfrost is sharing their next single "Gotta Catch 'Em All" ft. Mikael Salo (Thy Row) from their forthcoming EP of anime cover songs entitled "Frostbites" that is due out on November 11th via Rockshots Records.
BLACKLIST: "In Shadow Light" From Atmospheric Coldwave Outfit Now Streaming; Afterworld Full-Length Nears Release Via Profound Lore Records
Atmospheric coldwave outfit BLACKLIST today unveils their stirring new single, "In Shadow Light." The track comes by way of the band's impending new full-length, Afterworld, set for release on October 28th via Profound Lore Records.
Love Ghost team up with Bali Baby for their new single "Dirty Pixxx"
CAVERNOUS GATE release next single 'The Turning Veil'
CAVERNOUS GATE are now releasing the epic song 'The Turning Veil' as the latest single taken from the forthcoming debut full-length "Voices from a Fathomless Realm", which has been slated for release on October 14.
Album details and biographical information about the German doom solo-project of HELRUNAR co-founder and multi-instrumentalist Sebastian "S.K." Körkemeier can be viewed below.
The Overcoming Project Premieres "Victory" Exclusively at Lambgoat
Dr. Mike Trubetskov explains"'Victory' denotes a psychedelic event that was required to secure a permanent visa in Australia – and any success in general. The choice to move forward or stagnate is yours."
Niina Soleil Shares "Flowers On Fire" Single + Video
EZRA COLLECTIVE — Share New Single: "Ego Kilah" || + 2023 UK Tour Dates || New album – 4 Nov
Puppy Angst shares music video for "In Sensitivity" ahead of their debut album
New NADUH Music & Video Out Now!!
VÉRITÉ LAUNCHES NEW ALBUM ERA, RELEASES "are we done yet?" (VENICE MUSIC)
Mary Yalex – New Album 'Sunset Stories' out October 2022 on sound as language / First Single "Late Night Walk" Out Now
WHO ON EARTH Premiere Music Video for "Black Swan" – Debut Album 'Blame' Out October 28
Speaking about the lyrical message behind the new song, vocalist Andrew 'Coosh' Couche says, "This song reminds me that I can never fully prepare for the unexpected in life and that's just the way it is. How the hell I got here and why is a mystery, but damn it's been a hell of a ride! I wouldn't have it any other way!"
SAM SMITH UNLEASHES "UNHOLY" FT. KIM PETRAS
Sam produced the track in Jamaica alongside ILYA (Max Martin, Ariana Grande, Jennifer Lopez), Blake Slatkin (Lizzo, 24K Golden), Cirkut (Nikki Minaj, The Weeknd), Omer Fendi (Lil Nas X, The Kid Laroi) and long-time collaborator Jimmy Napes.
Emi Jeen Enters a New Era on 'Why So Serious' EP, Shares "Everything, Something, Nothing" Video
The Murder Capital Announce Second Album "Gigi's Recovery" Out January 20th Via Human Season Records
RICK MASSIE Releases Lyric Video For "The River"
Progressive metal artist RICK MASSIE has released a lyric video for his song "The River". The track is from his album Guided to an Imperfect Light which will be released on CD September 30th, 2022.
Rick comments: "The River" was written with imagery of the Yukon River quickly flowing by. On a walk one day, I was struck by the power and beauty of the river, and wondered what things might be hidden just beneath the surface. It felt like a bit of a mystery. Were there valuable lost items from people who wandered too close to the river's edge? Were there pieces of mangled paper that once held the secrets of someone? Were there footprints from an age before the river flowed in this area? The whole idea fit perfectly with some of the feelings I was experiencing, and the song came together quickly and easily. And I do think it captures that feeling of the mysterious river quite well. "
The California Honeydrops Drop A Soulful Ode To Good Lovin' With New Single "In Your Arms"
The Honeydrops have come a long way since Wierzynkski and drummer Ben Malament started busking in an Oakland subway station, but the band has stayed true to that organic, street-level feel. With the additions of Johnny Bones on tenor sax and clarinet, Lorenzo Loera on keyboards, and Beau Beaullieu on bass, they've built a powerful full-band sound to support Wierzynski's vocals.
New music video from Drizilik
SFEERVERZIEKER: Dutch atmospheric sludge/doom project premiere "Masters of Insanity" single, "Death is the Desired Ending" debut album out in October
SFEERVERZIEKER is a project from the Netherlands created by Sven Post (the Flesh, Grim Van Doom, Blood Diamond) early 2022 to express any form of negativity through dark and heavy riffs drenched in atmospheric and suffocating leads.