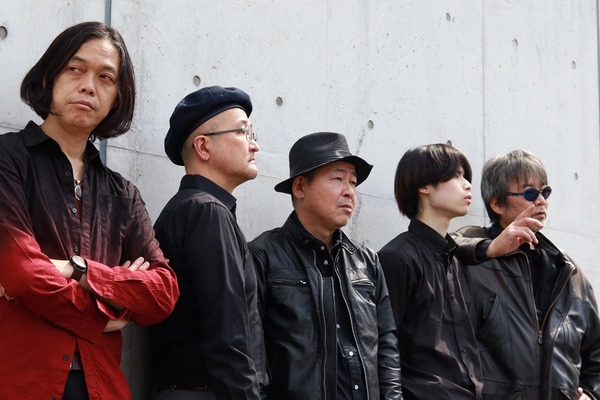 @skopemag news – monday – september 19, 2022 @ 2 pm est
@skopemag HQ – http://smarturl.it/skope
UMBILICUS (CANNIBAL CORPSE, DEICIDE members) releases eponymous new single
70s rock outfit UMBILICUS has released their fourth and final single, "Umbilicus", from their upcoming album "Path Of 1000 Suns", which is due September 30th via Listenable Insanity Records. The new single showcases the band's classic hard rock tendencies, as well as vocalist Brian Stephenson's impressive vocal range.
UMBILICUS (CANNIBAL CORPSE, DEICIDE) Streams Self-Titled Track
Baby Jungle – "Feast"
Music Submission: Rex Isle Beat
Rex Isle Beat is a new band on the scene, and they're looking to make a big impact. They've got the rock n roll attitude down pat, and their grooves are sure to get people moving on the dance floor. Their music is infectious, and soon they have everyone in the club dancing along with them. The energy is electric, and the crowd is loving every minute of it.
Check Out SIGLOS (SIN QUIRIN, former MINISTRY, LORDS OF ACID, AMERICAN HEAD CHARGE, SOCIETY 1) Official Music Video for "Morir Para Vivir"!
Los Angeles, CA based heavy metal band SIGLOS, comprised of two-time Grammy nominated guitarist SIN QUIRIN (former MINISTRY, LORDS OF ACID, AMERICAN HEAD CHARGE, SOCIETY 1) and lyricist and vocalist PEDRO SANCHEZ (TRANSTORNO), has revealed the official music video for "Morir Para Vivir". Rhythmic and explosive, "Morir Para Vivir" draws from the artists' Latin heritage while beating a brutal, black metal percussion, culminating in a darkly atmospheric, raw intensity.
VAJRA "Crown or Crucify" Music Video
KAV TEMPERLEY SHARES NEW SINGLE 'LAST OF THE WINE' ANNOUNCES NEW ALBUM 'MACHINES OF LOVE AND GRACE' FOR OCT 19 RELEASE
Armed with infectious hooks and weighty subject matter, Eskimo Joe frontman Kav Temperley has given fans the latest taste of his forthcoming studio album, sharing new single Last Of The Wine ahead of the arrival of his anticipated sophomore record, Machines Of Love And Grace set for release on October 19. Following on from previous 2022 singles Graduation Day and the record's title track, Temperley's latest release is a testament to his power as a songwriter; leaning into difficult and emotional territory, yet managing to navigate its complexities with both care, courage, and inimitable musical dexterity.
Music Submission: Ranski Gleechie
After Being Released In March Of 2022, Ranski (Gleechie) Is Back After Serving A 5 Year Federal Sentence, Before He Left Us He Was Heating Up The Toronto Music Scene With The "FDF" & Northside Jane Movement. Formally Known For His Single Ballin' No Gym , A Banger That Has Gathered Up Hundreds Of Thousands Of Streams And Views While He Has In Incarceration, It's One Of The Toronto Songs That Really Hit For Summer 16′. Well, He's Back And More Neater Than Ever! He Plans On Releasing A Project Before The End Of The Summer Titled "Free Pistol" Dedicated To His Co Defendant Who Is Still Serving Federal Time. I Guess We Just Have To Stay Tuned. He Tells Us Yo Tell Everyone Watching, He's "Still @ BandCamp".
Listen to Elaine Mai & MuRli's empowering electronic anthem Ready
'Ready' is the new track and collaboration by two of Ireland's most exciting artists, Elaine Mai and MuRli: a soaring, empowering electronic banger that reaches for the stars from its dancefloor roots.
The Unity Release New Video for "Rusty Cadillac" – All Fan Filmed!
ATT BLOGS: Dream pop musician Jaguar Sun collaborates with power pop duo Husbands on 'First Time Caller'
Japanese Progressive Rock Discovery KPRO Present "Rebels" [Official Music Video]
"Rebels" is a track taken from KPRO's self-titled album "Kansai Progressive Rock Orchestra", due for release on October 14th, 2022 via Wormholedeath worldwide.
Anna Mieke Debuts Video for New Single "Mannequin" via Brooklyn Vegan, New LP 'Theatre' Out 11/18 (Nettwerk)
In the video, Heisterkamp adds: "It's an assemblage of how it felt to listen to this song over and over with different lines standing out each time, and how it feels to move to a song someone has described to you before you listen to it properly. I wanted to look at the stark contrast between nothing and something slight, the feeling of falling and watching someone fall, distortion of the natural." Theatre is now available for pre-order, and its previous single "For A Time" earned support from Cool Hunting, Guitar World, and more.
UK PUNKS Grade 2 SHARE NEW SINGLE & MUSIC VIDEO "Doing Time"
Old Fire Shares New Single/Video "Dreamless" ft. Adam Torres, New Collaborative LP 'Voids' Out 11/4 (Western Vinyl)
French tech-death metal unit Angel Rising streamed new album 'Immortal Volition' // Out now on CD & Digital through Music-Records.
2 years after is debut self-titled album and couple of months after sharing some excerpts from the record with the songs "Broken Beyond Despair" and "Thy Kingdom Fall", French technical melo-death metal unit Angel Rising (feat. Kevin Talley from Dying Fetus, Suffocation) released its sophomore full-length record called 'Immortal Volition' and available right now on CD & digital through Music-Records.
Nigerian Breakout Star Lojay Shares "LEADER!"
As his multi-million streaming global hit "Monalisa" continues to reach ever-climbing heights, Lojay shares a surefire anthem that will appease fans worldwide who have been anticipating new music from Nigeria's hottest rising export. Opening with thumping drums, "LEADER!" comes to life with lush layers of synth and vocal loops, before Lojay enters with his distinctive vocals taking center stage. The captivating record drops alongside highly stylized visuals based in a dystopian computerized setting and embellished with stunning Afrofuturistic outfits starring Lojay himself.
The Yutes x Govana – "Riches & Power"
"Riches & Power," the second single off The Yutes' forthcoming album, "Ghetto Yutes," takes listeners on a sonic journey through dancehall, ska and hip-hop. Produced by Cin-Trax, "Riches& Power" shows the uncanny chemistry between The Yutes and Govana, who collaborated for the first time on this track. It shows how adaptive The Yutes are as artists: their catalog includes everything from hip-hop to dancehall to reggae to trap. Meanwhile, Govana is a leading force in Jamaican dancehall and culture, evidenced by his significant YouTube and social media followings. With their brilliant collaboration, The Yutes and Govana are positioned to reach new audiences and satisfy their respective core fan bases in Jamaica.
Weapons of Anew Release New Single "Break the Ties" + Official Music Video
Hard Rock outfit Weapons of Anew released their new song "Break The Ties" to all major platforms. It will be the first song released with new members, singer Richie Hume and drummer Lun'iah Fontana. The new song is the first to be released from the forthcoming 2023 release, The Art of War.
OUT NOW: Modern Temple Breaks Genre-norms in Rocking New Single "Soda"
Modern Temple has listeners fizzing with excitement over their newest single "Soda" that is OUT NOW! The powerhouse husband and wife duo Dustin and Ellie Moreau break traditional genre barriers flawlessly. Their mix of rock, rap and indie-pop creates an experience that sets Modern Temple apart from the pack in a refreshing way.