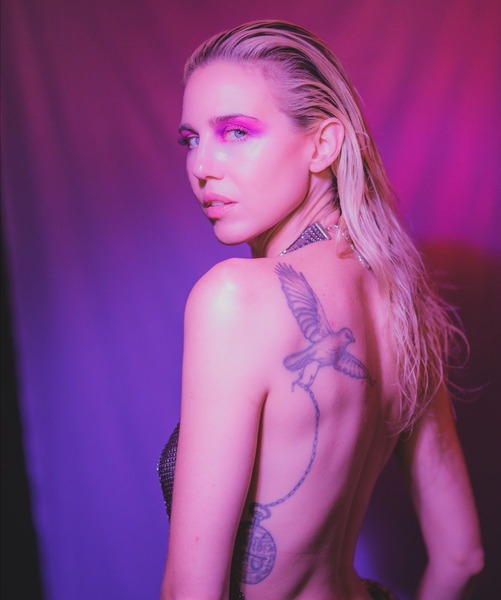 @skopemag news – monday – september 12, 2022 @ 6 am est
@skopemag HQ – http://smarturl.it/skope
Tisoki Keeps His Priorities In Check With Rap-Fueled Bass Single "NOHO" feat. Bansaint on Bassrush Records. – Sept 9
Tisoki upcoming gigs at Nocturnal Wonderland, Lost Lands festival, as well as headline gigs at HB Social Club (Hawaii), Zydeco (Birmingham, AL), Elan Savannah (GA). Recent remixes for Zeds Dead, MUST DIE!, Quix, and collabs with Bear Grillz, Grabbitz, Oliverse.
Artist: Tisoki
Title: NOHO (feat. Bansaint)
Label: Bassrush
Release Date: Sept 9
Genre: Trap / Wave
Out Now – Blue Largo's Music Video "World Without Soul"
The video features an intimate live performance by the San Diego-based Americana Soul band (Ms. Aragon, guitarist/bandleader/songwriter Eric Lieberman, bassist Mike "Sandlewood" Jones, piano player Taryn "T-Bird" Donath, drummer Marcus Bashore, and sax players Castel De Oro and Eddie Croft), interspersed with great clips of some of the original innovators of soul, jazz, and reggae, most notably James Brown, Miles Davis, John Coltrane, Thelonius Monk, The Wailers, Mavis Staples, Nina Simone and Aretha.
COSMO GOLD ANNOUNCES DEBUT ALBUM
Today, LA alt-pop group Cosmo Gold announce their much-anticipated debut album, Krong: a record, yes, but also an intergalactic sonic experience, and invitation to an alternate universe. Welcome to 'Krong' – a place to find comfort in doubt as a virtue. A self-aware, almost-utopia that sheds light on the humanness of hesitancy. Because they say, 'follow your heart' – but what if your heart is wrong? In their debut album, Cosmo Gold explore an alternate universe built around this question.
One True God and MASTERIA Shut Down the Requests on Electro-Leaning Collab "Night Shift" for NIGHTMODE – Out Now
L.A-based producer One True God returns to NIGHTMODE with his next single appearance, this time teaming up with Detroit house artist MASTERIA for their new collab. "Night Shift" features the former's distinct vocal work, weaving a dark, acid-fueled groove around lyrics about a reclusive person deflecting requests for a good time. One True God recently graced the label with his previous single "Honey," and he has upcoming gigs at Lost Lands festival, Bass Canyon, Countdown NYE (SoCal), and the Roxy (LA). MASTERIA has enjoyed previous tastemaker support from Tiesto, Diplo, Afrojack, Jauz, Marshmello, AC Slater.
Artist: One True God & MASTERIA
Title: Night Shift
Label: NIGHTMODE
Genre: Electro House
San Fermin Shares "Your Ghost" Single via American Songwriter | 'Your Ghost' EP Out Now via Better Company Records
Today, San Fermin share "Your Ghost," the final single and focus track off their brand new EP, Your Ghost, out today via songwriter Ellis Ludwig-Leone and vocalist Allen Tate's label, Better Company. The label, which Ludwig-Leone and Tate formed in 2020, has since seen releases from Wye Oak, Wild Pink, Sorcha Richardson, Pure Bathing Culture, Daisy the Great, and more.
San Fermin Share Final Piece of Three-Song Story, 'Your Ghost'
French Groove-nu-metallers Red Gordon stream debut album reissue 'Next Step To Yell' // Out now on CD & Digital through all legal platforms.
About one year after the release of their debut album 'Next Step To Yell', French groove-nu-metal gang Red Gordon chose to re-release the effort as remixed/remastered reissue – with a slightly different artwork – available right now on CD & digital through the band's webstore, Bandcamp and all the mail legal platforms.
JASMINEGOLD Share Debut Album Serpent
JASMINEGOLD have returned with their incredible debut album, Serpent. The alternative hip-hop duo from North Florida (formed by David Nights and KJ) only burst on the scene last year but have been gaining traction quickly with over 200,000 views on TikTok and great acclaim for their first few singles. And with the release of Serpent, they are set to make an even bigger statement and break new ground.
NEW single "Machete" for BESATT!
Vocab Slick (Distant Relatives) Pays Homage To The People In His Life Who Have Passed On With New Video "When I'm Here" FT. Equipto & Simone´ Mosely
French progressive metal band SPHERES to release new album on September 23rd // New single "Spiritual Journey" available on YouTube.
About 3 years after the release of their very-well welcomed debut full-length effort 'IONO' (2019), French Progressive Metallers SPHERES are about to give birth to their sophomore album called 'Helios' and planned for a worldwide release on September 23rd and CD, LP & Digital through M & O Music & Spinoza Records.
Check Out THE ISSUE Official Music Video for "Paradox"! For Fans Of: Foo Fighters, Alice In Chains, Seether, Alter Bridge
Minneapolis, MN rock powerhouse THE ISSUE has revealed the official music video for their new single, "Paradox." Directed and produced by BRAD MATALA, "Paradox" is the fourth single off of their recently released EP, Wasted Life.
Aus queer pop girl Beks drops 'Young Forever' ahead of return from London studios
Following the success of her #3 iTunes Dance Chart hit Devoted, rising pop star and Tiktok viral personality Beks has returned with the infectious Young Forever. Capturing a youthful sentiment, the song sounds like an everlasting summer with a shimmery disco-infused pop beat pulsating throughout its duration. Having garnered international radio success across the EU and Spotify editorial support in Germany, Switzerland, Asia, and Australia on her single 'All The Good Boys Are Gay' the artist is set to bring her signature pop sound to her growing fanbase.
French synth outfit Pure Obsessions & Red Nights share new video
'Don't Let the Night Die in Vain' is the brand-new video single from French dark electro / synthpop / industrial rock outfit Pure Obsessions & Red Nights: once again showcasing the dark pop melodicism of their latest album, Let Your Obsessions Run Wild (Les disques Rubicon, April 2022), and its previous singles. The new video also comes on the heels of the band's latest remix singles: 'The Heartbeat of the Moon' featuring Entropy Zero, and 'Love Like Knives' with Soul Machine.